Jamdani a fine cloth of muslin group. A nationally and internationally famous fabric, jamdani is characterised by geometric or floral designs. For centuries jamdani has been a coveted textile both at local and international market. Although jamdani essentially means sari, there are, of course, jamdani scarves, kurtas, turbans, skirts, handkerchiefs, screens and tablecloths as well. In the 17th century, dresses like Khrta and Sherwani were made of jamdani fabric. A special type of jamdani cloth was produced for tailoring the Nepalese dress of 'ranga' during the Mughal reign.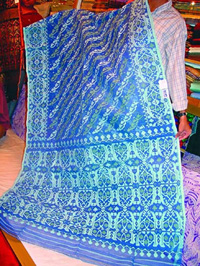 The origin of the word jamdani is uncertain. Jamdani is a Persian term. In Persian,' 'Jama' means cloth and 'dana', means buti or diapering. Jamdani therefore could mean diapered cloth. It is believed that Muslims introduced the jamdani style of weaving in Bengal. The claim seems probable in the sense that the Muslims held the monopoly of jamdani in Bengal for centuries both in its weaving and marketing. But Jamdani as a fabric is considered to be much older than Muslim rule in Bengal. The Arthasastra (about 300 AD) mentions Vanga to be the home of a very delicate textile staff.
Jamdani is also found in the book of Periplus of the Erythraean Sea and in the accounts of Arab, Chinese and Italian travelers and traders. Four kinds of fine cloths were produced in Vanga and Pundra in those days, viz khouma, dukul, pattrorna and karpasi.
From various historical accounts, folklore and slokas, it may be assumed that very fine fabrics were available in Bengal as far back as the first century A.D. Fine 'dukul' textile has been mentioned in many ancient accounts and it is possible dukul was renamed as jamdani during Muslim period. However, Jamdani designs developed along with other groups of the fabric. The fine fabric that used to be made at Mosul in Iraq was called mosuli or mosulin.
In Sril Silat-ut-Tawarik, a 9th century book, the Arab geographer Solaiman mentions the fine fabric produced in a state called Rumy, which, according to many, may be located in the present territory of Bangladesh. ibn batuta profusely praised the quality of cotton textiles of sonargaon. In late 16th century English traveller ralph fitch and historian Abul Fazl also praised the muslin made at Sonargaon.
The art of making jamdani designs on fine fabric reached its zenith during Mughal rule. There were handlooms in almost all villages of dhaka district. Dhaka, Sonargaon, Dhamrai, Titabari, Jangalbari and Bajitpur were famous place for making superior quality jamdani and muslin. Traders from Europe, Iran, Armenia, and later USA came to Bengal to buy Bengal muslins. The Mughal Emperor, the Nawab of Bengal and other aristocrats used to engage agents at Dhaka to procure muslin and jamdani fabrics for royal families.
The golden age of Dhaka muslin began during the Mughal rule. Since then the demand for jamdani and muslin fabrics at home and abroad grew and this led to further improvement in its artisanship. According to the 18th century documents of the east india company, a high official of the company was posted at Dhaka to buy two muslin varieties of mulmul khas and sarkar-i-ali. He had the designation of Daroga-i-mulmul. Every foreign factory had an office, which maintained records of the best jamdani variety. Bengal jamdani decorated the homes and wardrobes of Europe and America in the eighteenth and nineteenth centuries.
Jamdani artisans had no fixed salary. They were paid as per the market value of the jamdani or muslin they produced. It was the duty of the Daroga to keep a sharp eye at every stage of production. Mulmul khas worth about Rs 100,000 collected from Dhaka, Sonargaon and Jangalbari were sent to the Mughal court every year on regular and contract basis.
According to the account of export in 1747, muslin fabrics worth Rs 550,000 were bought for the Emperor of Delhi, the Nawab of Bengal and the famous trader jagat sheth. European traders and companies bought muslin worth Rs 950,000 in the same year. The export of muslin started declining at the end of the 18th century. After the English gained diwani in Bengal in 1765, Company agents resorted to oppressing the weavers for their own gains. They applied their political power to skew the market forces of muslin and that led to the beginning of decline of jamdani industry.
According to james wise, Dhaka muslin worth Rs 5 million was exported to England in 1787. James Taylor put the figure at Rs 3 million. In 1807, the export came down to Rs 850,000 and the export completely stopped in 1817. Thereafter muslin used to go to Europe only as personal imports.
According to a record of mid-19th century, the rulers and nawabs of Delhi, Lucknow, Nepal and Murshidabad used to wear white muslin with floral jamdani designs costing Rs 50,000. A number of causes are responsible for the decline of the jamdani and muslin industry from the 1830s. The major factors were the industrial revolution in Britain, collapse of the Mughal aristocracies, and the rise of new markets for cheaper textiles. However, now the Bangladesh government is giving support to the development jamdani industry in its modern perspectives.
After the liberation of Bangladesh, a jamdani village was established at Demra near Dhaka to provide financial support to weavers. Jamdani weavers of other areas, however, were deprived of such support to promote their labour and expertise. So, they are no longer interested to keep the tradition of such artisanship. The silent looms of Madhurapur village in bajitpur upazila of kishoreganj district are witnesses of the decline of jamdani industry. This village was once famous for producing jamdani cloth and fancy textiles with yarn of 100/300 counts. Another village Jangalbari was very famous in the same district has the same story to tell.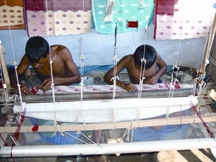 Weaving technique The mastery of muslin cloth weaving used to depend usually on the art of making yarns. The most appropriate time for making yarns was early morning as the air then carried the highest moisture. For making yarns weavers needed taku, a bamboo basket, a shell and a stone cup. They used popcorn, rice or barley for starch. Before making jamdani designs they used to dye their yarn and starch it. For dye they used flowers and leaves of creepers. For quality jamdani they used yarn of 200 to 250 counts. These days weavers buy fine yarn from the market and use chemical dyes instead of herbal dyes. For making jamdani two weavers sit side by side at a loom to work on the delicate designs. Jamdani designs are made while the fabric is still on the loom. Coarse yarns are used for designs to make the motifs rise above the fabric. Originally, the motifs used to be made on gray fabric. Later on fabrics of other colours were also used. In the 1960s, jamdani work on red fabric became very popular. The Victoria and Albert Museum of London has a fine collection of jamdani with work in white on white fabric.
Variety of jamdani work The most particular characteristic of jamdani work is its geometric design. The expert weavers do not need to draw the design on paper. They do it from their instinct. Jamdanis have different names according to their design. Some names of jamdani are: panna hajar, dubli jal, butidar, tersa, jalar, duria, charkona, mayur pyanch, kalmilata, puilata, kachupata, katihar, kalka pad, angurlata, sandesh pad, prajapati pad, durba pad shaplaful, baghnali, juibuti, shal pad, chandra pad, chandrahar, hansa, jhumka, kauar thyanga pad chalta pad, inchi pad, bilai adakul naksha, kachupata pad, badghat pad, karlapad, gila pad, kalasful, murali jal, kachi pad, mihin pad, kankra pad, shamukbuti, prajapati buti, belpata pad, jabaful and badur pakhi pad. Present day jamdani saris have on their background designs of rose, jasmine, lotus, bunch of bananas, bunch of ginger and sago.
Efforts are underway to revive traditional jamdani designs. A jamdani with small flowers diapered on the fabric is known as butidar. If these flowers are arranged in reclined position it is called tersa jamdani. It is not necessary that these designs ought to be of flowers only. There can be designs with peacocks and leaves of creepers. If such designs cover the entire field of the sari it is called jalar naksha. If the field is covered with rows of flowers it is known as fulwar jamdani. Duria jamdani has designs of spots all over. Belwari jamdani with colourful golden borders used to be made during the Mughal period, especially for the women of herem, the inner court.
The production cost of jamdani in Mughal time was very high and its quality control deserves a mention here. The Daroga-i-mulmul posted in the headquarters of Mulmul Khas office in Dhaka used to engage expert artisans for jamdani weaving paying them money in advance. Only the members of the royal family could afford these as the costing of such jamdani products was beyond the reach of ordinary people. The exclusive fabrics for them were made in some designated top class weaving factories under the close supervision of the daroga (inspector). The emerging top businessmen also used to set up jamdani weaving factories like the royal families to get required Jamdani fabrics for their own use. They also used to engage jamdani artisans for this purpose. The demand of such precious jamdani products was very high in the international market. Royal families from Europe and Asia used to procure those costly cloths through placing order in advance to the trading agencies in Dhaka. But the jamdani industry started declining from the early 19th century with the emergence of the mechanised textile industry and its cheaper products. The textile eventually mills captured the world cloth market.
The jamdani of Dhaka still survives with its new characteristics. It needs one to two months to make a standard jamdani sari. Although jamdani was made in different parts of Bangladesh in the past, the core villages to weave it were the villages which still survive with their past glories. The weavers of these villages are the main descendants of traditional jamdani weavers. The sites are Noapara, Dakkhin Ruposhi, Ruposhi Kajipara, Gandabpur, Shiddhirgonj, Mugrakul, Khidirpur, Imkoli, Tarabo, Khalpara, Dighborar, Khadun, Pabankul and Sultanbagh, Moreover, jamdani is also made by the artisan of nearby villages of Gonganagar, Kahina, Meergodai, Mahimpur, Harina Nodir Par and Meerkutircheo, and some areas of Sonargaon upazila. At present, Jamdani is also produced in Boalmari upazila of Faridpur district.
bangladesh small and cottage industries corporation (BSCIC) took up various initiatives from 1982 to improve the condition of jamdani industry and to make it a profitable sector. BSCIC conducted a survey in the jamdani rich Tarabo Union in 1962-63, when 1466 jamdani industrial units were traced out there. The number came down to 1173, when the second survey was conducted in 1964-65. After the liberation, BSCIC conducted another survey in those 15 villages including 14 villages of Tarabo union in 1993 and found that only 1119 weavers were engaged in jamdani production. According to the next survey conducted in the some villages in 1999, the number of jamdani weavers increased a little. Later in 2002, following the strengthening of BSCIC programme there, the number of artisans rose to 5,699 and the number of jamdani industrial units stood at 1528 and the number of operating looms was 2519.
The government of Bangladesh undertook several measures to develop jamdani industry, which include establishment of a Jamdani Industrial Estate and Research Centre. Its objective is to enhance production quality and marketing facility, provide infrastructural facilities to the jamdani artisans, rehabilitate the jamdani entrepreneur and weavers, promote the socio-economic status of the skilled and experienced jamdani craftsmen, supply designs and samples of jamdani having high demand in markets to the artisans, conduct research of improving the qualitative standard and excellence of jamdani product. BSCIC started the construction work of the Jamdani Industrial Estate and Research Centre in Noapara village under Tarabo union of Rupgonj upazila in Narayangonj district in July 1993 and completed the work in 1999 at a cost of Tk 58.563 million across a land of 20 acres. At present, there are 412 industrial plots (each of 1200-2000 square feet) over 14.39 acres of land. So far 399 plots have already been allotted to the entrepreneurs. [Zinat Mahrukh Banu and Masood Reza]