Fenchuganj Upazila (sylhet district) area 144.48 sq km, located in between 24°38' and 24°45' north latitudes and in between 91°53' and 91°02' east longitudes. It is bounded by sylhet sadar upazila on the north, rajnagar and kulaura upazilas on the south, golapganj upazila on the east, balaganj upazila on the west.
Population Total 95161; male 48029, female 47132; Muslim 84488, Hindu 10655 and others 18.
Water bodies Main rivers: kushiyara; hakaluki Haor, Dhuburia Haor, Baraiya Beel and Tengra Beel are notable.
Administration Fenchuganj Thana was formed in 1907 and it was turned into an upazila in 1980.
Upazila
Municipality
Union
Mouza
Village
Population
Density (per sq km)
Literacy rate (%)
Urban
Rural
Urban
Rural

-

3

30

85

19047

76114

831

48.25

45.79
Upazila Town

Area
(sq km)

Mouza

Population

Density
(per sq km)

Literacy rate
(%)

9.92

3

19047

1920

48.25
Union
Name of union and GO code
Area (acre)
Population
Literacy rate (%)
Male
Female

Gilachhara 47

12747

13755

13699

35.38

Fenchuganj 23

9296

19220

19255

42.29

Maijgaon 71

5087

15054

14178

60.81
Source Bangladesh Population Census 2001, Bangladesh Bureau of Statistics.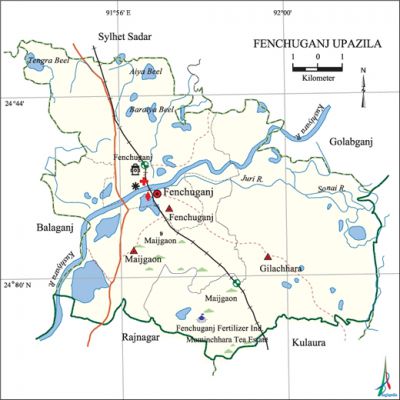 Archaeological heritage and relics Ferry ghat of the east india company.
History of the War of Liberation The Pak army shot two gardeners dead on the first gate of the Fenchuganj Fertilizer Factory premises of the upazila in May. Later on, they also shot two labourers of the Monipuri Tea Garden dead.
Marks of War of Liberation Mass killing site 1 (Kaiyer Warehouse), memorial monument 1(Gilachhara).
Religious institutions Mosque 131, temple 8. Noted religious institutions: Delwar Hossain Jami Mosque.
Literacy rate and educational institutions Average literacy 46.29%; male 48.97%, female 43.59%. Educational institutions: college 3, secondary school 11, primary school 39, community school 5, kindergarten 9, madrasa 24. Noted educational institutions: Kashim Ali High School (1915), Farida Khatun Girls' School (1962), Hatuvanga Daruls Sunnah Dakhil Madrasa (1962).
Newspapers and periodicals Fenchuganj Samachar (defunct), Fenchuganj Barta.
Cultural organisations Library 1, club 8, shilpakala academy 1, playground 6.
Tourist spots Fenchuganj Fertilizer Factory, Hakaluki Haor,' tea gardens.
Main sources of income Agriculture 34.95%, non-agricultural labourer 9.19%, industry 0.55%, commerce 13.54%, transport and communication 2.37%, service 11.34%, construction 1.24%, religious service 0.35%, rent and remittance 9.13% and others 17.34%.
Ownership of agricultural land Landowner 35.07%, landless 64.93%; agricultural landowner: urban 25.97% and rural 37.37%.
Main crops Paddy, wheat, sugarcane, peanut, mustard, lentil, potato.
Extinct or nearly extinct crops Tobacco, jute, black gram.
Main fruits Mango, jackfruit, coconut, litchi, pineapple.
Fisheries, dairies and poultries Fishery 12, dairy 18, poultry 28.
Communication facilities Pucca road 51.40 km, mud road 106.35 km; railway 14 km; waterway 2.5 nautical miles; culvert 136, bridge 4.
Extinct or nearly extinct traditional transport Palanquin, bullock cart.
Noted manufactories Fertilizer factory (Fenchuganj Fertilizer Factory), tea factory, power station (Barkatullah Electro Dynamic Limited).'
Cottage industries Goldsmith, blacksmith, potteries, Shital Pati.
Hats, bazars and fairs Hats and bazars are 16, fairs 3, most noted of which are Fenchuganj Bazar and Maijgaon Bazar.
Main exports Natural gas, tea, fertilizer, Shital Pati.
Access to electricity All the unions of the upazila are under rural electrification net-work. However 36.24% of the dwelling households have access to electricity.
Natural resources Natural gas.
Sources of drinking water Tube-well 74.72%, pond 6.23%, tap 9.28%, and others 9.77%.
Sanitation 50.14% (urban 51.02% and rural 46.63%) of dwelling households of the upazila use sanitary latrines and 38.77% (urban 43.11% and rural 37.67%) of dwelling households use non-sanitary latrines; 11.09% of households do not have latrine facilities.
Health centres Upazila health complex 1, union health and family welfare centre 1, satellite clinic 1, family planning centre 3, clinic 7, veterinary hospital 1.
NGO activities brac, asa, VARD. [Jayanta Singh Roy]
References Bangladesh Population Census 2001, Bangladesh Bureau of Statistics; Cultural survey report of Fenchuganj Upazila 2007.