Gazaria Upazila (munshiganj district) area 130.92 sq km, located in between 23°29' and 23°37' north latitudes and in between 90°34' and 90°43' east longitudes. It is bounded by sonargaon and meghna upazilas on the north, matlab uttar upazila on the south, daudkandi upazila on the east, munshiganj sadar and Sonargaon upazilas and the meghna river on the west. The entire upazila is surrounded by the Meghna river.
Population Total 138108; male 69698, female 68410; Muslim 133453, Hindu 4631 and others 30.
Water bodies Main river: Meghna.
Administration Gazaria Thana, once a part of Daudkandi Thana, was formed in 1954 and it was turned into an upazila in 1983.
Upazila
Municipality
Union
Mouza
Village
Population
Density (per sq km)
Literacy rate (%)
Urban
Rural
Urban
Rural

-

8

114

133

6268

131840

1055

66.4

53.2
Upazila Town

Area
(sq km)

Mouza

Population

Density
(per sq km)

Literacy rate
(%)

4.76

5

6268

1317

66.4
Union
Name of union and GO code
Area (acre)
Population
Literacy rate (%)
Male
Female

Imampur 73

5146

10657

10762

55.53

Gazaria 42

3680

7171

7316

53.34

Guagachhia 52

3723

7265

7411

38.75

Tenger Char 84

2773

6588

6193

64.39

Bausia 21

5381

11785

11499

49.03

Baluakandi 10

2950

8205

7533

48.93

Bhaber Char 31

2145

5868

8358

66.91

Hossaindi 63

5045

9459

9338

54.04



Source Bangladesh Population Census 2001, Bangladesh Bureau of Statistics.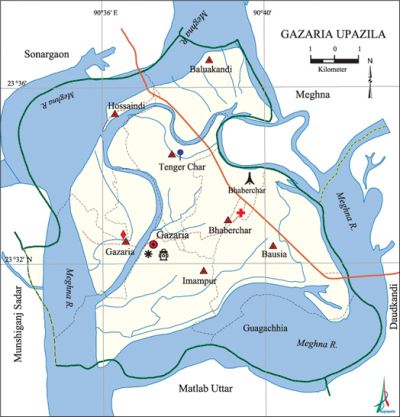 History of the War of Liberation On 9 May 1971 the Pak army, in collaboration with the local razakars, launched attack in different places of the upazila and killed 360 innocent persons. On 14 May the freedom fighters destroyed the Bhater Char Bridge by explosive and disrupted the communication between Dhaka and Chittagong. The Pak army burnt most of the houses of the village Bausia on 22 May. Nine freedom fighters were killed by the Pak army on 3 December while they were destroying the Bhater Char Bailey Bridge. On 8 December the Pak army killed 10 boys at Bhaber Char. An encounter was held between the freedom fighters and the Pak army on 9 December in which one freedom fighter was killed. On 14 December the allied forces conducted air raid on the Pak army in which two Pak gun-boats were damaged. On this day Gazaria was liberated.
Marks of War of Liberation Mass grave 1 (Bhaber Char).
Religious institutions Mosque 230, temple 5. Noted religious institutions: Kaunia Mosque, Puran Bausia Jami Mosque, tomb of Sulaiman Lengta, Bhaber Char Mandir.
Literacy rate and educational institutions Average literacy 53.08%; male 57.04%, female 50.1%. Educational institutions: university 1, college 2, engineering staff college 1, vocational institutions 1, secondary school 12, primary school 67, madrasa 5. Noted educational institutions: Gazaria Government College, Bhaberchar Wazir Ali High School (1930), Gazaria Pilot High School (1947), Gazaria Pilot Girls' High School (1977), Baluakandi Dr. Abdul Gaffar' High School,' Osdow Academy Junior High School, Gazaria Batenia Senior Madrasa.
Newspapers and periodicals Dainik Munshiganjer Kagoz.
Cultural organisations Library 2, press club 1, shilpakala academy 1, club 25, cinema hall 1, women's organisation 41, playground 18.
Main sources of income Agriculture 44.63%, non-agricultural labourer 1.72%, industry 0.40%, commerce 17.02%, transport and communication 3.49%, service 6.80%, construction 1.52%, religious service 0.21%, rent and remittance 2.25% and others 21.96%.
Ownership of agricultural land Landowner 64.74%, landless 35.26%; agricultural landowner: urban 65.48% and rural 64.70%.'
Main crops Paddy, wheat, potato, mustard, sesame, lentil, peanut, maize.
Extinct or nearly extinct crops Jute, kaun, kalai, flax.
Main fruits Mango, blackberry, jackfruit, banana, papaya, litchi, coconut, guava, plum, palm, shaddock, wood apple, water-melon.
Fisheries, dairies and poultries Fishery 22, poultry 25, hatchery 4, others 1.
Communication facilities Pucca road 46.07 km, mud road 142 km.
Extinct or nearly extinct traditional transport Palanquin, bullock cart.
Noted manufactories Paper mill, cotton mill, cement factory, biscuit factory, cold storage.
Cottage industries Goldsmith, blacksmith, pottery, weaving, wood work, bamboo work.
Hats, bazars and fairs Hats and bazars are 7, fairs 4, most noted of which are Gazaria Bazar, Bhaber Char Bazar, Rasulpur Bazar, Hossaindi Bazar, Daskandi Batgachhtala Mela (Madhya Bausia) and Kaligachhtala Mela (Bhaber Char).
Main exports Potato, wheat, paper, cement, yarn.
Access to electricity All the unions of the upazila are under rural electrification net-work. However 27.85% of the dwelling households have access to electricity.
Sources of drinking water Tube-well 87.67%, tap 0.41%, pond 1.54% and others 10.38%. The presence of arsenic has been detected in 87% shallow tube-well of the upazila. As per a survey conducted in 2001 about 103 patients have been affected by arsenic contaminated diseases in the upazila.
Sanitation 38.35% (rural 36.17% and urban 82.34%) of dwelling households of the upazila use sanitary latrines and 54.86% (rural 56.94% and urban 12.90%) of dwelling households use non-sanitary latrines; 6.79% of households do not have latrine facilities.
Health centres Upazila health complex 1, satellite clinic 4, family planning centre 8, charitable dispensary 4, community clinic 6, artificial breeding centre 1, veterinary hospital 1.
NGO activities brac. [AKM Habibur Rahman]
References Bangladesh Population Census 2001, Bangladesh Bureau of Statistics; Cultural survey report of Gazaria Upazila 2007.