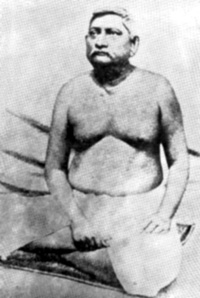 Ghosh, Girish Chandra (1844-1912) playwright, actor and director, was born on 28 February 1844 at Baghbazar in calcutta. He studied first at Hare School and then at Oriental Seminary in Calcutta. His interest in studies waned after he lost his parents and, in 1862, he left school. Girish Chandra's father-in-law helped get him an apprenticeship in a British company, and Girish Chandra soon became an expert book keeper. He became an avid reader of both Indian and western literature, the puranas and philosophy. At about this time he became acquainted withishwar chandra gupta and started writing songs, poems and plays.
Girish Chandra initially wrote songs for michael madhusudan dutt's play Sharmistha, staged by the baghbazar amateur theatre. He then acted the role of Nimchand in dinabandhu mitra's Sadhavar Ekadashi. The Baghbazar group established the national theatre in 1871, but Girish Chandra fell out with the group. In 1877, his first play, Agamani, was staged at the great national theatre, which he joined as manager in 1880.
Girish Chandra's play Chaitanyalila, with binodini dasi in the role of Sri chaitanya, was staged at the star theatre on 20 September 1884. ramakrishna Paramhansadev came to see the play. Girish Chandra met Ramakrishna on this occasion and became his disciple. He then started writing plays on religious themes.
Girish Chandra also worked with other theatres such as the emerald, Classic, Kohinoor and minerva, which he joined as director in 1908.
Girish Chandra wrote 80 plays on religious, historical and social themes, among them Abhimanyuvadh (1881), Sitar Vanavas (1881), Sitaharan (1882), Pandaver Ajvatavas (1882), Prafulla (1889), Maukulamanjari (1892), Jana (1894), Abu Hussain (1896), Validan (1904), Sirajuddaula (1905), Meer Kasem (1906), Chhatrapati Shivaji (1907), Shabkaracharya (1910) Kalapahad, Haranidhi and Vilvamangal Thakur. He also translated Shakespeare's Macbeth (1893) into Bangla and dramatised Bankimchandra's novels Mrnalini, Visvrksa and Durgeshnandini, Madhusudan's epic meghnadbadh and Nabinchandra's poem Palashir Yuddha.
Girish Chandra acted in a variety of roles. His performance in the dual roles of ramachandra and Meghnad in Meghnadbadh in 1877 was applauded by the editor of Sadharani, Akshoy Chandra Sarkar, who referred to him as the 'Garrick of Bengal'. As director, Girish Chandra helped to develop many actors and actresses. He also founded a dance school to train prostitutes for the stage. For the convenience of actors, he modified the blank verse of Madhusudan into a form known after him as Gairish Chhanda (Girish metre).
Girish Chandra's lifelong association with the theatre at its nascent stage greatly helped the development of Bengali theatre, transforming what had been amateur theatre into a professional one. Author of the largest number of Bangla plays and perhaps the greatest actor of his time, Girish Chandra died in Kolkata on 8 February 1912. [Amrita Lal Bala]