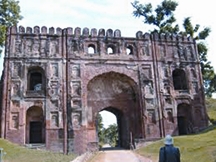 Gumti Gate the eastern gate of the citadel of Gaur-Lakhnauti, the Sultanate capital of Bengal. The name is of uncertain origin. In plan and construction, the building is in marked contrast to the Mughal lukochuri darwaza, a little to its north. It is smaller in size than the latter and consists of a brick-built single room, 7.60 sq.m with walls 2.65m thick. The outer dimension of the building is 12.80sq.m with four doorways, one on each side, the east and west entrances being flanked by fluted turrets. The corners of the building have the usual corner towers of Sultanate monuments. A single dome built on squinches covers the structure; a feature which started with the eklakhi mausoleum at Pandua and continued throughout the Sultanate period in similarly planned monuments. If the tomb of Iltutmish in the Qutb area of Delhi is regarded as the forerunner of the Eklakhi Mausoleum, the Gumti Gate might have been an imitation of the Alai Darwaza, the southern gateway of the Quwwatul Islam Mosque. There are indications of the gateway's connection with the citadel walls on the north and south sides of the building. The gateway has a carved cornice, and was ornamented more with tiles than with the usual terracotta techniques.
The date of the building is uncertain. Some scholars have assigned it to the builder of the citadel, ie Sultan nasiruddin mahmud shah (1442-59 AD). Others, on the evidence of an inscription found in the Niamatullah complex in Firuzpur, date the construction of a gateway during the reign of Sultan Alauddin husain shah in 1512 AD. Since architecturally there is no clear dynastic definition of the Sultanate monuments, there should not be any disputes about why the date of the monument should be separated from the date of the citadel.
Professor a.h. dani argued that, since the gateway is ornamented with tiles, and that since this is a feature of the Husain Shahi period, the building must have been the work of Alauddin Husain Shah.
This argument may be untenable. This is because the extant remains of tiles that were in the minar at Chhota Pandua, built about a century earlier, continued to be used through all the dynasties ruling Gaur-Lakhnauti and Pandua-Firuzabad. Moreover, if there was a ceremonial gateway from the north for the Sultan, there would have been other subsidiary or emergency gateways on other sides.
The existence of the chika building generally reckoned as the daftar khana or office building in front further necessitated the erection of such a gateway on this side. The flutes of the gateway, suggestive of the adina mosque's influence, speaks of its proximity to an architecture that left a permanent impression on subsequent building art. [ABM Husain]