Homna Upazila (comilla district) area 150.55 sq km, located in between 23°37' and 23°45' north latitudes and in between 90°38' and 90°53' east longitudes. It is bounded by banchharampur upazila on the north, daudkandi and gazaria upazilas on the south, muradnagar upazila on the east, araihazar upazila on the west.
Population Total 191449; male 98027, female 93422; Muslim 180459, Hindu 10965 and others 25.
Water bodies Main rivers: meghna, titas,' Kathalia; Luitar Beel, Darirchar Beel, Kasimpur Beel, Kalidhoar Beel and Khodadawdpur Beel are notable.'
Administration Homna Thana, now an upazila, was formed in 1918.
Upazila
Municipality
Union
Mouza
Village
Population
Density (per sq km)
Literacy rate (%)
Urban
Rural
Urban
Rural

1

10

79

158

24193

167256

1272

31.82

33.37
Upazila Town

Area
(sq km)

Mouza

Population

Density
(per sq km)

Literacy rate (%)

11.74

5

24193

2061

31.82
Union
Name of union and GO code
Area (acre)
Population
Literacy rate (%)
Male
Female

Asadpur 15

3969

10874

10739

28.98

Garmora 50

5276

7486

6742

30.61

Ghagutia 47

3386

10591

10766

25.68

Chander Char 28

3287

11862

12145

35.02

Joypur 25

1584

6362

5811

45.51

DulalPur 22

2934

9955

9572

36.58

Nilakhi 85

6023

11607

10060

32.32

Bhasania 20

4775

10274

8799

39.90

Mathabhanga 76

3215

8274

8081

31.37

Homna 66

3189

10742

10707

30.36
Source Bangladesh Population Census 2001, Bangladesh Bureau of Statistics.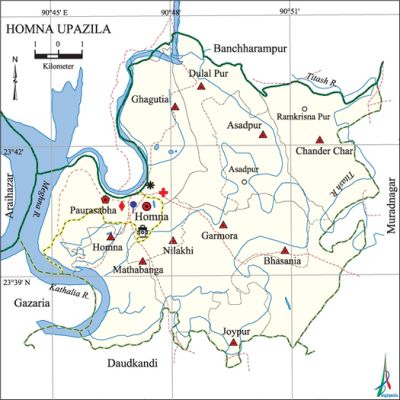 Archaeological heritage and relics Homna Kali Mandir, Karakandi Balagazi Mosque.
History of the War of Liberation At the end of July 1971 the Pak army attempted an entry into the Joypur village through the Titas. The freedom fighters attacked them from both sides of the river causing serious damage to enemy motor launch. The Pak army retreated towards Machhimpur. A number of Pak soldiers were killed or wounded in this encounter. Besides, encounters were held between the freedom fighters and the Pak army at different places of the upazila including Champak Nagar, Ghagutia, Nilokhi Bazar, Dulal Bazar, Homna Sadar and Panchabati in whcih 23 freedom fighters were killed and 24 were wounded. The Pak army also buried alive a number of men, women and children at a place adjacent to the' Homna Degree College.
Marks of the War of Liberation Mass grave 1, memorial monument 1.
Religious institutions Mosque 350, temple 26, sacred place 2. Noted religious institutions: Karakandi Balagazi Mosque, Homna Kali Mandir.
Literacy rate and educational institutions Average literacy 33.18%; male 38.24%, female 27.94%. Educational institutions: college 4, vocational training instituate 1, secondary school 16, primary school 108, kindergarten 2, madrasa 278. Noted educational institutions: Mathabhanga Bhairab High School (1919), Ramkrishnapur KRK High School (1928), Homna Government Pilot High School (1929). Ghaniarchar Uttar Government Primary School (1905), Joypur Government Primary School (1918), Barakalmina Government Primary School (1919)
Newspapers and periodicals Weekly: Homna; Daily: Homna.
Cultural organisations Library 1, shilpakala academy 1, playground 10.
Main sources of income Agriculture 46.91%, non-agricultural labourer 2.45%, industry 5.54%, commerce 17.16%, transport and communication 1.73%, service 6.18%, construction 1.24%, religious service 0.28%, rent and remittance 3.26% and others 15.25%.
Ownership of agricultural land Landowner 66.08%, landless 33.92%; agricultural landowner: urban 66.44% and rural 66.02%.'
Main crops Paddy, wheat, corn, potato, sesame, mustard, musuri, vegetables.
Extinct or nearly extinct crops Kaun, china, mugh.
Main fruits Mango, water-melon, futi, papaya.
Fisheries, dairies and poultries Fishery 1, poultry 40.
Communication facilities Pucca road 25 km, semi-pucca road 765 km, mud road 200 km; waterway 52 nautical miles.
Extinct or nearly extinct traditional transport Palanquin.
Noted manufactories Rice mill, saw mill, flour mill, oil mill, ice factory, welding factory, candle and chanachur making factory.
Cottage industries Goldsmith, potteries, weaving, embroidery, bamboo work, wood work.
Hats, bazars and fairs Hats and bazars are 27, fairs 2, Homna Hat, Ramkrishnapur Hat, Dulalpur Hat, Mirash Hat, Kashipur Hat, Shreepur Hat, Joypur Hat, Asadpur Hat, Paus Mela and Baishakhi Mela.
Main exports Wheat, potato, sesame, mustard, musuri, vegetables.
Access to electricity All the wards and unions of the upazila are under rural electrification net-work. However, 38.55% of the dwelling households have access to electricity.
Sources of drinking water Tube-well 92.34%, tap 1.01%, pond 1.55% and others 5.10%. The presence of arsenic has been detected in shallow tube-well water of the upazila.
Sanitation 40.30% (rural 40.86% and urban 36.43%) of dwelling households of the upazila use sanitary latrines and 48.18% (rural 47.16% and urban 55.15%) of dwelling households use non-sanitary latrines; 11.52% of households do not have latrine facilities.
Health centres Upazila health centre 1, union health and family planning centre 7, satellite clinic 5, veterinary hospital 1, rural health centre 7, clinic 10.
Natural disasters The tornado of 1969 and the flood of 1998 caused heavy damages to settlements and crops of the upazila.
NGO activities Operationally important NGOs are brac, asa. [Md Mazharul Islam]
References Bangladesh Population Census 2001, Bangladesh Bureau of Statistics; Cultural survey report of Homna Upazila 2007.