Hossain, Roquiah Sakhawat
Hossain, Roquiah Sakhawat (1880-1932) litterateur, educationist, social reformer, played a pioneering role in awakening Muslim women. She was born on 9 December 1880 into a landed family of Pairaband in rangpur. Zahiruddin Abu Ali Haider Saber was her father and Rahatunnesa Chowdhury, her mother. Her ancestors served in military and judiciary departments during the Mughal regime. Named Roquiah Khatun, she is commonly known as Begum Rokeya. She came to be known as Roquiah Sakhawat Hossain after her marriage. In the literary circle, she was commonly known as Mrs RS Hossain. Roquiah's father was a multi-lingual intellectual and was versed in Arabic, Urdu, Persian, Bangla, Hindi and English. But yet, he could not transcend the spirit of the time about women education. Like the rest of the society, Saber was also of the opinion that women should not receive education beyond the bounds of home.'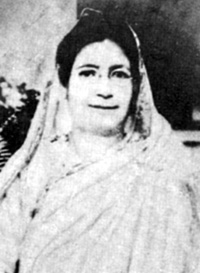 Thus, while Saber sent Roquiah's elder brothers, Mohammad Ibrahim Abul Asad Saber and Abu Zaigam Khalilur Rahman Saber, to Saint Xavier's College, Calcutta, Roquiah and her elder sister, Karimunnessa, were not sent to school. Though Roquiah was not allowed to receive formal education, she learnt both Bangla and English at home with the help of her brothers. Roquiah's elder brothers and sister not only contributed to educating Roquiah, but also inspired her in writing.
In 1898, Roquiah was married to Syed Sakhawat Hossain, an Urdu-speaking man from Bhagalpur in Bihar. A deputy magistrate, Sakhawat Hossain was liberal and progressive, and encouraged his wife to study both Bangla and English and also inspired her to read literary works from home and abroad and she took the fullest advantage of the liberality of her husband. Besides reading the existing literature in Bangla very extensively, she also took to writing at the same time. Unfortunately, Roquiah had a short conjugal life. Her husband died on 3 May 1909. She had two daughters, but they died in infancy.
Despite her personal grief, Roquiah did not surrender to fate. Roquiah realised that women could be freed from their shackles only if they were educated and became independent economically. On 1 October 1909, she started a school for Muslim girls at Bhagalpur with only five students, naming it after her husband, Sakhawat Memorial Girls' School. However, she could not continue at Bhagalpur for domestic reasons and decided to move to Calcutta.
At Calcutta she set up Sakhawat Memorial Girls' School in a house at 13, Waliullah Lane on 16 March 1911 with eight students. The school was upgraded to Middle English Girls' School in 1917 and to High English Girls' School in 1931, and all through the untiring efforts of Roquiah. As the school was growing through increase of students, it became difficult to accommodate them in the small campus. In search of a permanent campus, the school was shifted from place to place. In 1931, it was at 13, European Asylum Lane; in 1932, at 162, Lower Circular Road and in 1938, at 17, Lord Sinha Road. In spite of all difficulties, Roquiah ran the school for twenty-four years, facing hostile criticism and various social obstacles, and made it one of the best seat of learning available for Muslim girls. At its early stage, mostly non-Bengali girls were admitted to Sakhawat Memorial School, because Bengali guardians seldom chose to send female members of the family to school. Roquiah is said to have gone from house to house, persuading the parents in favour of female education. She assured the guardians that students of her school would be required to maintain purda at her school. Her tireless efforts paid off. Girls of the Muslim middle class Muslim girls breaking the taboo against stepping out of the house to study. She also arranged horse-carriages so that girls could go to school and return home in purdah.
Sakhawat Memorial Girls' School gave lessons in Bangla, English, Urdu, Persian, home nursing, first aid, cooking, sewing, physical exercise, music etc. Roquiah used to visit other girls' schools to see for herself the teaching methods employed there and how the schools were managed. As there were not many competent female teachers at that time in Calcutta, Roquiah herself used to train the teachers. It was at her repeated urgings that the government set up the Muslim Women Training School in Calcutta in 1919. Roquiah's thought was that social injustices and extreme forms of purdah kept Muslim women backward and helpless. She felt that the attitude of the male society to women education must be changed before women could be emancipated. Roquiah took to writing with a mission. Her mission was to change the discriminating attitude of men towards women. She used her pen to change social prejudices, religious bigotry and ignorance. Roquiah wrote in a number of genres, short stories, poems, essays, novels and satirical writings, developing a distinctive literary style, characterised by creativity, logic and a wry sense of humour. She started writing in the nabanoor from about 1903, under the name of Mrs RS Hossain. However, there is an opinion that her first published writing pipasha appeared in the Nabaprabha in 1902. She wrote regularly for the saogat,mohammadi,Nabaprabha, Mahila, Bharatmahila, Al-Eslam, Nawroz, mahe-nao, bangiya mussalman sahitya patrika, The Mussalman, Indian Ladies Magazine etc.
Roquiah's writings called upon women to protest against injustices and break the social barriers that discriminated against them. Abarodhbasini (The Secluded Women, 1931) is a spirited attack on the extreme forms of purdah that endangered women's lives and thoughts. Her other noted works include Matichur (essays lst vol 1904, 2nd Vol. 1922), Sultana's Dream (satire, 1908), Padmarag (novel, 1924). Sultana's Dream, which she later translated into Bangla as Sultanar Svapna, is a satirical piece, set in a place called Lady Land, a world ruled by women. The second volume of Matichur includes stories and fairy tales such as Saurajagat (The Solar System), Delicia Hatya (translation of the Murder of Delicia, by Mary Corelli), Jvan-phal (The Fruit of Knowledge), Nari-Sristi (Creation of Women), Nurse Nelly, Mukti-phal (The Fruit of Emancipation) etc. Roquiah also wrote fine poetry. Her poem titled 'Saogat' was published on the first page of the first issue of the Saogat in Agrahayan, 1325 (1918 AD).'
Roquiah Sakhawat Hossain founded an organisation called Anjuman-e-Khawatin-e-Islam, or the Muslim women's society, in 1916 to make women aware of their rights. The society was in the forefront of the fight for women's education, employment and their legal and political rights. The organisation defrayed the cost of education for a large number of girls and arranged marriages for many poor girls. It gave shelter to orphans and the destitute and extended financial help to widows. It also established some businesses for women to earn economic independence. Roquiah died in Calcutta on 9 December 1932. [Shahida Akhter]