Imam, Jahanara (1929-1994) known as 'Shaheed Janani' (mother of martyrs), coordinator of the Ghatak-Dalal Nirmul Committee (1992), Jahanara Imam was born in a landowning family in the village of Sundarpur in Murshidabad district on 3 May 1929. In 1942, she sat for the Matriculation examination from Rangpur as a private candidate. In 1944, she appeared in the Intermediate examination from Carmichael College, Rangpur. In 1947, she passed the BA from lady brabourne college,kolkata .She then joined her family at Mymensingh and started teaching at Bidyamoyi Sarkari Balika Bidyaloy. On 9 August 1948 she married Shariful Alam Imam Ahmed, an engineer.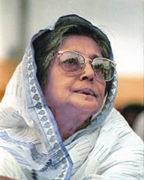 Shariful Alam went abroad for training, and Jahanara Imam continued to teach at Bidyamoyi Sarkari Balika Bidyaloy. On his return, the young couple moved to dhaka. Jahanara Imam then joined Siddheswari Girls' School, Dhaka, becoming its headmistress in 1952. In 1960, she completed her BEd from Teachers Training College. In 1964, she was awarded a Fulbright scholarship for higher studies in the United States, where she completed a Certificate in Education. Returning to Dhaka, she completed her MA in Bangla from Dhaka University in 1965.The next year she joined Teachers' Training College. After working at the college for two years, she left to join the Language Institute.
In 1971, following the crackdown on 25 March, many young men joined the liberation struggle. Jahanara Imam's son, Rumi, also became a mukti joddha. As a mother, Jahanara Imam felt anxious about her son. During the nine months of the war, she wrote a diary, detailing events as well as her own feelings about the war. Rumi did not return from the war. Her husband was picked up for questioning by the Pakistani army, but returned only to die shortly afterwards. Rumi's friends who returned alive from the war honoured Jahanara Imam as the mother of a martyred freedom fighter, calling her 'Shaheed Janani'. In 1986, Jahanara Imam published her diary as Ekattarer Dinguli (The days of seventy-one). The detailed account of the war and the personal tragedy she had suffered immediately made Jahanara Imam famous.
In 1981 Jahanara Imam was diagnosed with mouth cancer. But the disease could not repress her vigour of activities. She continued to write stories, novels, and diaries. Among her writings inclue Anya Jiban (1985), Birshrestha (1985), Jiban Mrtyu (1988), Chirayata Sahitya (1989), Buker Bhitare Agun (1990), Nataker Abasan (1990), Dui Meru (1990), Nihsabga Pine (1990), Nay E Madhur Khela (1990), Cancer-er Sabge Basabas (1991), about living with cancer, and Prabaser Dinalipi (1992).
Though Jahanara Imam had to have several operations which made speaking difficult, she refused to let cancer destroy her spirit. Meanwhile, many who had been actively against the liberation struggle in 1971 were slowly becoming powerful, and Jahanara Imam was called upon to lend her support against them. Never a political figure, she came into the political forefront and, in 1992, helped organise the Ghatak-Dalal Nirmul Committee (committee to exterminate traitors and collaborators), calling upon the people to counteract anti-liberation forces. To make people aware of the evil deeds perpetrated by collaborators in 1971, she set up the 'Gana-Adalat' (people's court) asking for the people's verdict against traitors. The Gana-Adalat was a symbolic protest, but Jahanara Imam and 24 other intellectuals were charged with treason. The charges were never dropped. Jahanara Imam died in Dhaka on 26 June 1994. [Ahmad Kabir]