Bajitpur Upazila (kishoreganj district) area 172.18 sq km, located in between 24°09' and 24°18' north latitudes and in between 90°50' and 91°03' east longitudes. It is bounded by katiadi, nikli and austagram upazilas on the north, kuliarchar, bhairab and sarail upazilas on the south, Austagram and nasirnagar upazilas on the east, Katiadi upazila on the west.
Population Total 210375; male 105988, female 104387; Muslim 188318, Hindu 21981, Buddhist 13 and others 63.
Water bodies Main rivers: meghna, old brahmaputra, dhaleshwari, Ghorautra; noted canals: Shialdi, Kadangi, Barakhal, Bhabdia and Chhaivan; noted beels: Bengla, Barun, Aurondi and laundi.
Administration Bajitpur Thana was formed in 1835 and it was turned into an upazila in 1983. Bajitpur municipality was formed in 1869.
Upazila
Municipality
Union
Mouza
Village
Population
Density (per sq km)
Literacy rate (%)
Urban
Rural
Urban
Rural

1

11

84

188

26925

183450

1096

55.1

31.5
Municipality

Area
(sq km)

Ward

Mahalla

Population

Density
(per sq km)

Literacy rate (%)

9.84

9

28

26925

2763

55.1
Union
Name of union and GO code
Area (acre)
Population
Literacy rate (%)
Male
Female

Kailag 72

2955

7310

7013

22.54

Gazir Char 43

1619

4612

4437

33.87

Dighirpar 25

3610

8939

8982

23.15

Dilalpur 34

2606

8080

7926

32.48

Pirijpur 86

5730

14141

13774

33.41

Baliardi 17

2090

6965

7194

28.20

Maij Char 77

5483

6856

6988

19.50

Sarar Char 94

3055

11587

11210

41.65

Hilachia 60

6030

11869

11735

34.46

Halimpur 51

2567

6906

7271

41.19

Humaipur 69

7301

5027

4628

24.59
Source  Bangladesh Population Census 2001, Bangladesh Bureau of Statistics.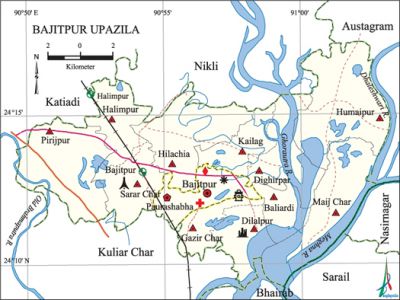 Archaeological heritage and relics Dewanbari Jami Mosque at Bhagalpur, Mazar of Pagla Shankara at Ghagatia, Mazar of Pir Motiur at Basantapur, Mazar of Mughal Shah at Dilalpur.
Historical events Dilalpur of this upazila was an important naval port during the British rule. There were indigo planting centres at nearby Gupinathpur and Ghoraghat. Pearl was an important export item to neighbouring countries. The fakir-sannyasi resistance spread over Bajitpur. In 1971 the Pak army brutally killed over 400 innocent persons, and 60 women were violated. On 4 May the Pak army conducted mass killing at Bash Mahal of Shahankhal. During the war of liberation 10 freedom fighters were killed in encounters with the Pak army. Bajitpur was liberated on 26 October 1971.
Marks of the War of Liberation Mass grave 1 (Sarar Char rail gate), memorial monument 1 (Pirijpur).
Religious institutions Mosque 185, temple 13, tomb 38, akhra 10.
Literacy rate and educational institutions Average literacy 34.6%; Male 38.7%, female 30.5%. Educational institutions: medical college 1, college 2, nursing institute 1, secondary school 15, primary school 115, madrasa 10. Noted educational institutions: Zahurul Islam Medical College and Nursing Institute (1989), Bajitpur Degree College (1964), Aftab Uddin School and College (1990), Bajitpur HE School (1890), Bajitpur Hafez A Razzak Pilot High School (1890), Sarar Char Shibnath Multilateral High School (1918), Razzakunnesa Girl's High School (1955), Bhagalpur Begum Rahima Girls High School.
Newspapers and periodicals Weekly: Mazlumer Dak; monthly: Bajitpur Samachar; quarterly: Dut.
Cultural organisations Club 55, library 13, press club 1, theatre club 1, writer's association 1, women's society 1, playground 10, cinema hall 2.
Main sources of income Agriculture 54.76%, non-agricultural labourer 3.71%, industry 0.75%, commerce 16.73%, transport and communication 4.58%, service 5.19%, construction 1.41%, religious service '0.22%, rent and remittance 0.74% and others 11.19%.
Ownership of agricultural land Landowner 50.82%, landless 49.18%; agricultural landowner: urban' 36.49% and rural 52.99%.
Main crops Paddy, jute, mustard, chilli, potato, ground nut, vegetables.
Extinct or nearly extinct crops Sesame, linseed, china, kaun, tobacco, pulse, betel leaf.
Main fruits Mango, jackfruit, banana, lotkon, wood-apple, shaddock.
Fisheries, dairies and poultries This upazila has a number of fisheries, dairies, poultries and hatcheries.
Communication facilities Pucca road 72 km, semi-pucca road 60 km, mud road 185 km; waterways 22 nautical miles.
Extinct or nearly extinct traditional transport Palanquin, bullock cart, buffalo cart.
Noted manufactories Paddy mill, saw mill, ice factory, leather factory, welding factory. '
Cottage industries Goldsmith, blacksmith, weaving, potteries, dried fish processing centre, wood work.
Hats, bazars and fairs Hats and bazars are 19, fairs 10, most noted of which are Sarar Char Hat, Fatehpur Bazar, Shreedharganj Bazar, and Kamalpur Mela, Kamiar Bari Mela and Dewan Bari Mela.
Main exports Fish, egg, milk, chicken, rice, banana.
Access to electricity All the wards and unions of the upazila are under rural electrification net-work. However 22.58% of the dwelling households have access to electricity.
Sources of drinking water Tube-well 94.92%, pond 0.28%, tap 0.63% and others 4.17%. The presence of arsenic has been detected almost 90% in shallow tube-well water of this upazila.
Sanitation 27.11% (rural 23.38% and urban 54.14%) of dwelling households of the upazila use sanitary latrines and 57.93% (urban 61.26% and rural 33.81%) of dwelling households use non-sanitary latrines; 14.96% of households do not have latrine facilities.
Heath centres Medical college hospital 1, upazila health complex 1, satellite health clinic 9, union health and family welfare centre 11.'
Natural disasters Many people of this upazila died due to famines of 1943 and 1974. There were serious damages to houses, crops and livestock due to floods of 1988 and 2004. Besides, Maij Char union of this upazila was ransacked by cyclone of 1997.
NGO activities brac, proshika, asa, Pally Bikash Kendra. [AKM Mesbahuddin Kamal]
References Bangladesh Population Census 2001, Bangladesh Bureau of Statistics; Cultural survey report of Bajitpur Upazila 2007.