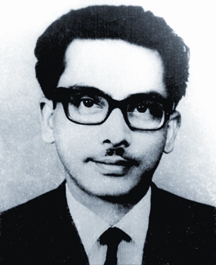 Kaiser, Shahidullah (1927-1971) journalist and novelist, born on 16 February 1927 in the Mazupur village of feni. His family name was Abu Nayeem Mohammad Shahidullah. His father, Maulana Mohammad Habibullah, was principal of the Dhaka Aliya Madrasah and his younger brother, zahir raihan, was a noted filmmaker and writer. Shahidullah Kaiser married Zohra Khatun, a communist activist and daughter of minister and physician R. Ahmed of west bengal. After the break-up of this marriage, Kaiser married Panna Chowdhury in 1969.
After completing Honours in economics from Presidency College in 1946, Shahidullah Kaiser enrolled for the Master of Arts in economics at Calcutta University, but could not sit for the final examination. As a student, he participated in various social, cultural and political movements. He was a member of the provincial Communist Party of East Pakistan and also played an important role in the language movement. For his role in politics, he suffered imprisonment several times. He was arrested on 3 June 1952 and was incarcerated for three and a half years.In 1955 he was again arrested and sent to jail. He was arrested for the third time on 14 October 1958 and was incarcerated four years till his release in September 1962.
Shahidullah Kaiser started his career in journalism in 1949 with the weekly ittefaq in Dhaka. In 1958, he was appointed associate editor of the sangbad, and continued to work there until his death.
Shahidullah Kaiser was also a novelist of note. He came into the limelight with Sareng Bau (The Captain's Wife, 1962), which deals with the human fight for existence. Later, a film was made based on this book. His other novels include Sangshaptak (The Indomitable Soldiers, 1965), which was later made into a highly acclaimed television serial, Krsvachura Megh (Krishnachura Clouds), Timir Balay (The Circle of Darkness), Digante Phuler Agun (The Flaming Horizon), Samudra O Trsva (Sea and Thirst), Chandrabhaner Kanya (Chandrabhan's Daughter) and the unfinished novel, Kabe Pohabe Bibhabari (When Will It Dawn?). Rajbandir Rojnamacha (The Diary of a Political Prisoner, 1962) details his life in prison. Peshwar Theke Tashkhand (From Peshwar to Tashkent, 1966) may be termed a political travelogue.
Shahidullah was the recipient of the Adamjee Literary Award (1962) and the Bangla Academy Award (1962). He was picked up by the occupation forces on the night of 14 December 1971, two days before the independence of Bangladesh, and never returned. [Muhammad Shamsul Alam]