Raihan, Zahir (1935-1971) filmmaker and writer, born 19 August 1935 in the village Majupur of Feni district. Zahir had his early education in Mitra Institute and later, he studied in Calcutta Alia Madrasah, where his father was a professor. After the Partition of Bengal in 1947, he along with his parents returned back to their own village. Zahir passed the Matriculation in 1950 from Amirabad High School and was then admitted to Dhaka College, from where he passed ISc Examinations. He obtained BA (Hon) in Bangla from the University of Dhaka.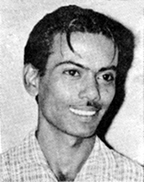 In his early years, Zahir was attracted by the communist movement. When Communist Party was banned and the leaders of the party went underground, he worked as a courier to carry letters and messages for them from one place to another. He got the name Raihan from underground leaders and thus his original name Zahirullah was changed to Zahir Raihan. He took an active part in the language movement. He was one of the first 10 students to go out in a procession on 21 February 1952 despite there was a ban on such activities. He and many others were arrested and then taken to prison.  
In his student life Zahir devoted himself to literature. His first book Surya Grahan, a collection of stories, was published in the 1362 BS. Other books written by him are Shesh Bikeler Maya, Hajar Bachhar Dhare, Arek Falgun, Baraf Gala Nadi and Ar Kata Din. He was one of the initiators in publishing the English Weekly Express in 1970. He was also associated with some other journals of literature. Zahir was honoured with the Adamjee Literature Award for his novel Hajar Bachhar Dhare and the Bangla Academy Award in 1972.
In 1952, Zahir went to Calcutta to learn photography and was admitted to Pramatesh Burua Memorial Photography School. He entered the film world in 1956. Kakhono Asheni, the first film directed by him, was released in 1961. Then came, one after another, his other films Kajal, Kancher Deyal, Behula, Jiban Theke Neya, Anwara, Sangam and Bahana. Jiban Theke Neya depicted the autocratic rule of Pakistan and inspired the people to protest against the Pakistani rulers. He started making an English film Let There Be Light, which he could not finish because of the break out of the war of liberation. After 25 March 1971, he went to Calcutta and produced a documentary film Stop Genocide highlighting the massacre done by the Pakistani Army. This film created a sensation all over the world.
Zahir's Urdu film Sangam was the first coloured film in Pakistan. His another Urdu film Bahana was a cinemascope. He received many awards for his Kancher Deyal. Both his wives, sumita devi (married 1961), and Suchanda (married 1968) were film actresses.
In December 1971, some unknown miscreants took away Zahir's elder brother shahidullah kaiser, an eminent writer from his residence at the University of Dhaka. Within days, on 30 December 1971, someone informed Zahir about an address, somewhere at Mirpur, where he might find his brother. Accordingly, Zahir left home to get his brother back. He never returned and until today, the day is observed as Zahir's Disappearance Day. [Abu Sayeed Khan]