Kalukhali Upazila (rajbari district) area 157.14 sq km, located in between 23°39' and 23°49' north latitudes and in between 89°21' and 89°35' east longitudes. It is bounded by sujanagar upazila on the north, sreepur and baliakandi upazilas on the south, Baliakandi and rajbari sadar upazilas on the east, pangsha upazila on the west.
Population Total 135458; male 69980, female 65478; Muslim 110222, Hindu 25040and others 196.
Water bodies Main rivers: padma, Gorai.
Administration Kalukhali Upazila was formed on 24 September 2006 comprising part of Pangsha upazila.
Upazila
Municipality
Union
Mouza
Village
Population
Density (per sq km)
Literacy rate (%)
Urban
Rural
Urban
Rural

-

7

86

90

-

135458

862

-

41.73
Union
Name of union and GO code
Area (acre)
Population
Literacy rate (%)
Male
Female

Kalikapur

3251

6623

6459

39.49

Boalia

5579

9879

9359

41.18

Majhbari

5471

8748

8060

43.48

Madapur

5476

8772

8291

42.47

Mrigi

6038

11343

10112

44.65

Ratandia

7049

12352

11745

39.34

Saorail

6422

12263

11452

41.47
Source Bangladesh Population Census 2001, Bangladesh Bureau of Statistics.
Marks of the War of Liberation Mass killing site 1 (adjacent to the railway station).
Religious institutions Mosque 57, temple 13.
Literacy rate and educational institutions Average literacy 41.73%; male 63.3%, female 58.4%. Educational institutions: college 3, secondary school 20, primary school 45, madrasa 19. Noted educational institutions: Mrigi Shaheed Dianot Degree College, Kalukhali College, Majhbari Jahanara Beugm College, Ratandia Rajanikantha High School (1920), Bangladesh Hat Nesaria Dakhil Madrasha, Hogladangi Mohammadia Islamia Kamil Madrasah, Charkultia Siddikia Dakhil Madrasha, Majbari Siddikia Seratul Haque Alim Madrasha, Surjadia Dakil Madrasha, Kalukhali Dakhil Madrasha, Bastopur Mohammadia Dakhil Madrasha, Arkandi Shohid Muktijoddah Dakhil Madrasha, Sangram Pur Dakhil Madrasah, Paturia Dakhil Madrasah.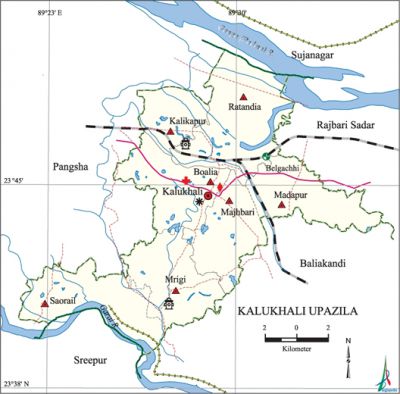 Cultural organisations Library 10, club 25, women organisation 1, playground 1.
Main sources of income Agriculture 42.01%, non-agricultural labourer 7.41%, industry 1.27%, commerce 21.31%, transport and communication 4.55%, service 10.61%, construction 1.78%, religious service 0.26%, rent and remittance 0.54% and others 10.26%.
Ownership of agricultural land Landowner 56.38%, landless 43.62%.
Main crops Paddy, wheat, jute, sugarcane, potato, vegetables.
Extinct or nearly extinct crops Aus paddy.
Main fruits Mango, jackfruit, banana, papaya, safeda, jamrul, blackberry, coconut.
Fisheries, dairies and poultries Dairy 42, poultry 60, fishery 30.
Communication facilities Pucca road 120 km, semi-pucca road 55 km, mud road 80 km; railway 12.75 km. Rail station 1.
Extinct or nearly extinct traditional transport Palanquin, horse carriage, bullock cart.
Noted manufactories Rice mill, fish feed mill, ice factory, welding.
Cottage industries Goldsmith, blacksmith, potteries, wood work, bamboo work, tailoring, nakshi kantha.
Hats, bazars and fairs Hats and bazars are 31, fairs 5, most noted of which are Gate Bazar, Kalikapur Bazar, Milat Bazar, Dattapara Bazar, Haribhanga Bazar, Panchtickri Bazar, Fultala Bazar, Paturia Bazar, Banjana Bazar, Chandpur Bazar, Gadimara Hat, Goutompur Hat, Nutun Hat, Baribaria Hat, Bangladesh Hat, Mohanpur Hat, Madapur Hat, Hatgram Hat and Durga Puja Mela and Paus Mela.
Main exports Paddy, jute, sugarcane.
Access to electricity All the unions of the upazila are under rural electrification net-work. However 30.36% of the dwelling households have access to electricity.
Sources of drinking water Tube-well 93.55%, pond 2.73%, tap 0.95% and others 2.77%.
Sanitation 35.55% of dwelling households of the upazila use sanitary latrines and 45.94% of dwelling houses use non-sanitary latrines; 19.51% of households do not have latrine facilities.
Health centres Union health and family planning centre 1, family welfare centre 1, community clinic 2.
NGO activities Operationally important NGOs are brac, proshika, asa. [Rajib Mondal]
References Bangladesh Population Census 2001, Bangladesh Bureau of Statistics; Field report of Kalukhali Upazila 2012.