Sreepur Upazila (Magura District)
Sreepur Upazila (magura district) area 175.15 sq km, located in between 23°32' and 23°41' north latitudes and in between 89°21' and 89°32' east longitudes. It is bounded by pangsha and baliakandi upazilas on the north, magura sadar upazila on the south, madhukhali and Baliakandi upazilas on the east, shailkupa upazila on the west.
Population Total 166749; male 81991, female 84758; Muslim 133934, Hindu 32693, Christian 62 and others 60.
Water bodies Main rivers: gorai, Kumar, Mara Kumar; Dariapur canal is notable.
Administration Sreepur Thana was formed in 1859 and it was turned into an upazila in 1983.
Upazila
Municipality
Union
Mouza
Village
Population
Density (per sq km)
Literacy rate (%)
Urban
Rural
Urban
Rural
-
8
79
164
4894
161855
952
69.2
51.3
Upazila Town

Area (sq km)

Mouza

Population

Density (per sq km)

Literacy rate (%)

3.11
2
4894
1574
57.2
Union
Name of union and GO code
Area (acre)
Population
Literacy rate (%)
Male
Female
Amalsar 10
6418
12564
13015
41.0
Kadir Para 42
3767
7602
7699
52.8
Gayeshpur 31
5142
9556
9784
44.4
Dariapur 21
4217
7875
8226
53.2
Nakol 52
4763
9754
9840
56.9
Sreekol 73
7719
13313
13807
55.0
Sreepur 84
5161
11509
12062
56.6
Sabdalpur 63
6095
9818
10325
55.7
Source Bangladesh Population Census 2011, Bangladesh Bureau of Statistics.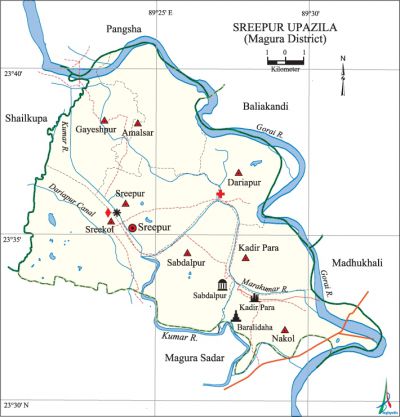 Archaeological heritage and relics Ruins of the palace of Birat Raja, Radhanagar Neel Kuthi (Kadir Para), Buddha Sangharam, Peelkhana and the house of Munshi Gairatullah.
War of Liberation Freedom fighters carried out an operation on the razakar camp at Paruni and also an attack on Pakistani soldiers at their camp near the Golaghat Railway Bridge. Freedom fighters uprooted the railway tracks near the Guniakuri village and later attacked the camp of the Pak army at Kawraid. The freedom fighters had also an encounter with Pak army at Maona Pathar area and had an encounter with Pakistani soldiers at their camp in Izzatput.
For details: see শ্রীপুর উপজেলা, বাংলাদেশ মুক্তিযুদ্ধ জ্ঞানকোষ (Encyclopedia of Bangladesh War of Liberation), বাংলাদেশ এশিয়াটিক সোসাইটি, ঢাকা ২০২০, খণ্ড ১০।
Religious institutions Mosque 115, temple 20, tomb 1. Noted religious institutions: Upazila Jami Mosque, tomb of Hazrat Pir Karim Shah Sabdalpur, Vedanta Math and Mission at Hazratala and Nakol Miapara, Kali Mandir at Baralidaha Paschim Para.
Literacy rate and educational institutions Average literacy 51.8%; male 54.2%, female 49.5%. Educational institutions: college 4, secondary school 26, primary school 71, kindergarten 3, community school 5, madrasa 16. Noted educational institutions: Nakol Raicharan Secondary School (1901), Sreepur MC Pilot Secondary School (1902).
Cultural organisations Library 1, club 23, cinema hall 4.
Main sources of income Agriculture 64.35%, non-agricultural labourer 2.07%, industry 1.50%, commerce 12.79%, transport and communication 4.72%, service 8.17%, construction 1.27%, religious service 0.15%, rent and remittance 0.62% and others 4.36%.
Ownership of agricultural land Landowner 61.19%, landless 38.81%; agricultural landowner: urban 61.71% and rural 61.17%.'
Main crops Paddy, jute, wheat, mustard, pulse, vegetables.
Extinct or nearly extinct crops Arahar, china, barley.
Main fruits Mango, jackfruit, coconut, litchi, banana.
Fisheries, dairies and poultries Fishery 45, dairy 40, poultry 15.
Communication facilities Pucca road 73 km, semi-pucca road 25 km, mud road 445 km; waterway 28 km.
Extinct or nearly extinct traditional transport Palanquin, horse carriage, bullock cart.
Noted manufactories Rice mill, ice factory, welding factory.
Cottage industries Blacksmith, potteries, weaving, bamboo work, cane work.
Hats, bazars and fairs Hats and bazars are 24, fairs 6, most noted of which are Amalsar Hat, Dariapur Hat, Gayeshpur Hat, Kadir Para Hat, Nakol Hat, Sabdalpur Hat, Sreekol Hat, Sreepur Hat and Charak Mela at Baralidaha.
Main exports Paddy, jute, banana, jackfruit.
Access to electricity All the unions of the upazila are under rural electrification net-work. However 38.5% of the dwelling households have access to electricity.
Sources of drinking water Tube-well 98.8%, tap 0.2% and others 1.0%.
Sanitation 78.8% of dwelling households of the upazila use sanitary latrines and 17.3% of dwelling households use non-sanitary latrines; 3.9% of households do not have latrine facilities.
Health centres Upazila health centre 1, family welfare centre 8.
Natural disasters Many people were victims of the cyclones of 1585 and 1909.
NGO activities Operationally important NGOs are brac, asa. [Md. Mohebbullah]
References Bangladesh Population Census 2001 and 2011, Bangladesh Bureau of Statistics; Cultural survey report of Sreepur Upazila 2007.