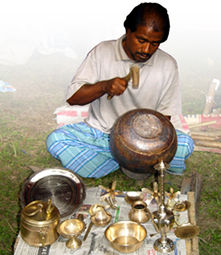 Kansaru also called thatari, are the coppersmiths or braziers. They manufacture various brass articles, mostly for use in household purposes. Kansarus sometimes make copper articles also.
Household articles manufactured by kansarus include badna (small water vessel), gadu (water vessel used by Hindus), ghati (small water pot), bati (cup), thala (dish), deg (large cooking pot), degchi (small cooking pot) etc.
Kansarus also produce special items like agardani (holder vessel of incense stick), golapjaldani (rosewater spray bottle), dipadhar (candleholder), hooka (smoking pipe), and chilumchi (water pot for washing hands). According to a popular belief, the kansarus, originally a Hindu caste, are degraded swarnakars leaving work with gold and picking up the profession of making products from kansa or bell metal. Many, however, consider that the kansarus are a sub-caste of kamars, who have upgraded their position by leaving work with iron. Kansarus buy their material in the form of brass sheets, which they hammer into the shapes required.
Kansarus practise early marriages, prohibit remarriages of widows, and do not allow divorce. Their social standing is high in the hierarchical system of Hindu community. Most kansarus belong to the Saiva sect. Like other artisan castes, they are very particular about observing the festival of Viswakarma, the mythical architect of the universe. Kansarus, however, no more belong to the Hindu community alone as eventually, many Muslims have adopted the profession in course of time. In Bangladesh, kansarus have predominant abode in the districts of Dhaka, Jessore and Faridpur. In the rural society they still ferry with their products in markets, hats, and river ports. But the development of aluminium, plastic and steel instruments and rise in the prices of brass has made it very difficult for kansarus to survive with their traditional business. [Gofran Faroqi]