Karnafuli Paper Mills (KPM) the biggest paper mill in Bangladesh, was established at Chandraghona, Chittagong in 1951 by the Pakistan Industrial Development Corporation (PIDC) at a cost of Rs 67.57 million. At that time, there were 31 enterprises that produced hand-made paper in East Pakistan. These enterprises and an industrial unit that produced carbon paper together had 122 workers, of whom 55 were men, 51 women and 16 children.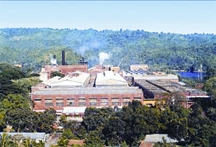 KPM was the first paper manufacturing industrial establishment registered under the factories act. At the time of its establishment, it was said to be the biggest paper mill in Asia with its three thousand workers. It was established under a World Bank loan supported by a consortium of suppliers from USA, England, Germany, Sweden and Italy. The mills went into production in 1953 with an installed capacity of 30,000 tons of paper per year. The capacity utilisation, however, went down within a few years of its establishment. In 1964, KPM was sold out to the Dawood Group of Pakistan, which undertook a balancing, modernisation and rationalisation (BMR) programme.
KPM sold its paper to both East and West Pakistan. The price of its paper was the same in both wings. In fact, users of KPM paper in East Pakistan paid a price higher than its actual cost plus a normal profit. They compensated for the cost of transportation of the paper to West Pakistan and thus implicitly financed the subsidy enjoyed by its users in that province
Immediately after the war of liberation, KPM became an abandoned property. Bangladesh Industrial Development Corporation (BIDC) took over its control very soon and started to search for new markets for its products. The local market did not expand due to slow growth of education facilities and of the publishing industry. The sale of paper, which was 31,378 tons in 1969-70, came down to 19,044 tons in 1973-74. The Dawoods had 50 distributors of KPM papers in East Pakistan, while in Bangladesh BIDC selected 407 new dealers, who had marginal or no experience in the sale of this specialised product. The stock of unsold papers piled up. On the supply side also there was the problem of availability of raw material. The Planning Commission of the government of Bangladesh took measures for ensuring a regular supply of wood from the Forest Industries Development Corporation. Meanwhile, Bangladesh picked up in proliferation of journals, newspapers and periodicals, which contributed to an increase in the demand for paper in the country. Another paper mill,Khulna newsprint mill (KNM) was established and supplied paper at prices cheaper than what KPM could offer. KPM thus continued to face problems in marketing its products.
In 1976, the government took an initiative to identify the problems of KPM and approved a reconstruction plan of Tk 240 million in 1979-80. Experts from India, Sweden, USA and Japan were involved in the task. In 1984, efforts were made to upgrade paper quality, to improve capacity utilisation and to reduce the cost of production. These efforts were aimed at reducing losses, which was Tk 161.74 million per year during the period between 1972-73 and 1979-80. In 1983-84, the sales volume of KPM was 28.39MT of worth Tk 731 million.
KPM fully recovered by 1991. It reached the capacity production level and could export to foreign markets. That year, it had a workforce of 4,102 workers and office personnel. Its products consisted of writing, printing and typing papers, corrugated boards, wax-coated papers, paper cones, gummed tapes, and bitumin paper. In 1990-91, the installed capacity of KPM was 33,000 tons and the budgeted production was 28,438 tons, while the actual production was 30,216 tons. At present, KPM is under the Bangladesh Chemical Industries Corporation (BCIC). In 2009-10, the amount of production of KPM was 24,201 MT. The KPM has 2046 dealers for selling paper and the price of per ton paper is Tk. 79,000.
KPM uses pulp obtained from fibrous raw materials (FRM) like wood and bamboo. It also uses the pulp produced in the Sylhet Pulp and Paper Mills as well as imported pulp, which, however, is costlier than the pulp produced at KPM itself from wood and bamboo extracted mostly from Chittagong and chittagong hill tracts. The factory is equipped with a gas-converted solar power plant, water treatment plant, research and development centre, a recovery unit and a converting plant for different kinds of paper products. KPM has a sister concern, the Karnafuli Rayon and Chemicals Limited, and the two mills are built on shared premises covering 442 acres of land. KPM is managed by an executive director assisted by a general manager and the chiefs of nine different departments, such as administration, engineering, production, marketing and accounts. The controlling authority lies with the BCIC head office and the enterprise board draws up plans and programmes within the broad policy guidelines provided by the corporation. A project about the maintenance of stability, modernisation, rehabilitation and extension of KPM is under special consideration of government associate with China. [M Habibullah]