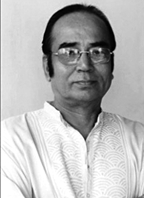 Khan, Enayetullah (1939-2005) journalist and diplomat was born in Baherchar village under Babugonj upazila of Barisal on 25 May 1939. His father, Justice Abdul Jabbar Khan was the speaker of National Assembly of Pakistan.
Enayetullah Khan got education in dhaka college and Mymensingh Anandamohan College. He was elected the general secretary of the Ananda Mohan College students union. He obtained MA degree in Philosophy from the university of dhaka in 1958. He was elected the vice president of the Dhaka Hall (Present Shahidullah Hall) students' union while he was a student of Dhaka University.
Enayetullah Khan began his career as a reporter of Pakistan Observer. He published Weekly Holiday in 1965 and became its editor in 1966. The Weekly could draw attention of the intellectuals and the elite.
He was the editor of the Bangladesh Times, a daily for a period of two years before the political changes of 1975. After that he was appointed as an Advisor for Land to the Military Government and in 1978 he became the Petroleum and Mineral Resources Minister in the Ziaur Rahman's Cabinet. Later he served the country as its envoy to China, North Korea, Combodia and Myanmar from 1984 to 1987. In 2003, he founded an English daily, the New Age.
Enayetullah Khan was the president of national press club and dhaka club during 1973-76 and 1984-85 respectively. He led various civil society movements including Farakka movement, social movement against the killing of intellectuals in 1971 and anti-communalism movement. He wrote a three-volume anthology, The Testament of Time. He was honoured with Ekushe Padak in recognition of his contributions in journalism in 2004. Enayetullah Khan died of cancer on 10 November 2005 in Torento, Canada. [Shamsuzzaman]