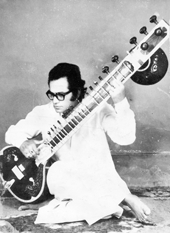 Khan, Ustad Mir Kashem (1928-1984) sitar player, was born in a family of illustrious musicians in the village of Shibpur in brahmanbaria. His father, Nayeb Ali Khan, was also a musician.
Mir Kashem began his lessons in vocal and instrumental music with his father at the age of seven. Subsequently he took lessons from his uncle, Ustad alauddin khan, for four years. He then joined a dance troupe. He played the sitar at different functions and conferences from 1946 to 1949. He joined the Dhaka station of Radio Pakistan as a staff artiste in 1949. He visited Switzerland, Belgium, Iraq, United Kingdom, France, West Germany, Italy and Egypt as a member of the dance troupe of bulbul chowdhury in 1956.  Mir Kashem was also a composer and director. He composed the music for several dance dramas, including Samanya Ksati, Anarkali, Bichar, Kavchanmala.
Many of the songs for which he composed the music are still aired and telecast regularly. He was the music director and music teacher of jago art centre.
In 1976 Mir Kashem received the National Television Award as the best sitar player of the year. He was awarded the Bangladesh Shilpakala Academy Gold Medal in 1978 and the Ekushey padak in 1984 in recognition of his contributions to music. [Mobarak Hossain Khan]