Lalbagh Thana (Dhaka metropolitan) area 2.04 sq km, located in between 23°42' and 23°43' north latitudes and in between 90°22' and 90°23' east longitudes. It is bounded by new market thana on the north, keraniganj upazila on the south, chawkbazar model and shahbagh thanas on the east, hazaribagh thana and Keraniganj upazila on the west.
Population Total 188794; male 102850, female 85944; Muslim 182747, Hindu 5845, Buddhist 103, Christian 76 and others 23.
Water bodies Main river: buriganga.
Administration Lalbagh Thana was formed comprising 4 wards and 46 mahallahs.
Thana
Ward and Union
Mahalla and Mouza
Population
Density (per sq km)
Literacy rate (%)
Urban
Rural
Urban
Rural
4
46
188794
-
92547
71.45
-
Ward
Ward
Area (sq km)
Population
Literacy rate (%)
Male
Female
Ward no. 59
0.39
27182
21393
73.98
Ward no. 60
0.48
35164
28599
52.28
Ward no. 61
0.39
16088
12302
77.96
Ward no. 62
0.78
24416
23650
81.56
Source Bangladesh Population Census 2001,Bangladesh Bureau of Statistics.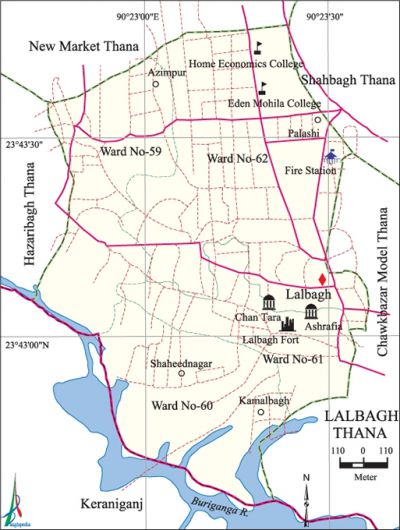 Archaeological heritage and relics lalbagh fort (1678), Lalbagh Shahi Mosque (1703), Lalbagh Fort Mosque, Khan Mohammad Mridha Mosque (1703), Azimpur Graveyard Shahi Mosque (1711), Lalbagh Shiva Mandir.
Religious institutions Azimpur Chapra Mosque, Azimpur Bus Stand Mosque, Azimpur Bara Dayara Sharif, Lalbagth Shahi Mosque are notable.
Literacy rate and educational institutions Average literacy 71.45%; male 75.32%, female 66.61%. Noted educational institutions: home economics college (1961), eden mohila college (1926) Azimpur Girls High School (1957), Viqarunnisa Noon School and College, agrani school and college (1957), Little Angels' School.
Cultural organisations Club 11, gymnasium 2, community centre 7, cinema hall 1.
Important installations Azimpur Graveyard.
Main sources of income Agriculture 0.48%, non-agricultural labourer 0.89%, industry 4.28%, commerce 33.47%, construction 2.21%, transport and communication 6.76%, service 36.16%, religious service 0.20%, rent and remittance 2.69% and others 12.86%.
Ownership of agricultural land Landowner 45.64%, landless 54.36%.
Extinct or nearly extinct crops Paddy, jute, pulse, sugarcane.
Main fruits Mango, jackfruit, coconut.
Communication facilities Total road 39.94 km.
Extinct or nearly extinct traditional transport Palanquin, bullock cart.
Noted manufactories Garments industry, plastic factory, aluminum industry, foot ware industry, tooth brash factory, bi-cycle spare parts factory, welding factory.
Cottage industries Goldsmith, embroidery.
Main exports Ready made cloths, bi-cycle parts, embroidery products.
Access to electricity All the wards of the thana are under rural electrification net-work. However 98.65% of the dwelling households have access to electricity.
Sources of drinking water Tube-well 21.16%, pond 0.05%, tap 77.70% and others 1.09%.
Sanitation 84.32% of dwelling households of the thana use sanitary latrines and 15.23% of dwelling households use non-sanitary latrines; 0.45% of households do not have latrine facilities.
Health centres Hospital 1, clinic 10. [Syed Shabbir Ahmed]
References Bangladesh Population Census 2001, Bangladesh Bureau of Statistics.