Leather Industry developed in Bangladesh on a large-scale basis from the 1970s. About 95% of leather and leather products of Bangladesh are marketed abroad, mostly in the form of crushed leather, finished leather, leather garments, and footwear. Most leather and leather goods go to Germany, Italy, France, Netherlands, Spain, Russia, Brazil, Japan, China, Singapore and Taiwan. Value addition in these exports averages 85% local and 15% foreign. About 100 modern tannery units are now in operation in the industry. These are located mostly in the Hazaribagh area of dhaka city. In 1998, the sector exported 178 million sq ft of leather and earned $160 million. Leather exports in financial year 2007-08 accounted to US$ 284 million. In 2009, the amount of leather products exports rose to US$ 288 million. The country's share in the world leather market is 2%. The export of finished products such as shoes, slippers, leather jackets, hand gloves, bags, purses, wallets, and belts also earn a sizeable amount of foreign exchange. Bangladesh intends to increase its range of leather products to penetrate new market segments.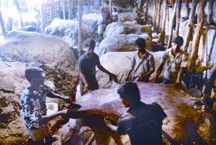 The country is endowed with luxurious vegetation encouraging a large livestock population. The quality of the raw hide and skin is relatively good, as barbed wire fencing that damage the skins of animals is not used in the natural farms and fields. Black goatskin of kushtia is particularly noted for its finegrain structure and tensile strength. The tradition of humane care of domestic animals also contributes significantly to keeping the leather quality high.
About 40% of the supply of hide and skin comes from animals slaughtered during the annual Muslim festival of eid-ul azha. In addition to daily consumption of meat, festivals, Muslim weddings, and other celebrations yield a substantial supply of hide and skin. The tanning industry got a big boost following the government decision to promote more value addition in exports. The installed capacity for crust leather production increased. At present, it is double the domestic supply of raw hide and skin. Investments are also made in installing new finishing capacity. The trends encourage more tanneries to produce finished leather on a commercial basis.
The government of Bangladesh provides a support to the leather industry through various steps, including monitoring the export market, evaluating the performance of the sector by a permanent parliamentary committee, and liberal bank credit.
During the 1990s, the export market for Bangladeshi leather grew at an average of 10-15% per annum. The average yearly exports accounted for $225 million. Finegrain leather of Bangladesh enjoys preferential demand in Western Europe and Japan. Low wage level and the ban on exporting wet blue leather helped the industry receive a new thrust in the country. Environmental concerns arising out of the high concentration of production units in a small area of the older part of Dhaka city are being addressed with plans for their relocation outside the city.
Leather goods producers in Bangladesh tend to be associated only with manufacturing and exporting. They do not have much control over downstream operations. However, the success of a number of Bangladeshi firms in attracting such brand names as Puma, Pivolinos and Hugo Boss to source from this country proves that there is ample scope for the industry's upward mobility. [S M Mahfuzur Rahman ]