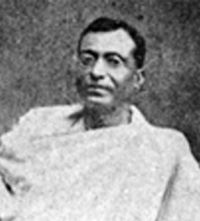 Majumder, Bijay Chandra (1861-1942) poet, writer, and translator, was born on 27 October 1861 at Khanakul village in faridpur district. He received his BA (1885) and BCom (1895) from Metropolitan College, Kolkata. Bijay Chandra knew Sanskrit, Pali, Tamil, Telugu, Bangla, and English well.
Bijay Chandra did a variety of jobs. He was legal adviser to the raja of Sonarpur in Orissa, teacher of the Puri Zila School (1887), headmaster of Sambalpur Zila School (1891), lawyer at Sambalpur and Calcutta High Courts, and professor of anthropology at the university of calcutta.
Bijay Chandra was a well-known poet, and specially skilled in writing satirical poems. His collections of poems include Kavita (Poems, 1889), Yugapuja (Era Worship, 1892), Phulashar (The Flowery Dart, 1904), Yajvabhasma (Ashes of rituals, 1904), and Pavchakamala (1910). He edited three magazines, Vabgavani (Voice of Bengal, 1923-27), Shishusathi (Children's Companion, 1928-32) and Bangla (1932) all published from Kolkata.
Though principally noted as a poet, he was equally knowledgeable in history and archaeology, on which he wrote several books. His books on history are Prachin Sabhyata (Ancient civilisations, 1915) and Bharatbarser Itihas (History of India, 1919). He also wrote a number of books in English: Elements of Social Anthropology, Aborigines of Central India, Orissa in the Making and History of Bengali Literature (1920). He was an able translator, and translated from Pali, Sanskrit and Oriya. Among his translations are Therigatha (1905), Gitagovinda (1906) and Sachchidananda Granthabali (Works of Sachchidananda, 1926).
Bijay Chandra became blind in his old age and died on 30 December 1942. [Prafulla Kumar Bhabuk]