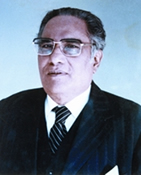 Mallick, AR (1918-1998) historian and educationist. Born 31 December 1918 in Rajapur village of Dhaka district. He spent his early life in Rengun (Mianmar) with his family. Azizur Rahman Mallick and his family returned back in Dhaka when he was at seventh grade. AR Mallik passed the SSC in 1934 from Manikganj Model High School and HSC from Dhaka College in 1936. He completed BA Honours (1939) and Masters (1940) in History from the university of dhaka, where he joined as lecturer in 1941.
In 1943, he joined chittagong college and later he was transferred to rajshahi college for a short period. AR Mallik went to School of Oriental and African Studies (University of London) in 1951 and obtained PhD degree from the University in 1953. On his return he joined in the university of rajshahi at Department of History. During the tenure of work at the university he served at a time as dean of the faculty of Arts, provost of Jinnah Hall (now Sher-e -Bangla Hall) and also worked as Librarian for a while.
Dr AR Mallick was appointed the Project Directer of Chittagong University at the initial stage of its foundation and later Vice-Chancellor of the university in 1965.
He was an ardent activist in the war of liberation. After the independence, he became the education advisor to the government of Bangladesh. He also served as High Commissioner of Bangladesh in India. In 1975, Dr Mallick was appointed Minister of Finance, a position which he held for a short period and later he joined as a Supernumerary professor in the Department History, jahangirnagar university.
Dr Mallick was associated with many professional and social organisations and institutions. He was President, asiatic society of bangladesh and bangladesh itihas samity. He was also Chairman, bangla academy. His Ph D thesis was published by the Asiatic Society of Bangladesh in 1961 under the title British Policy and the Muslims in Bengal, 1757-1856. Dr AR Mallick died in 1998. [Aksadul Alam]