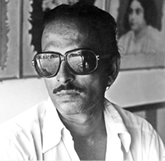 Mitra, Kalyan (1939-?) actor, director and playwright, was born in kushtia in 1939. Although he lived in a mofussil town he earned fame because of his devotion to the theatre.
Kalyan Mitra wrote plays on family and social life. During the 1950s and 1960s many of his plays were staged and broadcast on radio. During the war of liberation in 1971, his play series, Jallader Darbare, and playlet, Mirjafarer Rojnamacha, broadcast from the swadhin bangla betar kendra became a source of inspiration for people.
Among his other plays are Dayi Ke (1960), Shapath (1967), Shubha Bibaha (1967), Pradipshikha (1967), Kuyasha Kanna (1967), Ananya (1967), Triratna (1967), Sagar Sencha Manik (1968), Taka Ana Pai (1968), Pasher Badi, Baiji, Lalon Fakir (1977), and Surya Mahal.
In 1972 Kalyan Mitra received the Bangla Academy Award for playwriting. He was also awarded a prize by the Prabaha Natya Gosthi, Dhaka. [Anupam Hayat]