Moslem Bharat, The monthly literary journal, which began publication from Kolkata in 1920. Though the name of the poet mohammad mozammel huq (of Shantipur) appeared as editor, for all practical purposes its executive editor was his son, Afzalul Huq. The first issue was published in Baishakh 1327 BS (April-May, 1920) and the last one in Paus, 1328 (December-January, 1921-22). Its multi coloured cover depicted traditional Islamic art.
Though the title of the journal included the word 'Moslem', the journal was non-communal, and a message from rabindranath tagore was printed on top of its first page: 'manab-sangsare jvanaloker diwali-utsab chalitechhe/ pratyek jati apanar alotike bada kariya jnalaile tabe sakale miliya ei utsab samadha haibe' (The festival of the light of knowledge has began in this human world, and if every nation kindles its own light, this festival of light will be a great success.) The journal published writings of renowned authors, irrespective of their religion.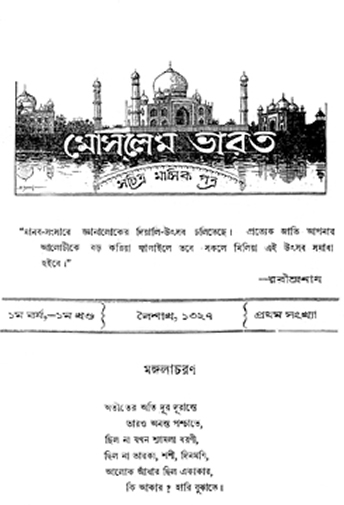 Besides rabindranath tagore, its writers included abanindranath tagore, satyendranath dutta, kazi nazrul islam, mohitlal majumder, kaikobad, shahadat hossain, kazi abdul wadud, kumud ranjan mallik, kalidas roy, kazi imdadul huq, syed emdad ali etc.
Moslem Bharat played an important role in establishing Nazrul Islam as a poet. In March 1920, Nazrul retired from army life in Karachi and returned to Kolkata where he met Afzalul Huq. It is said that Nazrul contracted with Afzalul Huq to contribute regularly to his journal for a fixed monthly honorarium of one hundred rupees.
The first instalments of Nazrul's maiden-novel, Bandhan-Hara, appeared in the first issue of Moslem Bharat. The fourth issue published Nazrul's poem 'Kheyaparer Tarani', the inspiration for which was a painting by Meher Banu Khanam, daughter of the late nawab ahsanullah of Dhaka, which also appeared on the cover of the issue. After reading this poem, mohitlal majumder, a well-known critic, sent a letter to the editor praising Nazrul's poem. This was the first ovation that the poet received. Nazrul published about 40 pieces in Moslem Bharat: nine installments of Bandhan-Hara, and poems such as 'Shat-il-Arab', 'Korbani', 'Moharram', 'Fateha-i-Dowazdaham', 'Kamal Pasha' and 'Bidrohi'. Nazrul's famous poem 'Bidrohi' (The Rebel) was published in the Kartik 1328 BS (1921 AD) issue, which also published a portrait of Nazrul in army uniform. This poem created a sensation in the literary world of Bengal. It was reprinted in different journals and soon Nazrul became known as 'The Rebel Poet'.
Other notable writings by Muslim writers in this journal include Abdullah (novel) by Kazi Imdadul Huq, Hafeza (novel) by Syed Emdad Ali, Rajarsi Ebrahim (biography) by sheikh fazlul karim, 'Parasya Sahitya' (essay) by mohammad barkatullah. [Mohammad Abdul Qayyum]