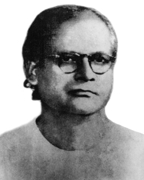 Wadud, Kazi Abdul (1894-1970) educationist, litterateur and thinker, was born on 26 April 1894 at village Bagmara of Pangsha Upazila in faridpur district. His father was Kazi Syed Husain, who worked in the railway as a station master. His mother was Khodeja Khatun.
Kazi Abdul Wadud did his Entrance in 1913 from Dhaka Collegiate School, Intermediate of Arts from calcutta presidency college (1915) and BA in 1917. He did his MA in Political Economy from calcutta university in 1919. In 1920, Wadud joined Dhaka Intermediate College as Lecturer in Bengali and continued to teach there till April 1940. In the same year he was appointed Secretary to the Provincial Textbook Committee and Reader at Calcutta University. In 1947 the West Bengal Government added the post of Registrar of Publications to his post. Kazi Abdul Wadud served in this important post for 11 years before retiring in July 1951.
While still a college student, Kazi Abdul Wadud engaged himself in literary work and published two books – Meer Paribar (1918), a collection of short stories, and novel Nadibokse (1919). After doing his MA, he stayed for some time in the residential building of the bangiya musalman sahitya samiti on the College Street in Calcutta. Here he came in contact with kazi nazrul islam. A group of litterateurs used to regularly assemble in the office of the samiti. The presence of war-veteran Nazrul used to enliven their gossips. It was in the association of these poets and litterateurs that the foundation of Kazi Abdul Wadud's literary career was built. But his thought process gained maturity through his association with the muslim sahitya-samaj of Dhaka (1926). He actively joined hands with Abul Husain in producing every issue of the Samaj's mouthpiece Shikha.
He however edited two periodicals'Sankalpa and Tarunpatra published from Calcutta. He was the editor of the first journal and chairman of the board of editors of the second one.
Kazi Abdul Wadud is primarily known as an intellectual writer and for the contemporary Muslim literary society he was a trend setter. He began his literary career through fiction writing. His first book Meer Paribar is a collection of five short stories. Later, he wrote three more short stories. These were subsequently included in his book Tarun (1948). His two novels are Nadibokse and Azad (1948). He also wrote two plays ' Path O Bipath (1939) and Manab-Bandhu (1941). Manab-Bandhu was later included in Tarun.
So far as Bangla language and literature is concerned, several of Kazi Abdul Wadud's works are very significant. His intellectualism and depth of knowledge are evident in his works like shashwata banga (1951), Banglar Jagoran (BS 1363), Kaviguru Goethe (1st and 2nd vol. BS 1353), Kaviguru Rabindranath (1st vol. BS 1369, 2nd vol. BS 1376), and Hazrat Muhammad O Islam (BS 1373). Kazi Abdul Wadul was one of the leading literary figures, who, under the banner of the Muslim Sahitya-Samaj in Dhaka, pioneered in the second decade of the twentieth century the movement for freedom of thought. Shashwata Babga is a precious document of the efforts made by Kazi Abdul Wadud in making intellectual exercise without resorting to traditional prejudices and superstition. This book also reveals his own liberal thought and his concern for his community's social and intellectual stagnation. He deeply loved freedom of thought and this love formed a focal point in the expressions of his writings. His Shashwata Banga decries the false sense of history, particularly about the Muslim notion of their so-called golden past. In fact, the life of the people of this Bengal is wretched and infested with myriad problems. The ignominy of backwardness is their constant companion. He does not, however, regard this scar as eternal. To him, his Bengal is creative and pregnant with possibilities.
Kazi Abdul Wadud thought that the 19th century had brought about a renaissance in Bengal with a major message that there was nothing wrong with patriotism if it did not obstruct one's world outlook. This perception greatly inspired him to talk about his Bengal's uplift and write his book Banglar Jagoran. In his view, the efforts for intellectual freedom from Rammohan to the Muslim Sahitya-Samaj in Dhaka were the product of this inspiration. The same inspiration also runs through his book on Goethe. He thought the transparency and boldness of Goethe's freedom of thinking would help the people of this country attain a greater sense of responsibility for life, higher merit, a more transparent perception about religion, patriotism and about the past, present and future as well as a wider field of communication. He was inspired by Goethe's perception of life based on truth and his message and example of world outlook.
Kazi Abdul Wadud found a unique combination of patriotism and internationalism in the life of rabindranath tagore. He was a keen reader and reviewer of Tagore's writings and activities. His Kaviguru Rabindranath is a book that indicates his deep understanding of literature and wider horizon of intellectualism. Hazrat Muhammad O Islam is a work of his mature age. In this book he has portrayed Muhammad as a human being and a great man needed at a critical juncture of history. Hazrat Muhammad, according to him had laid great emphasis on equality of outlook and seeking of knowledge as a way to free the human race. Kazi Abdul Wadud took care to stress this aspect of the prophet's life in his book.
Kazi Abdul Wadud's Baboharik Shabdokos was published in 1953. In this work of a popular Bengali dictionary, he made himself known as a person with deep interest in linguistic modernism. A distinctive feature of the dictionary was his attempt to introduce popular Arabic, Persian and Turkish words in a scientific way and words commonly used in the Bengali Muslim society.
Kazi Abdul Wadud'd other works included: essays and literary reviews Naboparjay (1st vol. BS 1333, 2nd vol. BS 1336), Samaj O Sahitya (BS 1341), Hindu-Musalmaner Birodh (BS 1342), Fundamentals of Islam (BS 1357), State and Literature (BS 1364), Tagore's Role in the Reconstruction of Indian Thought (BS 1368), Ajkar Katha (BS 1348), Swadhinata Diner Upahar (BS 1358), Rabindrakabya Pathh (BS 1334), Nazrul Pratibha (BS 1356), and Sharatchandra O Tarpar (BS 1368); translation Creative Bengal (BS 1357), Pabitra Quran (1st vol. BS 1373, 2nd vol. BS 1374). Kazi Abdul Wadud Rachanabali was published in six volumes (in 1988, 1990, 1992, 1993, 1994 and 1995) and Kazi Abdul Waduder Patrabali (1999).
Kazi Abdul Wadud's prose is based mainly on logic, moderation and self-confidence. The history of Bangla prose does not show many examples of writing with all three values. From this point of view he can be regarded as a distinctive prose writer in Bangla literature. Kazi Abdul Wadud's contribution to the concept of free thinking and non-communalism deserves to be particularly remembered. He died in Calcutta on 19 May 1970. [Khondkar Serajul Huq]