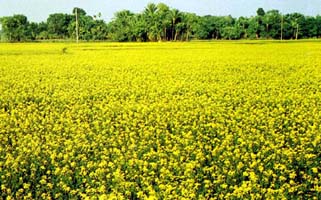 Mustard (sarisa) herbs that give oil from its seeds, such as Brassica napus (rape), and Brassica nigra (black mustard), of the family Cruciferae. Only a few decades ago, mustard oil was the exclusive cooking oil in Bangladesh.
The oil, still in many places, is squeezed from the seeds by using traditional grinding mills, called 'Ghanee', which is pulled by a bull through long hours of the day and even throughout the night; the tradesman in the business is called kolu.
So monotonous was the bull's work that the term 'Kolu's bull' became an innuendo to describe someone doing routine monotonous work without questioning or wanting to know why he is doing or what he is doing. Nowadays, mustard oil extraction is done in electric mills.
At present about 0.24 million hectares of land are put to mustard cultivation in Bangladesh with yield of mustard oil in the order of 0.19 million m tons per year. This quantity meets only a fraction of the country's cooking oil needs. Therefore, large quantity of soybean and sunflower oil is to be imported. Imported soybean oil is cheaper than local mustard oil, which has been further reducing mustard acreage in the country. Although mustard is grown in almost all the districts, Chittagong, Sylhet, Dhaka, Tangail, Jessore, Bogra, Sirajganj, and Pabna have comparatively higher acreage of land for cultivation of this Rabi crop. [Zia Uddin Ahmed]