Nandail Upazila (mymensingh district) area 326.13 sq km, located in between 24'28' and 24'39' north latitudes and in between 90'30' and 90'49' east longitudes. It is bounded by ishwarganj upazila on the north, hossainpur and kishoreganj sadar upazilas on the south, kendua and tarail upazilas on the east, trishal and gaffargaon upazilas on the west.
Population Total' 370850; male 189152, female 181698; Muslim 363204, Hindu 7459, Buddhist 11 and others 176.
Water bodies Main rivers: old brahmaputra, Kachamatia, Narasunda, Magha; Aralia, Hamai, Banna, Balda, Kalaidhar, Tongi and Baula beels are notable.
Administration Nandail Thana was formed in 1912 and it was turned into an upazila in 1983.
Upazila
Municipality
Union
Mouza
Village
Population
Density (per sq km)
Literacy rate (%)
Urban
Rural
Urban
Rural

1

12

163

265

36693

334157

1137

42.7

35.3
Municipality

Area (sq km)

Ward

Mahalla

Population

Density (per sq km)

Literacy rate (%)

23.06

9

20

28937

1255

44.3
Upazila Town

Area (sq km)

Mouza

Population

Density (per sq km)

Literacy rate (%)

12.38

-

7756

626

37.0
Union
Name of union and GO code
Area (acre)
Population
Literacy rate (%)
Male
Female




Achargaon 13

7026

11894

11263

34.12

Kharua 47

5761

13610

12649

33.03

Gangail 31

6262

15449

14678

38.92

Chandipasha 23

7168

15620

14903

39.57

Jahangirpur 39

6594

16731

16157

29.10

Nandail 71

7527

11727

11023

32.89

Betagair 15

8830

19634

18641

33.13

Musuli 63

6707

14707

14631

41.81

Moazzempur 55

6297

15997

15457

35.18

Rajgati 79

6195

12511

12425

40.83

Sherpur 87

5994

12792

12198

29.00

Singrail 94

5915

13702

13514

36.13
Source Bangladesh Population Census 2001, Bangladesh Bureau of Statistics.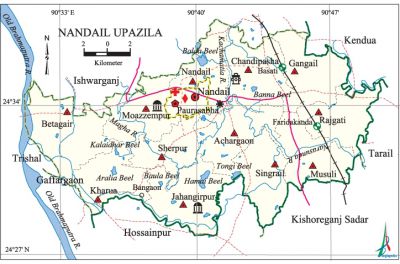 Archaeological heritage and relics Muazzamabad Mosque (1493-1519), tomb and khanqa of Jahangir Shah at Jahangirpur village.
Historical events The love story of the dramatic epic Malua (Malua Pala) of the maimansingha gitika (ballads) belongs to Nandail. In the eighteenth century when the British established Neel Kuthi (indigo centre) at Dewanganj Bazar of Nandail Indigo Revolt started in the area. On 21 April 1971, the Pakistan army killed 18 persons and burned few hundred houses of Rajgati, Subhakhila and Kaliganj areas. On 17 November 1971 some freedom fighters including Ilias Uddin Bhuiyan and Shamsul Haque were killed in a battle with the Pakistan occupation army. This day is being observed as the 'Nandail Shaheed Day'. The flag of the Independent Bangladesh was hoisted on 11 December in Nandail; this day is being observed as the 'Liberated Nandail Day'.
Marks of the War of Liberation Mass grave: Baraigaon; mass killing site: Railway Bridge area of Subhakhila Kaliganj.
Religious institutions Mosque 639, temple 28. Noted religious institutions: Muazzamabad Mosque, Nandail Bazar Baitul Mamur Mosque, Jahangirpur Mosque, Nandail Bazar Kali Mandir.
Literacy rate and educational institutions Average literacy 36.0%; male 38.2%, female 33.8%. Educational institutions: college 5, secondary school 30, primary school 59, non-formal education centre 11, madrasa 89. Noted educational institutions: Shaheed Smriti Adarsha College (1972), Chandipasha Government High School (1915), Nandail Road High School, Sherpur Islamia Fazil Madrasa (1927).
Newspapers and periodicals Monthly: Nandail, Narasundar Bake, Desher Kantha, Desher Mati (irregular).
Cultural organisations Library 9, club 12, theatre group 1,' cinema hall 1, playground 21.
Main sources of income Agriculture 74.24%, non-agricultural labourer 2.68%, industry 0.24%, commerce 8.86%, transport and communication 1.79%, service 4.07%, construction 0.65%, religious service 0.21%, rent and remittance 0.27% and others 6.99%.
Ownership of agricultural land Landowner 66.82%, landless 33.18%; agricultural landowner: urban 60.47% and rural 67.51%.
Main crops Paddy, jute, wheat, potato, pulse, sugarcane, vegetables.
Extinct or nearly extinct crops Nazirshail paddy, khesari,
Main fruits Mango, blackberry, litchi, Jackfruit, banana, papaya, custard apple, coconut, palm.
Fisheries, dairies and poultries Fishery 2, dairy 24, poultry 300, hatchery and nursery 30.
Communication facilities Pucca road 90 km, semi-pucca road 50 km, mud road 388 km; railway 15.5 km.
Extinct or nearly extinct traditional transport Palanquin, horse carriage, bullock cart.
Noted manufactories Flour mill, textile mill, rice mill, welding factory.
Cottage industries Goldsmith, blacksmith, potteries, weaving.
Hats, bazars and fairs Hats and bazars are 39, fairs 2, most noted of which are Nandail Bazar, Camta Bazar, Jalua Bazar, Kalenga Naya Bazar, Hemganj Bazar, Dewanganj Bazar, Gharua Bazar, Kaliganj Bazar, Bangram Bazar, Kanrapur Bazar, Singrail Bazar, Chaitra Samkranti Mela and Nandail Baruni Mela.
Main exports Paddy, jute, wheat, potato, pulse, sugarcane molasses, banana.
Access to electricity All the wards and unions of the upazila are under rural electrification net-work. However 14.31% of the dwelling households have access to electricity.
Sources of drinking water Tube-well 89.61%, tap 0.30%, pond 3.21% and others 6.88%.
Sanitation 14.21% (rural 12.59% and urban 29.08%) of dwelling households of the upazila use sanitary latrines and 49.40% (rural 49.44% and urban 49.05%) of dwelling households use non-sanitary latrines; 36.39% of households do not have latrine facilities.
Health centres Upazila health complex 1, family planning centre 6, satellite clinic 7.
NGO activities Operationally important NGOs are brac, asa. [Azizur Rahman Bhuiyan]
References Bangladesh Population Census 2001, Bangladesh Bureau of Statistics; Cultural survey report of Nandail Upazila 2007.