Pekua Upazila (cox's Bazar district) area 139.61 sq km, located in between 21°43' and 21°54' north latitudes and in between 91°53' and 92°02' east longitudes. It is bounded by banshkhali and chakaria upazilas on the north, maheshkhali upazila on the south, Chakaria upazila on the east, Kutubdia Channel on the west.
Population Total 171538; male 86310; female 85228; Muslim 170005, Hindu 1383, Christian 6, Buddhist 142 and others 2. Indigenous communities such as Magh and Roai belong to this upazila.
Water bodies Kutubdia Channel and matamuhuri river are notable.
Administration Pekua upazila was formed on 23 April 2002 comprising 7 unions (Ujantia, Pekua, Taitong, Bara Bakia, Magnama, Rajakhali, Shilkhali) of Chakaria upazila.
Upazila
Municipality
Union
Mouza
Village
Population
Density (per sq km)
Literacy rate (%)
Urban
Rural
Urban
Rural
-
7
12
125
29182
142356
1229
39.0
34.5
Upazila Town
Area (sq km)
Mouza
Population
Density (per sq km)
Literacy rate (%)
18.64
1
29182
1566
39.0
Union
Name of union and GO code
Area (acre)
Population
Literacy rate (%)
Male
Female
Ujantia 78
7073
7344
7050
19.1
Pekua 83
7266
22712
22581
37.7
Taitong 96
5056
14827
14441
27.6
Bara Bakia 11
3469
9146
9284
41.4
Magnama 78
5302
11051
11037
32.1
Rajakhali 89
4377
13112
12771
37.6
Shilkhali 11
1975
8118
8064
50.1
Source Bangladesh Population Census 2011, Bangladesh Bureau of Statistics.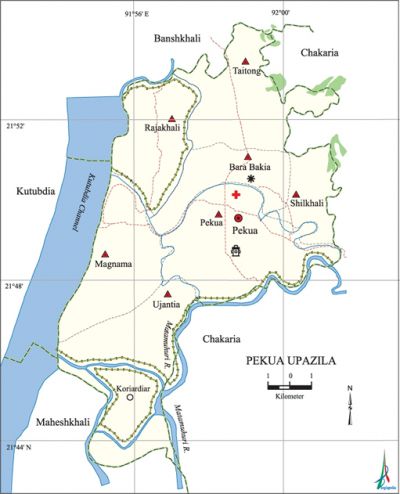 War of Liberation There had been no direct encounter of the freedom fighters with the Pak army in the upazila. However, the freedom fighters of the upazila fought against them in many adjacent upazilas of Cox's Bazar and neighbouring districts. One of their groups fought at Jamizuri of Dohazari area and killed 13 Pakistani soldiers. 3 freedom fighters were martyred in the fight.
For details: see পেকুয়া উপজেলা, বাংলাদেশ মুক্তিযুদ্ধ জ্ঞানকোষ (Encyclopedia of Bangladesh War of Liberation), বাংলাদেশ এশিয়াটিক সোসাইটি, ঢাকা ২০২০, খণ্ড ৬।
Religious institutions Mosque 253, temple 9, keyang 1.
Literacy rate and educational institutions Average literacy 35.3%; male 35.6%, female 35.0%. Educational institutions: college 1, technical college 1, secondary school 11, primary school 40, satellite school 7, community school 4, orphanage 13, madrasa 269. Noted educational institutions: Pekua GMC Institution (1938), Shilkhali High School (1968), Pekua Government Primary School (1918).
Cultural organisations Library 1, club 78, women society 55, playground 1.
Important installations' This upazila has a number of cyclone shelters.
Main sources of income Agriculture 62.01%, non-agricultural labourer 7.42%, industry 0.66%, commerce 10.18%, transport and communication 1.16%, service 4.27%, construction 0.43%, religious service 0.21%, rent and remittance 1.74% and others 11.92%.
Ownership of agricultural land Landowner 37.81%, landless 62.19%.
Main crops Paddy, potato, mustard, chilli, sugarcane, wheat, ground-nut, betel leaf, vegetables.
Main fruits Mango, jackfruit, litchi, banana, papaya, pineapple, guava, lemon.
Fisheries, dairies and poultries Fish landing station 15, dairy 3, poultry 15.
Communication facilities Pucca road 50 km, semi-pucca road 124 km, mud road 145 km; Bridge 37, culvert 108.
Extinct or nearly extinct traditional transport Palanquin, horse carriage.
Noted manufactories Rice mill, saw mill, salt industry, fish processing industries, printing press, bakery.
Cottage industries Goldsmith, blacksmith, wood work.
Hats, bazars and fairs Hats and bazars are 17, most noted of which are Rajakhali Alek Shah Bazar and Pekua Hat.
Main exports Shrimp, salt, ground-nut, fish, betel leaf, vegetables.
Access to electricity All the unions of the upazila are under rural electrification net-work. However 8.7% of the dwelling households have access to electricity.
Sources of drinking water Tube-well 86.5% and others 13.5%.
Sanitation 71.5% of dwelling households of the upazila use sanitary latrines and 22.4% of dwelling households use non-sanitary latrines; 6.1% of households do not have latrine facilities.
Health centres Upazila health complex 1, satellite clinic 1, family planning centre 3, hospital 2.
Natural disasters Many people of this upazila were victims of the cyclone and tidal bore of 29 April 1991; these natural disasters also caused heavy damages to livestock and crops of the upazila. Besides, the devastating cyclone of 19 May 1997 also caused heavy damages to properties of the area.
NGO activities Operationally important NGOs are brac, asa. [Nilufa Yasmin]
References Bangladesh Population Census 2001 and 2011, Bangladesh Bureau of Statistics; Cultural survey report of Pekua Upazila 2007.