Rampal Upazila (bagerhat district) area 291.22 sq km, located in between 22°30' and 22°41' north latitudes and in between 89°32' and 89°48' east longitudes. It is bounded by bagerhat sadar and fakirhat upazilas on the north, mongla and morrelganj upazilas on the south, Morrelganj and Bagerhat Sadar upazilas on the east, batiaghata and dacope upazilas on the west.
Population Total 178503; male 92059, female 86444; Muslim 139193, Hindu 38804, Buddhist 458 and others 48.
Water bodies Main rivers: Daudkhali, Ghasiakhali, pasur, Mongla, Paylahar.
Administration Rampal Thana was formed in 1892 and it was turned into an upazila in 1983.
Upazila
Municipality
Union
Mouza
Village
Population
Density (per sq km)
Literacy rate (%)
Urban
Rural
Urban
Rural

-

10

125

133

2049

176454

613

68.8

57.2
Upazila Town

Area (sq km)

Mouza

Population

Density (per sq km)

Literacy rate (%)

0.92

1

2049

2227

98.8
Union
Name of union and GO code
Area (acre)
Population
Literacy rate (%)
Male
Female

Ujalkur 94

7745

15670

14653

56.94

Gaurambha 41

8248

11067

10558

46.69

Perikhali 71

5225

8332

8223

59.68

Baintala 05

8505

12342

11881

61.78

Banshtali 11

5476

7862

7644

63.91

Bhojpatia 17

5695

5224

4974

63.57

Malliker Ber 53

6671

6208

5943

54.58

Rajnagar 77

7459

7321

5907

56.22

Rampal 83

8895

14056

13123

53.31

Hurka 47

4363

3977

3538

66.64
Source Bangladesh Population Census 2001, Bangladesh Bureau of Statistics.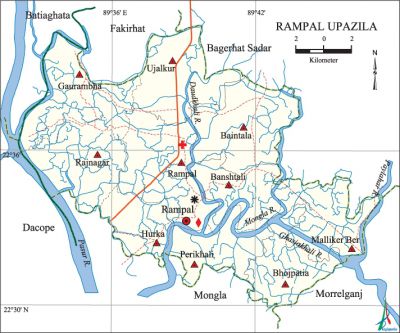 History of the War of Liberation The most memorable and brutal event of Rampal is the mass killing at village Dakra of Perikhali union by the Pak army in 1971. On 21 May the people of the Hindu community assembled at Dakra Kali Mandir with an object of crossing over to India in the face of torture of the local Razakars an Al-Badrs. On this day the razakars under Rajjab Ali Fakir launched a concerted attack from two sides coming on two Chhip boats and taking positions near the Kumarkhali and Madartali canals of Kaliganj bazar and killing a huge number of people and also setting many houses on fire. During the war of liberation the razakars used to capture people from different parts of the upazila, killed them at the mass killing site near the river ghat and threw the dead bodies into water. Besides, another brutal mass killing was held at village Doania Belai of Rampal upazila.
Marks of the War of Liberation Mass grave 1; mass killing site 2 (at a place on the river ghat of old Dakbungalow at Dakra and Rampal); memorial monument 1.
Religious institutions Mosque 245, temple 102, church 5. Noted religious institutions: Rampal Jami Mosque, Chaksree Jami Mosque, Gilatala Bazar Jami Mosque, Malliker Ber Jami Mosque, Dakra Kali Mandir, Rampal Durga Mandir.
Literacy rate and educational institutions Average literacy 57.3%; male 60%, female 54.4%. Educational institutions: college 3, secondary school 48, primary school 67, kindergarten 6, community school 3, madrasa 45. Noted educational institutions: Rampal Degree College (1968), Gilatala Multilateral High School (1929), Dakra Multilateral High School (1940), Falahat Kamaluddin Secondary School (1937), Perikhali Union Secondary School (1939), Falahat Senior Madrasa (1937), Islamabad Senior Madrasa (1939).
Cultural organisations Library 3, club 26, shilpakala academy 1, auditorium 4.
Main sources of income Agriculture 52.41%, non-agricultural labourer 7.71%, industry 0.79%, commerce 20.71%, transport and communication 3.64%, service 5.26%, construction 1.33%, religious service 0.24%, rent and remittance 0.16% and others 7.75%.
Ownership of agricultural land Landowner 55.59%, landless 44.41%; agricultural landowner: urban 64.13% and rural 55.49%.'
Main crops Paddy, sweet potato, vegetables.
Extinct or nearly extinct crops Sugarcane, betel nut.
Main fruits Mango, blackberry, papaya, banana, palm, green coconut.
Fisheries, dairies and poultries Fishery 920, dairy 6, poultry 75. Cattle breeding centre 1, shrimp farming 4200.
Communication facilities Pucca road 73 km, semi-pucca road 51 km, mud road 380 km.
Extinct or nearly extinct traditional transport Palanquin.
Noted manufactories Auto rice mill, saw mill, oil mill, flour mill, ice factory.
Cottage industries Potteries, jute industry, wood work, cane work, nakshi kantha.
Hats, bazars and fairs Hats and bazars are 8, fairs 4, most noted of which are Gilatala Hat, Falahat, Bhaga Hat, Chaksree Hat, Dakra Hat, Kaliganj Hat, Porakhali Hat, Khan Jahan Ali Bazar, Basunti Mela of Thakuran Dighi at Kalekhar Ber, Rash Mela at Jhanjhania, Pagal Chader Mela at Gajikhali and Baruni Mela at Hurka.
Main exports Shrimp, crab.
Access to electricity All the unions of the upazila are under rural electrification net-work. However 10.88% of the dwelling households have access to electricity.
Natural resources' The Geological Survey of Bangladesh has initially detected the reserve of natural gas at Joynagar and Kadirkhola.
Sources of drinking water Tube-well 71.78%, tap 1.12%, pond 25.86% and others 1.24%. The presence of arsenic has been detected in shallow tube-well water of the upazila.
Sanitation 15.94% (rural 15.58% and urban 48.22%) of dwelling households of the upazila use sanitary latrines and 78.76% (rural 73.15% and urban 44.66%) of dwelling households use non-sanitary latrines; 5.29% of households do not have latrine facilities.
Health centres Upazila health complex 1, satellite clinic 1, family planning centre 10.
Natural disasters Many people were victims of the devastating cyclones of 1960, 1970 and 1988. These cyclones also caused heavy damages to settlements, forestry and other properties of the upazila.
NGO activities Operationally important NGOs are brac, asa, caritas. [Moshfequr Rahman]
References Bangladesh Population Census 2001, Bangladesh Bureau of Statistics; Cultural survey report of Rampal Upazila 2007.