Ramu Upazila (cox's Bazar district) area 391.71 sq km, located in between 21°17' and 21°36' north latitudes and in between 92°00' and 92°15' east longitudes. It is bounded by chakaria and cox's bazar sadar upazilas on the north, naikhongchhari and ukhia upazilas on the south, Naikhongchhari upazila on the east, Cox's Bazar Sadar and the bay of bengal on the west.
Population Total 202683; male 104172, female 98511; Muslim 186019, Hindu 8188, Buddhist 86, Christian 8182 and others 208.
Water bodies Main river: Bakkhali.
Administration Ramu Thana was formed in 1908 and it was turned into an upazila in 1983.
Upazila
Municipality
Union
Mouza
Village
Population
Density (per sq km)
Literacy rate (%)
Urban
Rural
Urban
Rural

-

11

39

101

33334

169349

517

38.84

23.31
Upazila Town

Area (sq km)

Mouza

Population

Density (per sq km)

Literacy rate (%)

22.03

4

33334

1513

38.84
Union
Name of union and GO code
Area (acre)
Population
Literacy rate (%)
Male
Female

Idgar 28

12865

6409

5982

27.40

Kachhapia 47

10770

10430

9847

21.97

Kauarkhop 66

6144

10218

10135

21.87

Khuniapalong 57

19018

14054

13566

19.37

Garjania 19

15929

8794

8472

21.96

Chakmarkul 06

874

6187

5658

35.73

Joarianala 38

12914

8934

8641

25.70

Dakshin Mithachhari 85

10088

10692

10245

21.82

Fatekharkul 09

2435

13595

11965

42.03

Rashid Nagar 70

1804

6339

6013

21.77

Rajarkul 76

5087

8520

7987

24.55
Source Bangladesh Population Census 2001, Bangladesh Bureau of Statistics.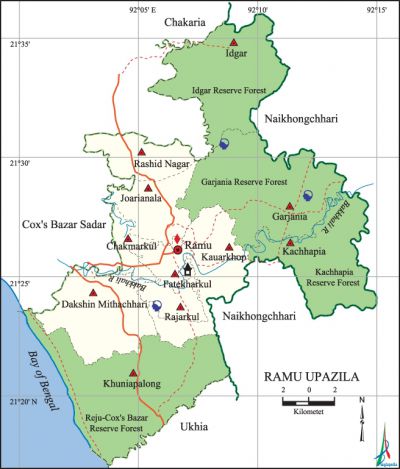 Archaeological heritage and relics Hindu Temple and Buddhist Keyang at Ramkot, Buddhist Keyang at Lamarpara.
Historical events Tradition goes that Ramu was named after the royal Ramu dynasty of Arakan. At the time of the conquest of Chittagong by the Mughals (1666) a thirteen feet high bronze image of Buddha was found at Ramu. This is the biggest of the Buddha images hitherto discovered in Bangladesh. It is said that Ramachandra met Sita at Ramkot after her abduction by Ravana and that the stone-grinder used by Sita had once been preserved at Ramkot.
Religious institutions Mosque 282, temple 16, keyang and pagoda 20. Noted religious institutions: Ramu Jami Mosque, Eidgah Bazar Mosque, Ramkot Hindu Temple, Shree Shree Ramdevi Purna Mandir, Ramkot Buddhist Keyang, Lamarpara Buddhist Keyang.
Literacy rate and educational institutions Average literacy 26%; male 29.6%, female 22.3%. Educational institutions: college 1, secondary school 38, primary school 82, kindergarten 6, madrasa 19. Noted educational institutions: Ramu Khijari Model High School (1914).
Cultural organisations Library 2, club 14, cultural organisation 2, playground 13, women organisation 7.
Tourist spots Ramkot (Hindu and Buddhist sacred place), Rubber Garden, Thoienga Chowdhury Keyang at Lamarpara.
Main sources of income Agriculture 47.01%, non-agricultural labourer 12.52%, industry 0.82%, commerce 13.06%, transport and communication 2.99%, service 5.10%, construction 1.10%, religious service 0.25%, rent and remittance 0.75% and others 16.40%.
Ownership of agricultural land Landowner 33.41%, landless 66.59%; agricultural landowner: urban 32.67% and rural 37.46%.'
Main crops Paddy, potato, pulse, onion, garlic, ginger, betel leaf, rubber, vegetables.
Extinct or nearly extinct crops Sugarcane, sesame, linseed, mustard, cotton, jute.
Main fruits Mango, jackfruit, pineapple, banana, papaya, coconut, betel nut.
Fisheries, dairies and poultries Fishery 15, dairy 2, poultry 8, hatchery 10.
Communication facilities Pucca road 66 km, semi-pucca road 114 km, mud road 512 km.
Extinct or nearly extinct traditional transport Palanquin, horse carriage, bullock cart.
Noted manufactories Rice mill, flour mill, saw mill, ice factory, welding factory.
Cottage industries Goldsmith, blacksmith, potteries, weaving, bell metal work, brass work, bamboo work, cane work, wood work, tailoring.
Hats, bazars and fairs Hats and bazars are 32, fairs 2, most noted of which are Ramu Bazar, Kauarkhop Bazar, Panirchhara Bazar, Garjania Bazar, Eidgar Bazar, Joaria Nala Bazar, Fakir Hat Bazar and Ramkot Mela.
Main exports Betel leaf, betel nut, coconut, banana, papaya, jackfruit, pineapple, shrimp, rubber.
Access to electricity All the unions of the upazila are under rural electrification net-work. However 17.91% of the dwelling households have access to electricity.
Sources of drinking water Tube-well 89.02%, tap 0.51%, pond 1.90% and others 7.65%.
Sanitation 20.88% (rural 16.09% and urban 46.07%) of dwelling households of the upazila use sanitary latrines and 54.12% (rural 57.45% and urban 36.58%) of dwelling households use non-sanitary latrines; 38.95% of households do not have latrine facilities.
Health centres Upazila health complex 2, family planning centre 9, clinic 2.
Natural disasters Many people were victims of the cyclone of 1991. Besides, it also caused heavy damages to settlements, livestock and crops of the upazila.
NGO activities Operationally important NGOs are brac, proshika, asa, CARE, caritas. [Muhammad Tawhid Hossain Chowdhury]
References Bangladesh Population Census 2001, Bangladesh Bureau of Statistics; Cultural survey report of Ramu Upazila 2007.