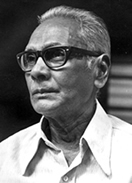 Rashid, ANM Bazlur (1911-1986) educationist and litterateur, whose full name was Abu Nayeem Bazlur Rashid, was born on 8 May 1911 in faridpur. His father, Harun-or-Rashid, was an advocate.
After early schooling at Faridpur GT School, Bazlur Rashid studied at Faridpur Zila School, wherefrom he passed the Matriculation examination (1928). He obtained the IA (1931) and BA (1933) degrees from rajendra college, Faridpur and the BT from Dhaka Teachers' Training College (1938).
He passed MA examination in Bangla (1954) from the University of Dhaka as a private candidate. Bazlur Rashid started his career as a teacher of Dhaka Government Muslim High School (1934). He taught in a number of different schools before joining the Dhaka Teachers'; Training College (1955), retiring from here in 1972. He subsequently taught part-time in the department of English at Dhaka University (1973-75) and jahangirnagar university (1975-80).
Bazlur Rashid was also a writer of note and wrote in a variety of genres. Among his publications are Panthavina (1947), Maru-Surya, Shite-Basante, Rang O Rekha, Ek Jhank Pakhi, Mausumi Man, Megh Behag (poetry), Uttar-Falguni, Rupantar, Dhan-Kamal (drama), Jharer Pakhi, Shila O Shaili, Path Bendhe Dila, Dui Sagarer Deshe, Path O Prthibi, Ogo Bideshini (travelogue), Mane Manantare, Nil Diganta (novel), Shah Abdul Latif Vitai and Jibanbadi Rabindranath (prose) etc. The main themes of his writings were the society and the nature of Bangladesh. He was awarded Bangla Academy Award for Drama in 1967 and the Tamgha-e-Imtiaz in 1969 for his literary contributions. [Md Majiruddin Miah]