Sen, Atulprasad (1871-1934) poet, lyricist and singer, was born in Dhaka on 20 October 1871. His family hailed from a village called Magor situated under South Bikrampur in faridpur. While still young, he lost his father. He grew up in the house of his grandfather, Kalinarayan Gupta, who was a follower of the Bhagavada, a good singer and a lyricist of devotional songs. Atulprasad inherited these qualities of his grandfather.
After passing the Entrance examination in 1890, he studied briefly at Presidency College in Kolkata. After he was called to the bar in London, he returned home to start legal practice in Kolkata and Rangpur, but later settled in Lucknow. He earned fame as the best lawyer in Lucknow and was elected president to the Oudh Bar Association and the Oudh Bar Council. He soon became immersed in the culture and lifestyle of Lucknow.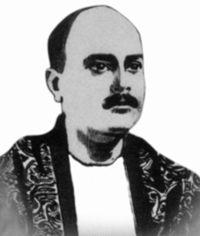 Atulprasad was one of the founders of the non-resident (now Nikhil Bharat) Banga-Sahitya Sammilan. He edited the organisation's magazine Uttara and chaired the Kanpur and Gorakhphur conventions. Although he did not take active part in politics, he supported the Congress, and later showed liberal tendencies. He spent most of his earnings on the welfare of the local people; he even donated the rights to his property and copyright to his works welfare-oriented organisations.
Atulprasad is mainly known as a musician and composer. His songs centred around three broad subjects- patriotism, devotion and love. The sufferings he experienced in his life found their ways into his senitiments and lyrics; and this has made his songs full of pathos.
Atulprasad is one of the few poets who evolved a distinct literary style and who wrote from the close of the nineteenth century to the middle of the twentieth century while most others were heavily influenced by Tagore's. Although he wrote relatively few songs compared to other contemporary lyricists, his creation shows great originality and earned him an eminent place in the world of Bangla songs. His songs are known as Atulprasader Gan (songs of Atulprasad).
Atulprasad practised law in Lucknow from 1902 to 1934. At this time, he used to hold musical soirees almost every evening at his residence where maestros like Ahammad Khalif Khan, Chhotey Munne Khan, Barkat Ali Khan and Abdul Karim used to sing. Engrossed in such musical sessions, he used to forget to attend his clients. He wrote most of his songs during his residence in Lucknow. He wrote 206 songs, but only 50 or 60 of them are still sung.
Sahana Devi, Autlprasad's cousin, edited and published 71 songs, along with her staff notations, in Kakali (Chirrups, 1930) in two volumes. His other songs have been published in two volumes called Gitipuvja and Kayekti Gan. His songs were first recorded in Kolkata in 1922-23; the singers were Sahana Devi and Haren Chattopadhyay. The artistes who followed sang his songs differently, thereby raising a controversy.
Atulprasad introduced the thungri in Bangla music. The introduction of raga-based Bangla songs was also one of his achievements. The thungri style was originally the creation of the noted musician, Nawab Wajed Ali Shah of Lucknow. Atulprasad adapted the Hindustani style to fit Bangla tunes, without distorting their value and measure. He was able to internalise the Hindustrani rendition style well since he lived almost half his life in northern India. He added a new dimension to Bangla songs and opened the way for further experiments.
Atulprasad used fast-paced Hindustani tunes like kheyal, thungri and dadra skilfully. Although some have criticised his attempt to blend Hindustani tunes with Bangla songs, he has been able to add an element of spontaneity on occasions when the tune has transcended the lyrics. His songs based on thungri and dadra have considerable artistic merit. Examples of such songs are 'ki ar chahiba balo' (What more shall I ask forFoodgrain/ Bhairabi/tap kheyal), 'ogo nithur daradi' (O the merciless/ mixed Ashabari-dadra/tap thungri), 'yaba na yaba na ghare' (I won't go home/ thungri), etc. His raga-based songs include 'bandhu dhar dhar mala' (o my friend, take the garland/ kalingda), 'tabu tomay daki bare bare' (Yet I call you/ Sindhu Kafi) continue to stir people. Atulprasad's introduction of the raga to the Bangla songs has had a significant impact on our music, and has influenced the songs of kazi nazrul islam and other raga-based modern songs.
His composition of songs using dhrupad and kirtan tunes was another achievement. Such songs include 'jani jani he rabga rani' (Yes, I know, the queen of play/ tilak pramad). He often used the khambaj raga in his songs. In addition, he used ragas like natamallar, nayaki kanada, kafi, pilu etc. His kirtan, baul and patriotic pieces written in the fashion of Rabindranath's songs have earned him an important place in the world of Bangla songs. Some such songs are 'hao dharmete dhir, hao karmete bir' (be a hero of religion, be a hero of action), 'utha go bharat laksmi' (Wake up, India), etc.
He was greatly influenced by the baul, kirtan and bhatiyali tunes he had heard as a child in Dhaka and Faridpur. His songs written in the fashion of baul and kirtan have captured the natural personality of Bengal. He wrote many songs of love, devotion, patriotism etc. He wrote a song stressing the harmony between the Hindus and the Muslims on the occasion of the All-India Congress Convention in Lucknow in 1916 as a captain of the volunteers. The song begins in the following manner: 'dekh ma ebar duyar khule/ gale gale ela ma/ tor hindu-musalman dui chhele' (Look, mother, we're two of your children, Hindu and Muslim, standing at your door). His 'moder garab, moder asha/ a mari bangla bhasa' (Our pride, our hopes the Bangla language) speaks of his love for his mother tongue. This song inspired our people during the language movement and the War of Independence. It has retained its charm even now. He enriched Bangla songs through his experiments with lyrics, tune, measure, pathos, etc. He died in Lucknow on 26 August 1934. [Khan Md Sayeed]
Bibliography Dilipkumar Roy, Sabgitiki (Music), Calcutta University, 1938; Nanigopal Bandyopadhyay, Sabgitdarshika (Pointer on music), Kolkata, 1975; Sudhir Chakrabarty, Bangla Ganer Sandhane (In search of Bangla music), Kolkata, 1900.