Sen, Raibahadur Dineshchandra
Sen, Raibahadur Dineshchandra (1866-1939) educationist, researcher, specialist in folk literature, historian of Bengali literature. He was born at his maternal uncle's house in village Bagjuri of manikganj district on 3 November 1866. His parental house was in village Suapur of Dhaka district. His father Iswarchandra Sen was a lawyer practicing at Manikganj court.
Dineshchandra Sen did his entrance from Jagannath School in 1882 and FA from Dhaka College in 1885. Owing to the death of both of his parents, he did his graduation as an external student in 1889. He began his career in 1887 as a teacher in Habiganj School of Sylhet. Later he worked as headmaster at Comilla's Shombhunath Institution (1889) and Victoria School (1890).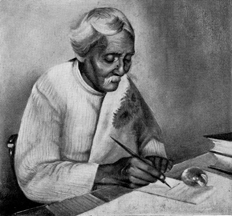 Dineshchandra Sen was attracted to literature from his teenage. His first book Kumar Bhupendrasingha, a narrative poem, was published from Comilla in 1890. He had deep love for folk culture. This love led him to patriotism, admiration for folk poets and fascination for the past. While in Comilla, he started touring villages and collecting manuscripts of old Bangali writings. He delved into this laborious work and after considerable research published from Comilla in 1996 his Babgabhasa O Sahitya, a book of rich source material. It was a book of systematic research into the history of ancient and medieval Bengali literature.  
It received appreciation from rabindranath tagore and other contemporary scholars. Because of this unique book, Dineshchandra Sen received recognition as a pioneer and scholar of the history of bangla literature.
Long years of laborious work in collecting manuscripts and reading them and then writing a book led him to suffer nervous sickness. He went to Calcutta for treatment and after two years and a half got cured. There he met many of his litterateur friends and received their support and association.
Around this time a new chapter opened in the literary life of Dineshchandra Sen. At the invitation of Vice Chancellor Sir Ashutosh Mukherjee, he became associated with Calcutta University. First, he was made an examiner of Bangla of the University's BA examination (1905) and later appointed a Reader (1909). In 1910 he was nominated as a Senate member of the University. In 1911 his book History of Bengali Language and Literature was published. For this book he received praises from Western researchers and literary critics. In 1913 he was awarded the University's 'Ramtanu Lahiri Research Fellowship' enabling him to collect and edit maimansingha gitika and purbabanga gitika (four vols 1923 -1932) and their English version Eastern Bengal Ballads (four vols 1923-1932). He played a unique role in saving the rich folk literature of Bangladesh from extinction and presenting it to the world community in book form. His literary work enriched Bangla language and literature and brought for himself international fame.
When in 1920 a new Bangla Language and Literature department was opened in Calcutta University, Dineshchandra Sen was appointed its head. He wrote necessary text books for its students. He served with credit as the department's head for twelve years and then retired in 1932.
Dineshchandra Sen played an important role as a creative writer. Apart from writing research-oriented and historical books on Bangla literature, composing narratives based on the Puranas, editing folk literature and writing history of the Bangalis, he wrote poems, novels and short stories. He wrote a total of sixty books. Some other books of him are: Babga-sahitya Parichoy (two vols, editing, 1914), The Vaisvavas of Medieval Bengal (1917), Chaitanya and his Companions (1917), The Folk Literature of Bengal (1920), The Bengali Ramayana (1920), Bengali Prose Style: 1800-1857 (1921), Sarol Bangla Sahitya (1922), Gharer Katha O Jugsahitya (1922), Glimses of Bengal Life (1925), Brihatbabgo (two vols, 1935), Ashutosh Smritikatha (1936), Banglar Puronari (1939) and Prachin Bangla Sahitye Mussalmaner Abodan (1940).
Brihatbango is a product of his deep interest in and love for the culture of Bangladesh. It is a cultural history of Bengal. Gharer Katha O Jugsahitya is the autobiography of Dineshchandra Sen. It is of high value in the annals of Bengali autobiography. In this book he has narrated in very simple and lucid language how he grew up and how he carried on his literary pursuits along with a lucid description of the social and cultural environment of his time. In this book he spoke of his vision of life in these words:
Although my journey through many alleys of life has not followed the desired routes, I have been pursuing even at this old age what I dreamt of in my childhood. After my entrance examination I thought if I failed I would learn oratory. Towards this end I would walk along the bank of canal Dashora in the evening and tried to deliver speeches in English, placing myself in the position of Demosthenes and using hands for gesticulation and voice for articulation. While in the second year I wrote in a note book: 'I shall become the greatest poet of Bengal, if that is not possible I shall become a historian. If my talent does not permit me to become a poet, who can resist me from becoming a historian on the basis of tireless efforts!.
These words of Dineshchandra Sen can play a big part in creating an attitude of lofty ideals. The words make a deep impression in the minds of the readers.
In his book Prachin Bangla Sahitye Mussalmaner Abodan, Dineshchandra Sen has unhesitatingly acknowledged the cultural contribution made by the Muslims. The prime theme of this book is that it ought not to be forgotten that in many areas of Bengali language and literature the Muslim poets and litterateurs played a pioneering role in enriching Bangla language.
For his contribution to literature and research, Dineshchandra Sen was awarded by the Indian Government the title of 'Raibahadur' in 1921. The same year Calcutta University conferred upon him the degree of DLitt. In 1931 he received 'Jagottarini' gold medal. He died at Behala in Calcutta on 20 November 1939. [Syed Azizul Huq]