Sitakunda Upazila (chittagong district) area 483.97 sq km, located in between 22°22' and 22°42' north latitudes and in between 91°34' and 91°48' east longitudes. It is bounded by mirsharai and fatikchhari upazilas on the north, pahartali thana on the south, Fatikchhari, hathazari upazilas and panchlaish thana on the east, sandwip upazila and Sandwip channel on the west.
Population Total 335178; male 182223, female 152955; Muslim 287806, Hindu 44772, Buddhist 213, Christian 1500 and others 887.
Water bodies bay of bengal; Sandwip Channel is notable.
'Administration Sitakunda Thana was formed in 1979 and it was turned into an upazila in 1983.
Upazila
Municipality
Union
Mouza
Village
Population
Density (per sq km)
Literacy rate (%)
Urban
Rural
Urban
Rural

1

9

69

59

36650

298528

693

53.87

54.67
Municipality

Area (sq km)

Ward

Mahalla

Population

Density (per sq km)

Literacy rate (%)

28.63

9

22

36650

128

53.87
Union
Name of union and GO code
Area (acre)
Population
Literacy rate (%)
Male
Female

Kumira 47

8537

18497

15638

49.55

Banshbaria 16

6799

12126

10727

54.78

Barabkunda 19

7037

17071

14936

47.58

Bariadyala 28

6738

13575

13620

51.17

Bhatiari 38

4800

30536

21243

58.11

Muradpur 57

5335

13603

12989

46.84

Salimpur 66

4453

19437

15705

65.22

Saidpur 95

7553

14951

15416

46.84

Sonaichhari 85

9248

23765

14693

61.97
Source Bangladesh Population Census 2001, Bangladesh Bureau of Statistics.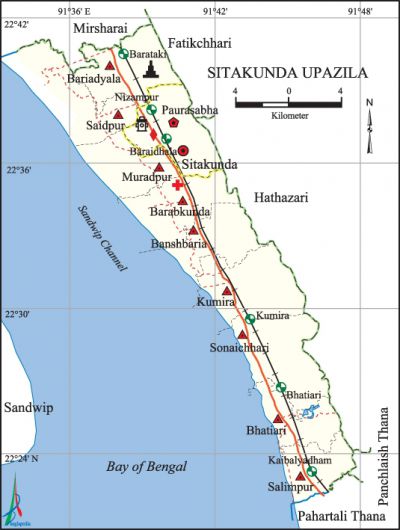 Archaeological heritage and relics Chandranath Mandir, Baskunda at Sitakunda Sadar, Bara Aulia Dargah Sharif at Sonaichhari, Harmadia Jami Mosque at Kumira.
History of the War of Liberation An encounter was held between the freedom fighters and the Pak army at Kumira of Sitakunda with heavy casuality on the side of the Pak army. Besides, two freedom fighters were killed in an encounter with the Pak army at a place near the Barabkunda Chemical Bridge. On 19 April 1971 the Pak army killed 10 innocent persons of the upazila.
Religious institutions Mosque 292, temple 50, tomb 8, buddhist math 3. Noted religious institutions: Sonaichhari Central Jami Mosque, Dal Chal Shah Mosque, Salimpur Jami Mosque, tomb of Bara Aulia, Kalu Shah Mazar, Fakir Hat Mazar, Pasthishala Buddhist Vihara, Sitakunda Shankar Math, Labanakhya Mandir, Chandranath Mandir.
Literacy rate and educational institutions Average literacy 54.6%; male 59.4%, female 48.7%. Educational institutions: college 6, secondary school 30, primary school 82, satellite school 10, kindergarten 21, community school 8, madrasa 14. Noted educational institutions: Sitakunda Degree College (1968), Latifa Siddiqi College (1985), Faujdarhat Cadet College (1958), Madam Bibir Hat Shahjahan High School (1905), Sitakunda Government Model High School (1913), Jafar Nagar Aparna Charan High School (1914), Teriail High School (1937), Kumira Residential High School (1938), Sitakunda Girls' High School (1945), Sitakunda Alia Madrasa (1886).
Newspapers and periodicals Weekly: Chaloman Sitakunda; monthly: Aranno, Sristi, Sitakunda Sangbad.
Cultural organisations Library 2, cinema hall 2, press club 1, playground 18.
Tourist spots Vast sea beach, coastal forestry area, Chandranath Mandir and Hill, Ecopark and Botanical Garden.
Main sources of income Agriculture 24.12%, non-agricultural labourer 4.27%, industry 2.82%, commerce 15.43%, transport and communication 4.32%, service 28.76%, construction 1.56%, religious service 0.29%, rent and remittance 6.10% and others 12.33%.
Ownership of agricultural land Landowner 35.37%, landless 64.63.
Main crops Paddy, betel leaf, ginger, turmeric, onion, rubber, vegetables.
Main fruits Mango, jackfruit, papaya, guava, coconut, betel nut, watermelon, pineapple.
Fisheries, dairies and poultries Fishery 28, dairy 4, poultry 8.
Communication facilities Pucca road 112 km, mud road 256 km; railway 37 km; Rail station 6.
Extinct or nearly extinct traditional transport Palanquin, bullock cart.
Noted manufactories Rice mill, flour mill, saw mill, jute mill, textile mill, re-rolling mill, shipyard, brick field, motor car assembling factory, corrugated iron factory, cement factory, glass factory, oxygen factory, bidi factory.
Cottage industries Goldsmith, blacksmith, potteries, wood work, bamboo work.
Hats, bazars and fairs Hats and bazars are 31, fairs 3, most noted of which are Mohantar Hat, Suklal Hat, Fakir Hat, Bara Darogar Hat, Mirer Hat, Madan Hat, Banshbaria Bazar, Kumira Bazar, Shiva Chaturdashi Mela, Chaitra Sankranti Mela and Baishakhi Mela.
Main exports Watermelon, rubber, betel leaf, vegetables.
Access to electricity All the wards and unions of the upazila are under rural electrification net-work. However 59.04% of the dwelling households have access to electricity.
Sources of drinking water Tube-well 92.04%, tap 3.31%, pond 2.23% and others 2.42%.
Sanitation 62.38% of dwelling households of the upazila use sanitary latrines and 28.95%' of dwelling households use non-sanitary latrines; 8.67% of households do not have latrine facilities.
Health centres Hospital 1, upazila health complex 1, infectious disease hospital 1, TB hospital 1, family planning centre 11, clinic 2, freedom fighters charitable health centre 1, veterinary treatment centre 1.
NGO activities Operationally important NGOs are brac, asa, CARE. [Shimul Kumar Chowdhury]
References Bangladesh Population Census 2001, Bangladesh Bureau of Statistics; Cultural survey report of Sitakunda Upazila 2007.