Mirsharai Upazila (chittagong district) area 482.88 sq km, located in between 22°39' and 22°59' north latitudes and in between 91°27' and 91°39' east longitudes. It is bounded by tripura state of India, chhagalnaiya and feni sadar upazilas on the north, sitakunda upazila and bay of bengal on the south, fatikchhari upazila on the east, sonagazi and companiganj (noakhali) upazilas on the west.
Population Total '368950; male 183358, female 185592; Muslim 313975, Hindu 48783, Buddhist 323, Christian 5184 and others 685.
Water bodies Main river: feni; Sandwip Channel; Isakhali, Mahamaya, Domkhali, Hinguli and Mayani canals are notable.
Administration Mirsharai Thana was formed in 1901 and it was turned into an upazila in 1983.
Upazila
Municipality
Union
Mouza
Village
Population
Density (per sq km)
Literacy rate (%)
Urban
Rural
Urban
Rural

2

16

113

209

22986

345964

764

51.7

52.0
Upazila Town

Area (sq km)

Mouza

Population

Density (per sq km)

Literacy rate (%)

1.73

2

12867

7438

49.7
Union
Name of union and GO code
Area (acre)
Population
Literacy rate (%)
Male
Female

Ichhakhali 29

11341

12313

13238

50.92

Wahedpur 89

4682

11969

12494

56.04

Osmanpur 77

3326

6478

6965

54.80

Karerhat 35

36582

15349

14628

42.70

Katachhara 41

3446

10582

11600

57.63

Khaiyachhara 47

1483

11849

12052

48.41

Zorwarganj 95

5517

16302

15734

45.74

Durgapur 11

3742

9950

9852

54.70

Dhum 10

3310

7619

8079

53.80

Maghadia 71

3677

10883

11649

48.16

Mayani 53

4590

8642

9064

53.59

Mithanala 65

5338

11402

12144

57.72

Mirsharai 59

4360

13985

13299

49.74

Saherkhali 83

5335

7769

8462

53.25

Haitkandi 17

3271

9400

9572

55.03

Hinguli 23

4562

12910

12597

55.48



Source  Bangladesh Population Census 2001, Bangladesh Bureau of Statistics.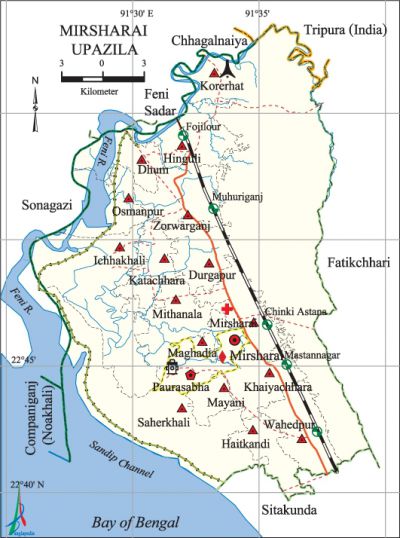 Archaeological heritage and relics Dhum Shila Pathar (Shantir Hat), Chhuti Khan Mosque, Paragal Khan Dighi, Nai Duari Mosque, Jagannath Dham (Abu Torab), Kali Mandir (Karerhat), Shantiniketan Vihara, Abhay Charan Vihara.
Historical events Sultan Fakhruddin Mobarak Shah conquered Chittagong in 1340 AD and established the Muslim rule in this region. During the reign of Gaur Sultans Hussain Shah and Nusrat Shah, Paragal Khan and Chhuti Khan were the rulers of this area. Subsequently Nizam Shah, brother of emperor Sher Shah, was the ruler of this area. Nizampur Pargana is named after Nizam Shah and the whole area of Mirsharai came under the control of Nizampur pargana. From the beginning of the 16th century this region was very rich in Bangla literature. Most of the time between 1580 and 1666 this region was under the control of the Arakanese. The place at which (of the present Mirsharai thana) Bujurg Umed Khan, son of Subadar Sayesta Khan, landed after crossing the Feni River was named as Bujurg Umedpur. With the conquest of Chittagong by Bujurg Umed Khan in 1666, this region came permanently under the Mughal rule. Towards the end of British rule in India, Durgapur and Karerhat areas of Mirsharai upazila were the centres of revolutionary activities of Chittagong. A fierce battle was fought between the freedom fighters (under Capt. Wali Ahmed) and the Pak army at a place adjacent to the Fenafuni Bridge on the south of Mirsharai sadar in which about 100 Pak soldiers were killed. Besides, direct encounters were held between the freedom fighters and the Pak army at many' places including Shuvapur Bridge, Hinguli Bridge, Aochi Mia Bridge and Mostan Nagar.
Marks of the War of Liberation Mass killing site 5 (Mirsharai Wireless, Talbaria, Loharpool, Mastan Nagar Hospital, Jhulanta Bridge), mass grave 1 (Karerhat), memorial monument 1 (Hinguli Bridge).
Religious institutions Mosque 640, temple 137, tomb 50. Noted religious institutions: Chhuti Khan Mosque (16th century), Daulat Bibi Mosque (16th century), Mahadia Mosque (1780), Nai Duari Mosque (18th century), Hamidullah Khan Mosque (19th century), tomb of Shah Zayed (R) (806 AH), tomb of Awal Kazi Moakkel (R), tomb of Hazrat Shah Badal (R), tomb of Hazrat Chinki Montana (R), tomb of Hazrat Mia Noor Ali Shah (R), tomb of Sufi Noor Mohammad Nizampuri (R), tomb of Hazrat Mir Gaffar Khan, Jagannath Mandir (Abu Torab Bazar), Kali Mandir (Karerhat), Hazisharai Mandir, Newanpur Mandir.
Literacy rate and educational institutions Average literacy 52%; male 56.3%%, female 47.9%. Educational institutions: college 4, secondary school 50, primary school 200, satellite school 8, kindergarten 8, madrasa 39. Noted educational institutions: Nizampur College (1964), Mirsharai College (1973), Baraiahat College (1974), Textile Engineering College (1980), Durgapur Nagendra Chandra High School (1908), Abu Torab Multilateral High School (1914), Zorwarganj Model Multilateral High School (1914), Sarkar Hat NR High School (1939), Mithachhara High School (1947), Mirsharai Pilot High School (1962), Mirsharai Latifia Kamil Madrasa (1884), Sufia Nuria Fazil Madrasa (1904), Mirzabazar Islamia Dakhil Madrasa (1910).
Newspapers and periodicals Monthly: Mirsharai, Jogajog; fortnightly: Khoborika, Mirsharai Chitra, Mirsharai Kantho, Alokito Campus (irregular); defunct: Mirsharai Barta, Mirsharai Darpan.
Cultural organisations Library 2, club 63, press club 1, theatre group 2, music school 3, playground 70, stadium 1.
Amusement centres Muhuri Project, Karerhat Forest Range.
Main sources of income Agriculture 38.93%, non-agricultural labourer 3.61%, industry 0.57%, commerce 13.26%, transport and communication 2.93%, service 18%, construction 1.19%, religious service 0.34%, rent and remittance 8.84% and others 12.33%.
Ownership of agricultural land Landowner 51.30%, landless 48.70%; agricultural landowner: urban 38.82% and rural 52.09%.
Main crops Paddy, pulse, potato, brinjal, vegetables, bamboo.
Extinct or nearly extinct crops Sugarcane, jute, arahar, mustard, sesame, linseed, ground nut.
Main fruits Mango, blackberry, jackfruit, banana, papaya, litchi, pineapple, water-melon.
Fisheries, dairies and poultries Fishery 226, dairy 29, poultry 576, hatchery 2.
Communication facilities Pucca road 230 km, semi-pucca road 119 km, mud road 1435 km; railway 16 km; waterway 11 nautical miles. Rail junction 4.
Extinct or nearly extinct traditional transport Palanquin, bullock cart.
Noted manufactories Carpet industry, pipe mill, ice factory, rice mill, bakery, brick-field, steel furniture, fish- poultry' feed' factory, bidi factory.
Cottage industries Goldsmith, blacksmith, potteries, weaving, tailoring, bamboo and wood work.
Hats, bazars and fairs Hats and bazars are 52, fairs 5, most noted of which are Abu Torab Bazar, Kamar Ali Bazar, Bara Daroga Hat, Mahajan Hat, Karer Hat, Baraia Hat, Shantir Hat, Zorwarganj Baishakhi Mela, Baruni Snan Mela and Shadhinata Mela.
Main exports Bamboo, fish, paddy, potato, banana, vegetables.
Access to electricity All the wards and unions of the upazila are under rural electrification net-work. However 34.70% of the dwelling households have access to electricity.
Sources of drinking water Tube-well 92.04%, tap 0.67%, pond 3.24% and others 4.04%. The presence of arsenic has been detected in 39% of the shallow tube-well water of the upazila.
Sanitation 56.98% (rural 56.04% and urban 71.73%) of dwelling households of the upazila use sanitary latrines and 34.30% (rural 35.13% and urban 21.11%) of dwelling households use non-sanitary latrines; 8.73% of households do not have latrine facilities.
Health centres Upazila health complex 1, family planning centre 16, satellite clinic 11.
NGO activities Operationally important NGOs are brac, proshika, asa, Sheba, CARE, Hunger Project. [Ahmed Momtaz]
References Bangladesh Population Census 2001, Bangladesh Bureau of Statistics; Cultural survey report of Mirsharai Upazila 2007.