Sonatala Upazila (bogra district) area 156.73 sq km, located in between 24°55' and 25°04' north latitudes and in between 89°26' and 89°41' east longitudes. It is bounded by saghatta and gobindaganj upazilas on the north, gabtali and sariakandi upazilas on the south, Sariakandi upazila on the east, shibganj (Bogra) and Gabtali upazilas on the west.
Population Total 167547; male 85206, female 82341; Muslim 159405, Hindu 8093 and others 49.
Water bodies Main rivers: jamuna, bangali, Bhimti, Lohagara; Mohicharan, Neagan and Gobarchanpa beels are notable.
Administration Sonatala Thana was formed in 1881 and it was turned into an upazila in 1984.
Upazila
Municipality
Union
Mouza
Village
Population
Density (per sq km)
Literacy rate (%)
Urban
Rural
Urban
Rural

-

7

103

131

11405

156142

1069

51.9

36.8
Upazila Town

Area (sq km)

Mouza

Population

Density (per sq km)

Literacy rate (%)

4.94

3

11405

2309

51.9
Union
Name of union and GO code
Area (acre)
Population
Literacy rate (%)
Male
Female

Jorgachha 42

7580

16377

15960

39.88

Tekani Chukainagar 84

3916

6719

6149

29.03

Digdair 31

6460

13413

12832

36.44

Pakulla 81

5953

10457

10243

34.40

Balua 10

5878

12736

12563

42.93

Madhupur 52

3796

8740

8317

32.08

Sonatala 73

5149

16764

16277

41.52
Source Bangladesh Population Census 2001, Bangladesh Bureau of Statistics.
Archaeological heritage and relics Pakulla Ahle Hadith Jami Mosque, ancient fort at Garh Fatehpur.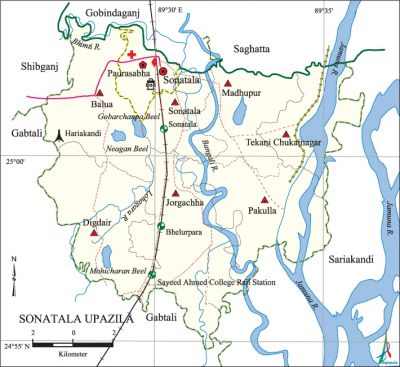 History of the War of Liberation On 28 April 1971, the Pak army set many shops of Sonatala Railway Station bazar on fire and killed three persons. On 6 May the Pak army conducted heavy plundering at the bazar adjacent to the Sonatala Port and killed three persons and wounded a number of people by gunshot; they also set many houses and shops of the Bazar on fire. On 14 May the Pak army killed one person at village Baiguni under Sonatala upazila.
Marks of the War of Liberation Mass grave 1 (Hariakandi).
Religious institutions Mosque 249, temple 11, tomb 2, sacred place 1. Noted religious institutions: Station Jami Mosque, Pakulla Jami Mosque, Ghorapir Mazar, Sonatala Durgabihani Narayan Mandir.
Literacy rate and educational institutions Average literacy 37.9%; male 43.3%, female 32.3%. Educational institutions: college 4, primary training institute 1, secondary school 25, primary school 118, madrasa 60. Noted educational institutions: Nazir Akhtar College (1967), Sonatala Pilot High School (1908), Sukhan Pukur High School (1914), Amlitala Model Primary School (1938).
Newspapers and periodicals Weekly: Natun, Durjoy Sahittya; irregular: Tarunna; defunct: Surja Sarathi, Sonatala Bulletin, Sonatala Barta.
Cultural organisations Library 4, social and cultural' organisation 1, theatre group 3, playground 30, cinema hall 2.
Main sources of income Agriculture 62.57%, non-agricultural labourer 2.52%, industry 0.61%, commerce 15.01%, transport and communication 3.66%, service 6.22%, construction 1.13%, religious service 0.20%, rent and remittance 0.42% and others 7.66%.
Main crops Paddy, mustard, jute,' maize, potato, ginger, vegetables.
Extinct or nearly extinct crops Barley, sugarcane, khesari, sesame, sweet potato, kaun.
Main fruits Mango, jackfruit, litchi, banana, papaya.
Fisheries, dairies and poultries Fishery 125, dairy 12, poultry 16.
Communication facilities Pucca road 66 km, semi-pucca road 8 km, mud road 312.07 km; waterway 5 nautical miles.
Extinct or nearly extinct traditional transport Palanquin, horse carriage, bullock cart, soari.
Noted manufactories Match factory 1, bidi factory 2, ice factory 1, auto rice mill 5, food and soft drinks 330, metallic work 67, welding factory 8.
Cottage industries Goldsmith 15, blacksmith 25, potteries 10, weaving 63, wood work 55, bamboo work 75, tailoring 125, furniture 111.
Hats, bazars and fairs Hats and bazars are 11, fairs 6, most noted of which are Sonatala Hat, Kachari Hat, Balua Hat, Sayed Ahmed College Hat, Pakulla Hat, Ghorapir Mela, Bura Mela, Gosai Bari Mela at Thakurgaon, Lohagara Mela, Aksay Taya Mela and Maghi Saptami Snan Mela.
Main exports Banana, potato, matches, bidi, vegetables.
Access to electricity All the unions of the upazila are under rural electrification net-work. However 37.9% of the dwelling households have access to electricity.
Sources of drinking water Tube-well 92.80%, tap 0.43%, pond 0.13% and others 6.64%.
Sanitation 13.04% (rural 11.77% and urban 31.81%) of dwelling households of the upazila use sanitary latrines and 42.40% (rural 43.09% and urban 32.22%) of dwelling households use non-sanitary latrines; 44.56% of households do not have latrine facilities.
Health centres Upazila health centre 1, satellite clinic 1, family planning centre 6, clinic 1. Natural disasters The cyclone of 1864 caused heavy damages to settlements, and crops of the upazila. Besides, the floods of 1987-1988 submerged the locality and caused damages to animals and crops of the area.
NGO activities Operationally important NGOs are brac, proshika, asa, thengamara mahila sabuj sangha. [Md. Harun-or-Rashid]
References Bangladesh Population Census 2001, Bangladesh Bureau of Statistics; Cultural survey report of Sonatala Upazila 2007.