Madhukhali Upazila (faridpur district) area 230.20 sq km, located in between 23°28' and 23°37' north latitudes and in between 89°29' and 89°44' east longitudes. It is bounded by baliakandi and rajbari sadar upazilas on the north, boalmari and mohammadpur (magura) upazilas on the south, faridpur sadar upazila on the east, magura sadar and sreepur (Magura) upazilas on the west.
Population Total 187775; male 95459, female 92316; Muslim 155534, Hindu 32201, Buddhist 27 and others 13.
Water bodies Main rivers: gorai-madhumati, kumar, chandana, Barasia.
Administration Madhukhali Thana was turned into an upazila in 1983.
Upazila
Municipality
Union
Mouza
Village
Population
Density (per sq km)
Literacy rate (%)
Urban
Rural
Urban
Rural

-

9

129

241

12329

175446

816

55.2

42.4
Upazila Town

Area (sq km)

Mouza

Population

Density (per sq km)

Literacy rate (%)

3.57

3

12329

3453

55.2
Union
Name of union and GO code
Area (acre)
Population
Literacy rate (%)
Male
Female

Kamarkhali 42

5362

9297

8888

45.02

Gajna 31

8672

15077

14130

46.13

Jahapur 37

3763

5833

5767

40.73

Dumain 21

6277

11122

10578

46.83

Noapara 73

6219

11042

10717

41.33

Bagat 10

3971

7561

7474

47.31

Madhukhali 52

6815

14376

14020

40.94

Megchami 63

7484

9941

9564

41.75

Raipur 84

8217

11210

11178

39.31
Source Bangladesh Population Census 2001, Bangladesh Bureau of Statistics.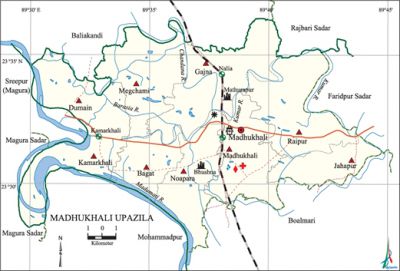 Archaeological heritage and relics Seventy feet high wall at Mathurapur (c 16th century), Kachari (zamindar's revenue office) and Dighi (pond) of Mukunda Ray (Sitaram) at Bhusna, Belton Neel Kuthi.
History of the War of Liberation In 1971 an encounter between the freedom fighters and the Pak army and local razakars was held at a place near the Chandana Barasia rivers in which one Pak soldier was killed. In retaliation the Pak soldiers stationed at Madhukhali camp rushed to the spot, but finding no freedom fighters at the place they set many houses of the nearby locality on fire.
Marks of the War of Liberation Memorial monument 1.
Religious institutions Mosque 250, temple 140, church 1, tomb 4. Noted religious institutions: Mosque and tomb at Banamalidia, Mosque at Pashchim Ghora Khola, Mosque and Tomb at Makrail, Madhukhali Bazar Jami Mosque.
Literacy rate and educational institutions Average literacy 43.3%; male 46.8%, female 39.7%. Educational institutions: college 5, secondary school 15, primary school 77, satellite school 14, madrasa 56. Noted educational institutions: Korokdi Rasbihari Multilateral High School (1901), Arpara High School (1926).
Cultural organisations Library 7, club 45, cinema hall 2, women organisation 4.
Main sources of income Agriculture 61.54%, non-agricultural labourer 2.76%, industry 0.74%, commerce 13.38%, transport and communication 5.03%, service 9.74%, construction 1.61%, religious service 0.20%, rent and remittance 0.43% and others 4.57%.
Ownership of agricultural land Landowner 60.76%, landless 39.24%; agricultural landowner: urban 37.46% and rural 62.39%.'
Main crops Sugarcane, jute, paddy, wheat, gram, mustard, chilli, betel leaf, vegetables.
Extinct or nearly extinct crops Kaun, sweet potato, barley, linseed, sesame, arahar.
Main fruits Mango, jackfruit, banana, papaya, wood-apple, palm, date, coconut.
Communication facilities Pucca road 150 km, semi-pucca road 50 km, mud road 800 km; railway 24 km.
Extinct or nearly extinct traditional transport Palanquin, horse carriage.
Noted manufactories Sugar mill, ice factory, flour mill, rice mill.
Cottage industries Goldsmith, blacksmith, potteries, weaving, bamboo work, wood work.
Hats, bazars and fairs Hats and bazars are 20, fairs 7, most noted of which are Madhukhali Hat, Kamarkhali Hat, Bagat Hat and Thana Ghat Mela.
Main exports Sugar, chilli, coconut, date molasses, vegetables.
Access to electricity All the unions of the upazila are under rural electrification net-work. However 17.45% (rural 14.64% and urban 57.56%) of the dwelling households have access to electricity.
Sources of drinking water Tube-well 94.98%, tap 0.37%, pond 0.57% and others 4.08%.
Sanitation 47.53% (rural 44.78% and urban 86.77%) of dwelling households of the upazila use sanitary latrines and 44.42% (rural 47.09% and urban 6.45%) of dwelling households use non-sanitary latrines; 8.04% (rural 8.13% and urban 6.78%) of households do not have latrine facilities.
Health centres Upazila health complex 1, family planning centre 8, satellite clinic 4, clinic 4.
NGO activities Operationally important NGOs are brac, asa. [Sirajul Ehsan]
'References Bangladesh Population Census 2001, Bangladesh Bureau of Statistics; Cultural survey report of Madhukhali Upazila 2007.