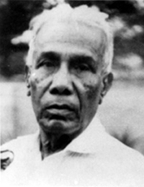 Taifoor, Syed Muhammed (1885-1972) author, antiquarian, historian. Syed Muhammed Taifoor was born on 3 June 1885 in Dhaka. His father Syed Abdul Aziz and grandfather Mir Gholam Mustafa al-Hosieny were zamindars at sonargaon. Taifoor claimed his descent from the famous saint of Sonargaon, ibrahim danishmand. He was educated at Madrasas in Dhaka and Calcutta and was well-versed in Bangla, English, Urdu and Persian languages. In 1909 he joined the government service as a Sub Registrar and worked all over what is now Bangladesh and eventually retired as Registrar of Calcutta in 1942. In 1941 the British Government bestowed the title of 'Khan Shaheb' on him. In 1947 during the anti-British movement he renounced this title in protest.   Among the Dhaka elites he was considered a very learned man and he held a variety of posts during his lifetime including member Director of Eden College, member of the Dhaka Secondary and Intermediate Board, Director of Jagannath College and member of Dhaka Improvement Trust. He was closely associated with the Dhaka Museum since its beginning and was a member of the museum's Trustee Board. He donated a number of his collections to the museum: 209 ancient and Mughal coins, artifacts and armoury from eastern India.
In addition, he donated rare books, and Arabic and Persian manuscripts to the asiatic society of Pakistan (now Bangladesh), of which he was a founder member.
In 1952 SM Taifoor published his Glimpses of Old Dhaka, a seminal treatise on the historical evolution of the city. He was a major proponent of using the spelling Dhaka (vis-a-vis Dacca), which was finally accepted only in 1982, years after his death.
He was a pioneer of women's education and rights. He actively encouraged his three daughters Lulu Bilquis Banu, leila arjumand banu and Malka Perveen Banu to undertake higher education and participate in public in cultural activities very unusual at a time when women were kept in strict seclusion.
His wife Sara Taifoor shared his beliefs in the need for women's emancipation. She was in her own right a prominent social worker, author and was decorated with the Kaiser-e-Hind Medal by the pre-partition British Government. SM Taifoor died in Dhaka at the age of 87 on 25 February 1972. [Shahnaz Huda]