Ukhia Upazila (cox's Bazar district) area 261.8 sq km, located in between 21°08' and 21°21' north latitudes and in between 92°03' and 92°12' east longitudes. It is bounded by ramu upazila on the north, teknaf upazila on the south, arakan state of Myanmar and naikhongchhari upazila on the east, the bay of bengal on the west.
Population Total 155187; male 80561, female 74626; Muslim 136739, Hindu 3605, Buddhist 57, Christian 11761 and others 25. Indigenous community such as chakma belongs to this upazila.
Water bodies Main river: naf; Reju Canal is notable.
Administration Ukhia Thana was formed in 1926 and it was turned into an upazila in 1983.
Upazila
Municipality
Union
Mouza
Village
Population
Density (per sq km)
Literacy rate (%)
Urban
Rural
Urban
Rural

-

5

13

54

17997

137190

593

39.58

26.86
Upazila Town

Area (sq km)

Mouza

Population

Density
(per sq km)

Literacy rate (%)

18.32

1

17997

982

39.58
Union
Name of union and GO code
Area (acre)
Population
Literacy rate (%)
Male
Female

Jalia Palong 31

5446

17695

16661

22.16

Palong Khali 79

33441

12106

10942

27.55

Ratna Palong 63

5107

9193

8585

32.40

Raja Palong 47

9720

22506

20599

34.98

Haldia Palong 15

8716

19061

17839

24.67
Source Bangladesh Population Census 2001, Bangladesh Bureau of Statistics.
Archaeological heritage and relics Zadimura Buddhist Vihara (Raja Palong union); Painyasia Jami Mosque, Ukhia Central Jami Mosque, Kali Mandir at Ukhia sadar.
Religious institutions Mosque 256, temple 44, pagoda 92.
Literacy rate and educational institutions Average literacy 28.4%; male 33%, female 23.4%. Noted educational institutions: Ukhia Degree College (1991), Ratna Palong Multilateral Girls' High School (1957), Ukhia Multilateral Girls' High School (1957), Ukhia Model Primary School (1922), Raja Palong Emdadul Ulum Fazil Madrasa (1930).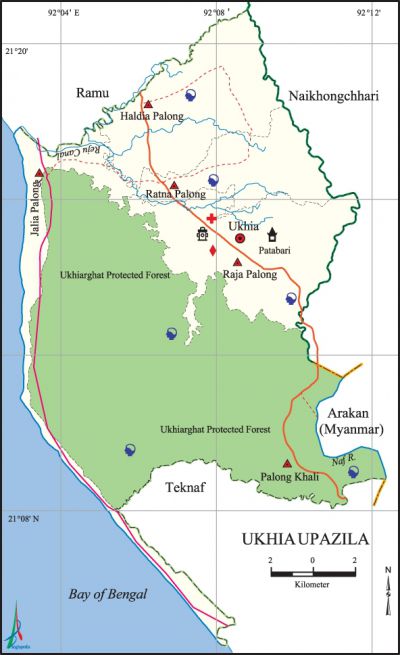 Cultural organisations Club 12, cinema hall 1, playground 12.
Tourists spots' 18 Km long Enani Sea Beach, Stupa of Tek Pathar (Patua).
Main sources of income Agriculture 54.40%, non-agricultural labourer 10.61%, industry 0.36%, commerce 15.05%, transport and communication 3.40%, service 0.34%, construction 1.45%, religious service 0.34%, rent and remittance 1.46% and others 12.95%.
Main crops Paddy, wheat, pulse, sugarcane, spices, jute, cotton, betel leaf, vegetables.
Extinct or nearly extinct crops Sesame, linseed, mustard.
Main fruits Mango, jackfruit, pineapple, papaya, betel nut, coconut, banana.
Fisheries, dairies and poultries Fishery 8, hatchery 10.
Communication facilities Pucca road 85 km, semi-pucca road 65 km, mud road 380 km.
Extinct or nearly extinct traditional transport Palanquin, horse carriage, bullock cart.
Noted manufactories Rice mill 135, flour mill 85, ice mill 2.
Cottage industries Blacksmith 25, weaving 80, brass and bell metal work 9, bamboo and cane work 431, embroidery 54,' potteries 11.
Hats, bazars and fairs Hats and bazars are 5, fair 1, most noted of which are Ukhia Bazar, Rumkhan Bazar, Kot Bazar, Marichha Bazar, Kalkhali Bazar and Baishakhi Mela.
Main exports Betel leaf, betel nut, coconut.
Access to electricity All the unions of the upazila are under rural electrification net-work. However 19.03% of the dwelling households have access to electricity.
Sources of drinking water Tube-well 81.92%, tap 0.47%, pond 3.26% and others 11.34%.
Sanitation 31.27% (rural 28.70% and urban 50.34%) of dwelling households of the upazila use sanitary latrines and 43.66% (rural 45.42% and urban 30.60%) of dwelling households use non-sanitary latrines; 25.07% of households do not have latrine facilities.
Health centres Upazila health complex 1, family planning centre 5, union health centre 4.
NGO activities Operationally important NGOs are brac, proshika, asa, CARE, caritas.'
[Towhid Hossain Chowdhury]
References Bangladesh Population Census 2001, Bangladesh Bureau of Statistics; Cultural survey report of Ukhia Upazila 2007.