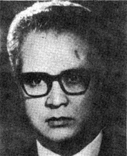 Waliullah, Syed (1922-1971) novelist, short story writer and playwright, was born on 15 August 1922 at Sholashahar in chittagong. His father, Syed Ahmadullah, was a government officer. His father's posting at different places provided an opportunity for the young Waliullah to see the life of people in different parts of East Bengal. This experience helped him create many of the characters of his novels and plays. In 1939 he passed the matriculation examination from Kurigram High School and in 1941 he passed IA from dhaka college. After graduating with distinction from anandamohan college in Mymensingh in 1943, he enrolled at Calcutta University to do Masters in Economics but was unable to complete his studies. He also studied at different times at Feni High School, Chittagong Zila School and Krishnanagar College.
Waliullah's literary activities began when, as a student at Feni High School, he edited a hand-written magazine called, Bhorer Alo. His first short story 'Hathat Alor Jhalkani' was published in the Dhaka College magazine. He was proficient in both English and Bangla. He briefly published an English journal, Contemporary. He worked as a sub-editor in Calcutta's Statesman during 1945-47. He also used to write for saogat, mohammadi, Bulbul, Parichay, Arani and Purbasha.
After the partition of India in 1947, Syed Waliullah came to Dhaka and joined Radio Pakistan, first as an assistant news editor, and later as a news editor in Karachi (1950-51). From 1951 to 1960 he served as a press attache at the Pakistan embassies in New Delhi, Sydney, Jakarta and London.
From 1960 to 1967 he served as first secretary at the Pakistan embassy in Paris and from 1967 to 1971 he worked as a programme specialist at UNESCO in Paris.
In 1971 Syed Waliullah worked for the liberation of Bangladesh and joined hands with his friend Justice Abu Sayeed Chowdhury to enlist the support of a number of French intellectuals including Pierre Emanuel and Andre Malraux in mobilizing world public opinion.
Syed Waliullah's wife, Anne Marie whom he married in 1955, translated his first novel lalsalu (1948) into French. This was later translated into English as Tree Without Roots (1967). Lalsalu depicts the life of the people of rural East Bengal at a time when its intellectuals were greatly agitated over political issues. The novel exposes the manipulations and activities of charlatans exploiting the religious beliefs of the common people. The novel revealed his deep understanding of human psychology. Chander Amabasya (1964) and Kando Nadi Kando (1968) are two other novels by him that are considered exceptional additions to bangla literature. In these two novels he also shows with great artistry his commitment to the philosophy of Existentialism. Two books of short stories that he has written are Nayanchara (1951) and Dui Tir O Anyanya Galpa. Three plays that he composed are Bahipir (1960), Tarabgabhabga (1964) and Sudabga (1964). His short stories and plays often expose the social prejudices, religious deceptions and moral aberrations of people.
In recognition of his achievements, Waliullah received several awards for his literary works at home and abroad. He was awarded the Ekushey Padak posthumously in 1983. Syed Waliullah died in Paris on 10 October 1971 and was buried there. [Shafiul Alam]