---
Dhobaura Upazila (mymensingh district) area 251.05 sq km, located in between 25°01' and 25°10' north latitudes and in between 90°24' and 90°37' east longitudes. It is bounded by Meghalaya state of India on the north, phulpur and purbadhala upazilas on the south, durgapur (Netrokona) upazila on the east, haluaghat upazila on the west. There are many hillocks on the north extremity of the upazila.
Population Total 172152; male 86672, female 85480; Muslim 155610, Hindu 6332, Buddhist 10167 and others 43. Indigenous communities such as garo and Hajang belong to this upazila.
Water bodies Main rivers: kangsa and Nitai.
Administration Dhobaura Thana was formed in 1976 and it was turned into an upazila in 1983.
Upazila
Municipality
Union
Mouza
Village
Population
Density (per sq km)
Literacy rate (%)
Urban
Rural
Urban
Rural

-

7

96

162

5077

167075

686

46.2

27.3
Upazila Town

Area
(sq km)

Mouza

Population

Density
(per sq km)

Literacy rate
(%)

5.59

2

5077

908

46.2
Union
Name of union and GO code
Area (acre)
Population
Literacy rate (%)
Male
Female




Gamaritala 42

8153

11081

10928

26.97

Guatala 47

7583

11066

10827

29.41

Ghoshgaon 52

6635

8733

9044

33.72

Dakshin Maijpara 31

11024

14249

14482

24.70

Dhobaura 36

9940

14508

13952

31.69

Pora Kandulia 73

8111

12634

12070

22.64

Baghber 10

10592

14401

14177

27.80
SourceBangladesh Population Census 2001,Bangladesh Bureau of Statistics.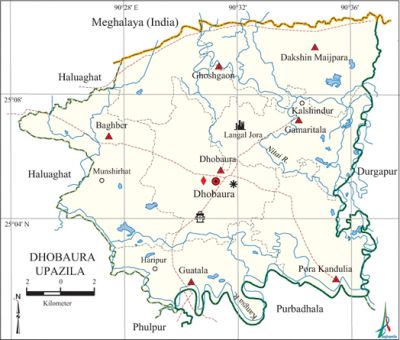 Archaeological heritage and relics Mughal Mosque and Pathar Kata Dighi at village Darsha, Kamaksha Mandir at village Ghoshgaon, Vishnu statue of black basalt weighing 40 kg 500 gm (at present preserved in the museum) and' Dharma Shah Dighi at village Langal Jora.
Historical events Tonk Movement under Comrade Moni Singh with the slogan 'Jan debo tobu dhan debo na' (we shall not give paddy even at the cost of our life) was held in this upazila during 1937 to 1949. On 19 July 1971, a day long encounter was held between the freedom fighters and the Pak army in which 11 persons were killed including two freedom fighters. On 3 October 1971, at mid night the Pakistan army suddenly attacked the Muktibahini camp at Guatala Bazar and killed four freedom fighters. Next day the Pakistan army conducted mass killing at Guatala Bazar and Taraikandi Ferry Ghat in which 120 persons were killed.
Marks of the War of Liberation Mass grave 7 (Guatala Bazar, Taraikandi Ferry Ghat, Defulia Para, Milagara, Digalbagh, Goborchena and Zigatala).
Religious institutions Mosque 230, temple 23, church 13, sacred place 1. Noted religious institutions: Mosque at village Darsha and Kamakkha Mandir at village Ghoshgaon.
Literacy rate and educational institutions Average literacy 27.9%; male 31.6%, female 24.3%. Educational institutions: college 3, secondary school 22, primary school 81, satellite school 24.'
Newspapers and periodicals Dhobaura Barta and Ujjiban.
Cultural organisations Library 2, club 22, cinema hall 1.
Main sources of income Agriculture 77.88%, non-agricultural labourer 4.02%, industry 0.19%, commerce 7.38%, transport and communication 0.46%, service 2.26%, construction 0.35%, religious service 0.14%, rent and remittance 0.05% and others 7.27%.
Ownership of agricultural land Landowner 59.05%, landless 40.95%; agricultural landowner: urban 42.75% and rural 59.51%.
Main crops Paddy, vegetables.
Extinct or nearly extinct crops Jute, mustard, sugarcane, tobacco, sesame, aush paddy, ashina paddy.
Main fruits Mango, jackfruit, banana, papaya.
Fisheries, dairies and poultries Fishery 10, dairy 5, poultry 29.
Communication facilities Pucca road 49.50 km, mud road 346 km; waterway 22 nautical miles.
Extinct or nearly extinct traditional transport Palanquin, horse carriage, bullock cart, soari.
Noted manufactories Rice mill, saw mill, welding factory.
Cottage industries Blacksmith, potteries, weaving, bamboo and wood work, cocoon cultivation.
Hats, bazars and fairs Hats and bazars are 23, fairs 4, most noted of which are Dhobaura, Guatala, Kalsindur, Munshirhat, Ghoshgaon and Pora Kandulia hats; Ghoshgaon Dol Purnima Mela, Dhobaura Austamir Mela, Pora Kandulia Nayaganga Austami Snan Mela.
Access to electricity All the unions of the upazila are under rural electrification net-work. However 2.03% of the dwelling households have access to electricity.
Natural resources China-clay, sand and wood are notable; a mine of China clay has been discovered at village Vedikura of 'Dakshin Maijpara union.
Sources of drinking water Tube-well 82.66%, tap 0.22%, pond 3.82% and others 13.30%. The presence of arsenic has been detected 47% in shallow tube-well water of the upazila.
Sanitation 7.72% (rural 7.52% and urban 14.79%) of dwelling households of the upazila use sanitary latrines and 59.40% (rural 59.14% and urban 68.40%) of dwelling households use non-sanitary latrines; 32.88% of households do not have latrine facilities.
Health centres Upazila health complex 1, hospital 1, family planning centre 7, upazila health centre 1, veterinary hospital 1.
NGO activities Operationally important NGOs are World Vision, caritas, brac, proshika, DPDS. [Abdul Motaleb Talukder]
References Bangladesh Population Census 2001, Bangladesh Bureau of Statistics; Cultural survey report of Dhobaura Upazila 2007.