Ahmad, Ashabuddin (1914-1994) teacher, politician and litterateur. He was born in the village of Sadhanpur in banshkhali upazila of chittagong. He passed matriculation (1932) from Sadhanpur School and IA (1934) and BA (1936) from Chittagong College. He obtained the MA degree in English from the University of Dhaka in 1939. He then taught for 14 years at different colleges, including chittagong college and comilla victoria college. He was also associated with the establishment of the Chittagong Night (City) College, Banshkhali College, Sadhanpur Palli Unnayan High School, and West Banshkhali High School. He was the editor of the journal Teacher, the mouthpiece of the Association of Non-Government College Teachers.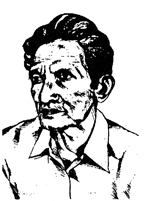 He played an important role in the language movement in Comilla in 1952. He also played a leading role in the cultural movement of the time. In 1954, he was elected to the Provincial Assembly on a united front ticket. Ashabuddin was a member of the Awami League Central Committee and the vice-president of the party's Chittagong District Committee (1953-1957). He played a significant role in formation of National Awami Party by Maulana abdul hamid khan bhasani in 1957 and became the general secretary of the newly formed party's Chittagong district committee.    
Simultaneously, he worked as a member and activist of the underground communist party. Shortly afterwards, he was jailed on political grounds. Even after being released, he had to remain underground for another 15 years because of his ultra-left leanings.
As a columnist Ashabuddin was a regular contributor to the dailies Azadi and Purbakon that were published from Chittagong. He also contributed regularly to the daily Sangbad. Ashabuddin's literary works were inspired by a desire for social change.
He was an outspoken person and did not hesitate to criticize even his own politics. He was adept in satire and loved to play with words. Badaler Dhara Jhare Jhar Jhar (1949) is written in the form of a letter. In this booklet, as in Dhar (1954) and Uddhar (1978), he does not use any compound word.
Apart from Ashabuddin's 21 published books, he also left behind several unpublished manuscripts. Contemporary politics, social reality and his own philosophy are reflected in Ser Ek Ana Matra (1968), Jan O Man (1969), Lekhak O Pathak (1969), Bande Votaram (1969), Hater Panch Avgul (1970), Dadi Samachar (1971), Biplab Banam Ati Biplab (1972), Banx Samachar (1973), Path Chalite (1975), Amar Sahitya Jiban (1980), Danger Signal (1980), Ghus (1986) and Ujan Srote Jibaner Bhela (1990). Ashabuddin Ahmad died in Dhaka on 28 May 1994. [Mahmud Shah Qureshi]