Ali, Captain M Mansur (1919-1975) lawyer, politician. Captain M Mansur Ali was born in 1919 at village Kuripara in Kazipur thana of Sirajganj District. He obtained graduation from Calcutta Islamia College, MA in Economics and Law degree from Aligarh Muslim University. He joined Pabna District Court Bar in 1951.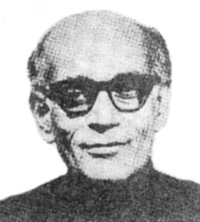 Mansur Ali was the vice-president of Pabna District muslim league from 1946 to 1950. He received training at Jessore Cantonment as a captain in PLG in 1948. Since then he was widely known as Captain Mansur. However, his active political life began with his joining the Awami Muslim League in 1951. He was elected member of the central executive committee of the party and was also the president of its Pabna district unit. He was arrested in 1952 while organising the language movement in Pabna.
Mansur Ali was elected a member of the East Bengal Legislative Assembly in 1954 as a candidate of united front. He was the Minister of Law and Parliamentary Affairs, Food and Agriculture, Commerce and Industry in the coalition cabinet in East Bengal headed by ataur rahman khan (1956). After the promulgation of Martial Law in 1958 he was arrested under Safety Act and kept confined till 1959.    
Mansur Ali played an important role in the movement on Six-point Programme of Bangabandhu sheikh mujibur rahman. He was elected a member of the Provincial Assembly from Pabna in 1970. He was the Finance Minister in the cabinet of Bangladesh Government in exile, and played vital role in organising the War of Liberation. After independence, Mansur Ali was the Minister for Communication, and then the Minister for Home Affairs and Communication in the cabinet of Bangabandhu Sheikh Mujibur Rahman. In 1973, he was elected a member of the National Assembly, and a member in the Awami League Parliamentary Party. He was made the Prime Minister after the introduction of one-party presidential form of government in 1975. He was the secretary general of bangladesh krishak sramik awami league (BAKSAL).
Captain Mansur Ali went on hiding immediately after the killing of Bangabandhu Sheikh Mujibur Rahman on 15 August 1975. Having captured power khondakar mostaq ahmad included some of his Awami League colleagues in his cabinet. But Mansur Ali and three other national leaders refused to join the cabinet, and were thus arrested on 23 August 1975. Mansur Ali and three other leaders, syed nazrul islam, tajuddin ahmad and ahm qamaruzzaman, were kept confined in the Dhaka Central Jail where they were brutally killed on 3 November 1975. [Md. Azom Baig]