Ananda Mohan College 'one of the major colleges in Bangladesh. The first wrangler of the Indian sub-continent, distinguished educationalist and social reformer ananda mohan bose (1847-1906) established a school named 'Mymensingh Institution' in 1883 in his own family residence at Rambabu Road of Mymensingh town. From April 1890, the school emerged with a new name 'Mymensingh City Collegiate School'. In 1899, Mymensingh Sava (a forum of local Hindu gentry) and Anjuman-e-Islamia (A forum of the Muslim gentry) jointly made an effort to set up a college in Mymensigh. Being encouraged by them, Ananda Mohan Bose upgraded the City Collegiate School to a second-grade college called 'Mymensingh City College' on 18 July 1901. Mymensingh City College was practically a branch of Calcutta City College, which was established earlier by Ananda Mohan Bose. For some time, the Calcutta City College rendered partial financial assistance to the Mymensingh City College.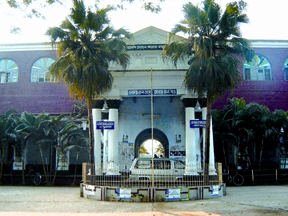 After the death of Ananda Mohan Bose (1906) the grant from the Calcutta City College discontinued. With the permission of the Calcutta University, the Mymensingh City College became an independent organisation on 31 March 1908, and accordingly, the management committee of the college was reconstituted. The new committee changed the name of the college and thus it came to be known as Mymensingh College. With this name, the college got the recognition of Calcutta University on 23 June 1908. Financially, the college was included in the government scheme of grant-in-aid.
The college was running better than ever before and number of students increased over time. The college bought a new plot of land, the present site, to accommodate to meet its increasing needs. The college was shifted to the new site at Kachijhuli in 1908. The name of the college was also renamed as 'Ananda Mohan College', in honour of its original founder, Ananda Mohan Bose.
The Ananda Mohan College was managed privately with government-grant-in aid' until 1963. It was nationalised during the 1963-64 sessions and named as 'Government Ananda Mohan College'. Honours course in Bangla and General History were introduced from the same academic session. The physical and academic facilities were created to meet the new needs. A two-storied academic building, an auditorium, one student's common room and a library were constructed. Later honours courses were introduced in some more subjects in 1972. At present (2010), the college conducts Honours and Masters courses in 18 subjects including Bangla, English, History, Islamic History and Culture, Philosophy, Islamic Studies, Economics, Political Science, Social Welfare, Sociology, Botany, Zoology, Mathematics, Physics, Chemistry, Geography and Environment, Management and Accountancy. All these courses were introduced in the nineteen nineties. The college later was affiliated with National University and a new 4-storied academic building was constructed to meet new requirements.
The area of Ananda Mohan College campus is 15.28 acres; on which Principal's bungalow, teacher's quarters, employees quarters, guest house, shaheed minar, two separate common rooms for boys and girls, post-office, power sub-station, telephone and bank booths, 3 boys and 2 girl hostels, departmental laboratories, a botanical garden, bus stop and transport shades, one play ground and a pond are situated. The college conducts BNCC unit, rover scout and Girl's Guide programmes under commissioned instructors. At present (2010), the College has 201 teachers and about twenty two thousand students.
Former Vice Chancellor of Calcutta University and Judge of Calcutta High Court and International Defense Tribunal Justice radhabinod pal served as a Professor of Mathematics in this College from 1911 to 1920. Other distinguished faculty members of college include the first acting President of Bangladesh syed nazrul islam, national Professor kabir chowdhury, historian Professor Sirajul Islam and writer Dr Shafiuddin. Among the students, who later became national celebrities include Dr niharranjan ray (historian), principal ibrahim khan, syed waliullah (novelist), pc sorcar (magician), Professor M Mufakharul Islam (former VC of National University), Professor Md. Anwarul Islam (former VC of Bangladesh Agriculture University), Dr Arabindu Poddar (Professor of English, Biswa Bharati University), Professor Md. Shamsur Rahman (former VC of National poet kazi nazrul islam University), MA Rashid (Justice), Rahat Khan (Editor of Daily Ittefaq), Jatin Sarkar (writer and scholar) and Nirmalendu Goon (Poet). [Md. Zakir Hossain]