Bagatipara Upazila (natore district) area 139.86 sq km, located in between 24°15' and 24°22' north latitudes and in between 89°13' and 89°26' east longitudes. It is bounded by natore sadar upazila on the north, lalpur upazila on the south, baraigram upazila on the east, charghat, bagha and puthia upazilas on the west.
Population Total 118794; male 60786, female 58008; Muslim 112053, Hindu 6367, Buddhist 345 and others 29. Indigenous communities such as santal, Bagti, Phahari, oraon belong to this upazila.
Water bodies Main river: baral.
Administration Bagatipara Thana was formed in 1906 and it was turned into an upazila on 15 April 1983.
Upazila
Municipality
Union
Mouza
Village
Population
Density (per sq km)
Literacy rate (%)
Urban
Rural
Urban
Rural

-

5

93

144

7674

111120

849

55.6

47.0
Upazila Town

Area
(sq km)

Mouza

Population

Density
(per sq km)

Literacy rate (%)

5.59

4

7674

1373

55.6
Union
Name of union and GO code
Area (acre)
Population
Literacy rate (%)
Male
Female




Jamnagar 76

7436

13535

12923

48.46

Dayarampur 38

11477

13870

13372

48.25

Panka 57

7865

12881

12004

46.85

Fhaguardiar 42

3153

6877

6626

39.56

Bagatipara 19

7030

13623

13083

50.45
Source Bangladesh Population Census 2001, Bangladesh Bureau of Statistics.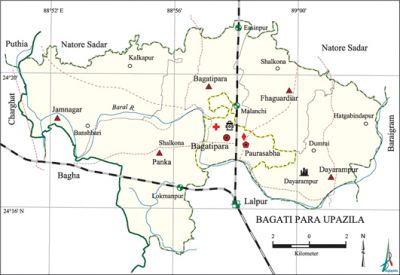 Archaeological heritage and relics Dayarampur Rajbari (1891), Galimpur Zamindarbari (1926), Begunia Zamindarbari (1911), Bara Bagha Mazar Sharif (1851), Neelkuthibari (Noashera), Nurpur Zamindarbari (1882), Mazar of Hazrat Shah Mokarram Danishmand (R).
History of the War of Liberation On 22 November 1971, 16 Pak soldiers were killed in an encounter between the freedom fighters and the Pak army at village Nabirpara adjacent to the railway line.
Religious institutions 'Mosque 182, temple 21, church 1, tomb 2. Noted religious institutions: Barabagha Tomb, Moidulha of Basudevpur Gangasnana (holy bathing place).
Literacy and educational institutions Average literacy 47.5%; Male 51.70%, female 43.20%. Educational institutions: college 13, technical college 5, agricultural college1, secondary school 41, primary school 46, vocational school 9, kindergarten 3, madrasa 7. Noted educational institutions: Takinagar Ideal High School and College (1994), Bagatipara Pilot High School (1959), Jigari High School (1959), Cantonment Public High School (1975).
Newspapers and periodicals Aunkur (1983), Utsa (2003), Kaler Garaj (2004), Raktabij, Unmesh (2004), Sharakpatra (2004).
Cultural organisations Library 3, theatre group 4, cinema hall 1.
Main sources of income Agriculture 69.19%, non-agricultural labourer 3.63%, industry 0.86%, commerce 10.83%, transport and communication 2.82%, service 6.70%, construction 0.85%, religious service '0.13%, rent and remittance 0.25% and others 4.74%.
Ownership of agricultural land Landowner 57.06%, landless 42.94%; agricultural landowner: urban' 57.06%, rural 42.94%.
Main crops Paddy, jute, sugarcane, wheat, pulse, potato, vegetables.
Extinct or nearly extinct crops Barley, kaun, aus paddy, arahar.
Main fruits Mango, jackfruit, litchi, black berry, banana, papaya, guava, date.
Fisheries, dairies and poultries This upazila has a number of fisheries, dairies and poultries.
Communication facilities Pucca road 69.82 km, semi-pucca road 4.42 km, mud road 303.90 km; railways 13 km.
Extinct or nearly extinct traditional transport 'Palanquin.
Noted manufactories Rice mill, flour mill, saw mill.
Cottage industries Goldsmith, blacksmith, bamboo work, cane work.
Hats, bazars and fairs Hats and bazars are 17, fairs 6, most noted of which are Sonapur Hat, Dayarampur Hat, Lokmanpur Hat, Nazirpur Bazar, Barapukuria Gate Bazar, Malanchi Bazar and Barabagha Mela.
Main exports sugarcane molasses, date molasses, mango, jackfruit.
Access to electricity All the unions of this upazila are under rural electricity net-work. However 30.05% of the dwelling households have access to electricity.
Sources of drinking water Tube-well 92.29%, tap 1.07%, pond 0.16% and others 6.48%. The presence of arsenic has been detected in the tube well water of the upazila.
Sanitation 17.25% (rural 24.83% and urban 16.78%) of dwelling households of the upazila use sanitary latrines and 54.66% (urban 67.26% and rural 53.87%) of dwelling households use non-sanitary latrines; 28.09% of households do not have latrine facilities.
Heath centres 'Upazila health complex 1, family planning centre 4, community clinic 5, clinic 1.
NGO activities Operationally important NGOs are brac, asa, Nijera Kari. [Md Moniruzzaman Moni]
References Bangladesh Population Census 2001, Bangladesh Bureau of Statistics; Cultural survey report of Bagatirpara Upazila 2007.