Natore District (rajshahi division) area 1721.84 sq km, located in between 24°25' and 24°58' north latitudes and in between 88°01' and 88°30' east longitudes. It is bounded by naogaon and bogra districts on the north, pabna and kushtia districts on the south, Pabna and sirajganj districts on the east, rajshahi district on the west.
Population Total 1577369; male 789861, female 787508; Muslim 1471627, Hindu 94378, Buddhist 7, Christian 7821 and others 3536. Indigenous communities such as santal, oraon, Turi, Bhumij, Kaibarta, Mushar, Malpahadi, munda belong to this upazila.
Water bodies Main rivers: padma, baral, Mara Baral, Baranai, Gurh, nagar; chalan beel 'is notable.
Administration Natore Sub-division, under Rajshahi district, was established in 1845 and it was turned into a district in 1984. Natore Municipality was formed in 1869.
District
Area (sq km)
Upazila
Municipality
Union
Mouza
Village
Population
Density (per sq km)
Literacy rate (%)
Urban
Rural
1721.84
6
6
47
1075
1260
217742
1359627
916
49.6
Others Information of District

Name of Upazila

Area
(sq km)

Municipality

Union

Mouza

Village

Population

Density
(per sq km)

Literacy rate (%)

Gurudaspur
203.20
1
6
98
110
214788
1057
41.9
Natore Sadar
222.80
1
7
156
206
313118
1405
54.0
Baraigram
299.60
2
7
141
169
279672
933
50.0
Bagatipara
139.85
-
5
83
134
131004
937
56.5
Lalpur
327.92
1
10
200
217
274405
837
50.6
Singra
528.47
1
12
397
424
364382
689
42.9
Source Bangladesh Population Census 2011, Bangladesh Bureau of Statistics.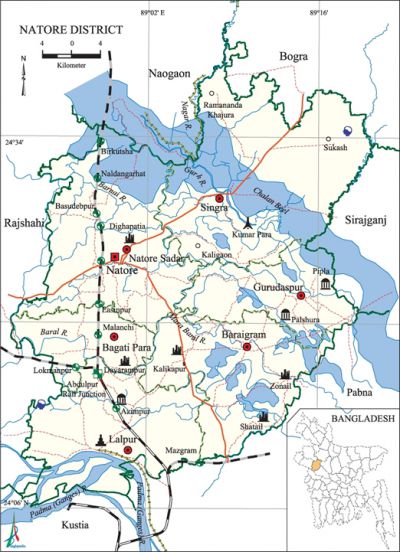 Historical events indigo resistance movement took place in this district during 1859 to 1860.
War of Liberation On 29 March 1971 a direct battle was fought between the Pak army and the freedom fighters in Natore Sadar in which about 40 Pak soldiers including Major Aslam and Captain Ishaq were killed. On 30 March, 80 freedom fighters were killed and 32 were wounded in a battle with the 25th Regiment of Pak army at Moyna of Lalpur upazila. In another encounter with the Pak army at village Chamtia three freedom fighters were killed. Ten freedom fighters were killed in an encounter with the Pak army on 12 April at Dhanaidaha of this upazila. On 19 April the Pak army killed more than one hundred people including Dilipkumar Sarkar, Dr. Monindra Nath Sarkar and Nabaram Mazumder. During the period from 3 May to 27 July the Pak army killed about five thousand people in different places of Lalpur upazila including Banpara Mission, North Bengal Sugar Mill, on the Lalpur Road and near the Neel Kuthi, village Poitarpara of Chongdhupil, village Chatni, Ram Krishnapur and Bilmaria Hat. A battle was fought between the freedom fighters (under Bir Pratik Azad Ali) and the Pak army at a place adjacent to the Railway line of village Nabirpara in which 16 Pak soldiers were killed. On 3 December the Pak army killed 36 persons of village Maheshpur. Mass graves have been discovered at 5 places of the district; two memorial monuments were built.
Religious institutions Mosque 1961, temple 218, church 12, tomb 6. Noted religious institutions: tomb of Ghasipir (Dahia), Salampur and Baura Shahi Mosque, tomb and Mosque of Shah Bagu Dewan at Bhelalabaria, Chapila Shahi Mosque, tomb of Budhapara Hazrat Imam Shah Alam (R), tomb of Hazrat Shah Sufi Burhanuddin Baghdadi at Gopalpur, tomb of Sona Pir, tomb of Panch Pir, Bara Bagha Mazar Sharif, tomb of Rahim Sadhu (Gurudaspur Upazila), tomb of Bura Pir, Joykali Mandir (Natore Sadar Upazila), Shree Shree Radha Raman and Shree Shree Narayan Bigraho Tagore Dev Bigraho Mandir (Singra Upazila), Budhapara Kali Mandir, Panshipara Shree Fakir Chand Gosai Ashrama (Lalpur Upazila).
Literacy rate and educational institutions Average literacy 49.6%; male 51.9%, female 47.3%. Educational institutions: college 59, PTI 1, secondary school 274, primary school 701, deaf and dumb educational institution 1, madrasa 237. Noted educational institutions: Nawab Siraj-Ud-Daulah Government College (1965), Beel Chalan Shahid Shamsuzzoha College (1969), Kalam Degree College, Lalpur College, Gopalpur Degree College, Abdulpur Government College, Beel Halti Trimohoni Degree College (Dangapara), Rahmat Iqbal Degree College, Baraigram Degree College (1970), Banpara Degree College (1985), Rajapur Degree College (1995), Moukhara Mahila Degree College (1996), Banpara Agriculture and Technical college (2000) (Baraigram Upazila), Mazar Sahrif Technical and Business Management Women's College (2001), Gopalpur Paura Technical and BM College (2002), Chauddagram High School and College (1913) (Singra Upazila), Takinagar Ideal High School and College (1994) (Bagatipara Upazila) Chak' Nazirpur Vocational and BM Institute (2002), Dighapatia PN High School (1852), Natore Maharaja Gagadindra Nath High School (1884), Lalor High School (1901), Kalam High School (1924), Chak Nazirpur High School (1925) (Lalpur Upazila),' Madhnagar SI High School (1930) (Natore Sadar Upazila), Natore Government Boys' High School (1944), Baraigram Pilot High School (1954), Rajapur High School (1954), Nazimuddin High School (1956), Jigri High School (1959), St. Louis High School (1959), Bagatipara Pilot High School (1959), St Joseph High School (1963), Naba Bidhan Girls' High School (1967), Cantonment Public High School (1975), Ahmadpur MH High School (1985), Dash Gram Siddiqia Alia Madrasa (1945), Dhanaidaha Fazil Madrasa (1957), Shikarpur Alia Madrasa (Gurudaspur Upazila).
Main sources of income Agriculture 70.59%, non-agricultural labourer 3.01%, service 5.02%, commerce 10%, and others 11.38%.
Newspapers and periodicals Daily: Uttar Bangabarta, Uttarpath, Prokas, Janadesh; weekly: Natore Barta, Chalanbeel, Barsik Jug.
Folk culture Notable folk songs of the district include Madarer song, Padmapuran or Manasar song (on the occasion of Manasa Puja), Sona Pirer or Mangar song (in the month of Poush), Yogir song, Murshidi song, etc. The indigenous community of the district observe various festivals such as Karam Festival (to satisfy the nature), Pungtadi Festival, Saharai Festival (expecting good harvest), Danda Katna Festival (expecting peace and prosperity in the family), and traditional songs and dances during Fagua Festival (on the occasion of Dol Purnima). Besides, the people of the district arrange various festivals on the occasions of marriage, plantation and harvest times.
Important installations or Tourists spots Rani Vabani Rajbari, Dighapatia Rajbari (Uttara Ganabhaban), Joykali Mandir at Harwara (Natore Sadar Upazila), Dayarampur Rajbari, Galimpur Rajbari, Begunbaria Zamindar Bari, Nurpur Zamindar Bari and Neelkuthi (Bagatipara Upazila), Museum at village Khubjipur, Chalan Beel Museum. [Md. Rezaul Karim]
See also The upazilas under this district.
References Bangladesh Population Census 2001 and 2011, Bangladesh Bureau of Statistics; Cultural survey report of Natore District 2007; Cultural survey report of Upazilas of Natore District 2007.