Baliakandi Upazila (rajbari district) area 242.53 sq km, located in between 23°33' and 23°44' north latitudes and in between 90°26' and 90°40' east longitudes. It is bounded by pangsha upazila on the north, madhukhali upazila on the south, rajbari sadar upazila on the east, Pangsha and sreepur upazilas on the west.
Population Total 186562; male 96121, female 90441; Muslim 145867, Hindu 40640, Buddhist 41 and others 14.
Water bodies Main rivers: Hara, chitra, Chandana, Gorai, Pursali; Sreehar Beel, Jasai Beel and Rajapur Canal are notable.
Administration Baliakandi Thana was formed in 1881 and it was turned into an upazila in 1983.
Upazila
Municipality
Union
Mouza
Village
Population
Density (per sq km)
Literacy rate (%)
Urban
Rural
Urban
Rural

-

7

151

258

7880

178682

769

53.1

39.4
Upazila Town

Area
(sq km)

Mouza

Population

Density
(per sq km)

Literacy rate
(%)

5.63

3

7880

1271

53.13
Union
Name of union and GO code
Area (acre)
Population
Literacy rate (%)
Male
Female

Islampur 47

8232

14346

13813

38.46

Baharpur 09

9340

15457

14392

38.91

Baliakandi 19

6323

12501

11660

41.07

Jamalpur 57

9799

14018

13448

42.74

Jangal 66

7237

9815

9286

38.03

Narua 85

8632

12355

11780

44.59

Nawabpur 95

9549

17629

16062

37.35
Source Bangladesh Population Census 2001, Bangladesh Bureau of Statistics.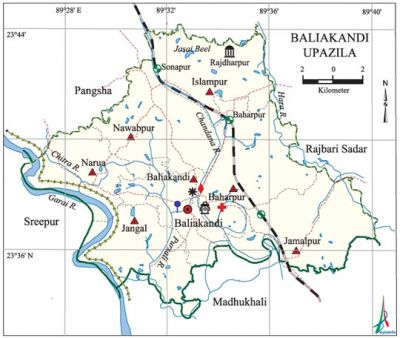 Archaeological heritage and relics Kalyandighi (Rajdharpur, excavated in 1465), Jorbangla Hindu Mandir (Nalia, 17th century), Sanadhi Nagar Math (Jangalbari, 19th century).
Historical events Baliakandi was an important outpost of the fakir-sannyasi resistance movement. The peasants of village Sonapur of this upazila led the indigo resistance movement. During the war of liberation an encounter between the freedom fighters and the rajakar-police forces were held in November at Baliakandi. In this encounter the freedom fighters captured all arms and ammunitions of the enemy fotces and compelled them to surrender.
Marks of War of Liberation Mass grave 1 (Baharpur); Mass killing site 1 (Ramdia).
Religious institutions Mosque 152, temple 113, tomb 10, sacred place 1.
Literacy rate and educational institutions Average literacy 40.1%; male 43.7%, female 36.2%. Educational institutions: college 4, secondary school 21, primary school 88, madrasa 5. Noted educational institutions: Bakshabhangi Government Primary School (1894), Patra Government Primary School (1919).
Cultural organisations Library 9, club 11, theatre stage 2, theatre group 5, women organisation 2, cinema hall 4, playground 8.
Main sources of income Agriculture 71.4%, non-agricultural labourer 2.27%, industry 0.48%, commerce 11.9%, transport and communication 3.2%, service 4.68%, construction 0.9%, religious service 0.16%, rent and remittance 0.27% and others 4.74%.
Main crops Paddy, jute, sugar cane, oil seeds, catechu.
Extinct or nearly extinct crops Cotton, jaffron.
Main fruits Mango, jackfruit, coconut, banana.
Fisheries, dairies and poultries Fishery 19, dairy and poultry 111.
Extinct or nearly extinct traditional transport Palanquin, duli, horse carriage.
Cottage industries Blacksmith, potteries, wood work, bamboo work, nakshi kantha, nakshi pakha.
Hats, bazars and fairs Hats and bazars are 6, fairs 5; most noted of which are Baharpur, Jamalpur, Sonapur, Baliakandi hats and Mela of Hari Thakur and Beruli Mela.
Main exports Jute, sugarcane, oil seeds, catechu.
Access to electricity All the unions of the upazila are under rural electrification net-work. However 11.31% of the dwelling households have access to electricity.
Sources of drinking water Tube-well 96.24%, tap 0.14%, pond 0.41% and others 3.21%.
Sanitation 35.8% (rural 34.89% and urban 44.07%) of dwelling households of the upazila use sanitary latrines and 52.56% (rural 53.25% and urban 36.86%) of dwelling households use non-sanitary latrines; 11.64% of households do not have latrine facilities.
Health centres Upazila health centre 1, satellite clinic 6, family planning centre 3.
NGO activities Operationally important NGOs are brac, asa. [Badrul Alam Tipu]
References' Bangladesh Population Census 2001, Bangladesh Bureau of Statistics; Cultural survey report of Baliakandi Upazila 2007.