Baraigram Upazila (natore district) area 299.61 sq km, located in between 24°10' and 24°21' north latitudes and in between 88°01' and 89°17' east longitudes. It is bounded by gurudaspur and natore sadar upazilas on the north, atgharia and ishwardi upazilas on the south, chatmohar upazila on the east, lalpur and bagatipara upazilas on the west.
Population Total 244821; male 125399, female 119422; Muslim 228205, Hindu 10296, Buddhist 6290, Christian 13 and others 17. Indigenous communities such as Pahari, Munda, Oraon, Mahato belong to this upazila.
Water bodies Main rivers: baral, Nandakuja, Khalsadanga and Mara Baral; Majgaon beel and Pangiar dighi are notable.
Administration Baraigram Thana was formed in 1869 and it was turned into an upazila in 1983.
Upazila
Municipality
Union
Mouza
Village
Population
Density (per sq km)
Literacy rate (%)
Urban
Rural
Urban
Rural

-

7

152

182

18072

226749

817

53.5

40.6
Upazila Town

Area (sq km)

Mouza

Population

Density
(per sq km)

Literacy rate (%)

14.68

4

18072

1231

53.51
Union
Name of union and GO code
Area (acre)
Population
Literacy rate (%)
Male
Female

Gopalpur 35

7038

11566

11345

44.40

Chandi 23

8142

9931

9289

33.93

Jonail 59

9790

15089

14901

40.23

Joari 47

10278

20650

19640

44.67

Nagar 83

12494

19349

18116

37.73

Baraigram 11

13672

24617

23367

42.32

Majgaon 71

12326

24197

22764

43.93
Source Bangladesh Population Census 2001, Bangladesh Bureau of Statistics.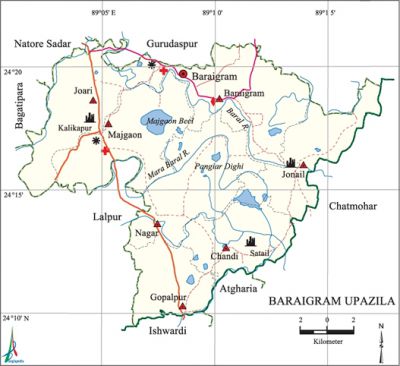 Archaeological heritage and relics Ancient copper plate in Nagar Union (415-455), ancient statue of Parnasharbari, Mughal fort, Kali Mandir (temple), Durga Mandir and Shiva Mandir (BS. 1212) in Joari Union, ancient Joykali Mandir at Haroa, ancient mosque (Nawabi period) at Ahmadpur, old Zaminder Bari and Shiva Mandir in Baraigram Union, Dargah of Sona Pir at Noabari, Santoil palace in Chandi Union, old Gunaihati Mosque and French stone inscription in Majgaon Union.
History of the War of Liberation During the war of liberation the Pak army brutally killed 85 innocent persons at Banpara Mission Refugee Camp on 3 May 1971.
Marks of the War of Liberation Mass grave 1, martyr memorial 1.
Religious institutions Mosque 274, temple 8, church 4.
Literacy rate and educational institutions Average literacy 41.61%; male 44.74%, female 38.35%. Educational institutions: college 18, secondary school 45, technical school and college 5, educational centre of open university 4, primary school 81, madrasa 43. Noted educational institutions: Baraigram Degree College (1970), Banpara Degree College (1985), Rajapur Degree College (1995), Moukhara Mahila Degree College (1996), Banpara Agricultural and Technical College (2000), Baraigram Pilot High School (1954), Rajapur High School (1954), St. Louis High School (1959), St. Joseph High School (1963), Ahmadpur MH High School (1985), Dasgram Siddikiya Alia Madrasa (1945), Dhanaidha Fazil Madrasa (1957).
Cultural organisations Library 2, press club 1, club 53, cinema hall 3.
Tourist spots 150 acre Dighi (Atrai), Mughal Fort (Joari), Santoil Palace (Chandi), Banpara Mission (1930), Borni Roman Catholic Mission (1949).'
Main sources of income Agriculture 73.70%, non-agricultural labourer 2.72%, commerce 9.31%, transport and communication 3.58%, industry 1.03%, service 4.40%, construction 0.72%, religious service 0.13%, rent and remittance 0.32% and others 4.09%.
Ownership of agricultural land Landowner 57.72%, landless 42.28%; agricultural landowner: urban 46.43% and rural 58.60%.
Main crops Paddy, sugarcane, wheat, mustard seed, turmeric, vegetables.
Extinct or nearly extinct crops Sweet potato, kaun, barley, peanut.
Main fruits Mango, jackfruit, litchi, banana, papaya, guava.
Fisheries, dairies and poultries Fishery 2, hatchery 7.'
Communication facilities Roads: pucca road 105 km, semi-pucca road 10 km, mud road 610 km.
Extinct or nearly extinct traditional transport Palanquin, bullock cart, buffalo cart, horse carriage.
Noted manufactories Ice factory, rice mill.
Cottage industries Goldsmith, silversmith, blacksmith, potteries, weaving, nakshi kantha, bamboo work, cane work, woodworks.
Hats, bazars and fairs Hats and bazars are 18, fairs 7, most noted of which are Moukhara Bazar, Banpara Bazar, Marrygachha Hat, Rajapur Hat, Janitala Baruni and Gangaschan Mela, Laksmikol Charak and Dashami Mela, Nagar and Dhanaidah Chaitra Sangkranti Charak Mela, Darikushi and Jonail Paush Mela and Banpara Bhaishakhi Mela.
Main exports Paddy, banana, papaya, date molasses.
Access to electricity All the unions of the upazila are under rural electrification net-work. However 21.27 dwellings have access to electricity.
Sources of drinking water Tube-well 92.13%, pond 0.10%, tap 0.28% and others 7.49%.
Sanitation 35.15% (rural 33.47% and urban 56.75%) of dwelling households of the upazila use sanitary latrines and 49.98% (rural 51.55% and urban 29.80%) of dwelling houses use non-sanitary latrines; 14.87% of households do not have sanitation facilities.
Health centres Upazila health complex 1, satellite clinic 3, family welfare centre 4, clinic 27, mission hospital 2.
NGO activities asa, proshika, brac. [Md. Entaj Uddin]
References Bangladesh Population Census 2001, Bangladesh Bureau of Statistics; Cultural survey report of Baraigram Upazila 2007.