Atgharia Upazila (pabna district) area 186.15 sq km, located in between 24°03' and 24°12' north latitudes and in between 89°10' and 89°25' east longitudes. It is bounded by chatmohar and faridpur upazilas on the north, pabna sadar and ishwardi upazilas on the south, santhia upazila on the east and baraigram upazila of natore district on the west.
Population Total 136480; male 70343, female 66137; Muslim 133504, Hindu 2852, Buddhist 115 and others 9.
Water bodies Main rivers: ichamati, Chiknai, Kamala; Jalka, Takigari and Garuliar beels are notable.
Administration Atgharia thana was formed on 13 January 1915 and it was turned into an upazila in 1983.
Upazila
Municipality
Union
Mouza
Village
Population
Density (per sq km)
Literacy rate (%)
Urban
Rural
Urban
Rural

-

5

111

132

8343

128137

733

46.4

44.5
Upazila Town

Area (sq km)

Mouza

Population

Density
(per sq km)

Literacy rate (%)

6.91

3

8343

1207

46.4
Union
Name of union and GO code
Area (acre)
Population
Literacy rate (%)
Male
Female




Ekdanta 47

8387

16855

15363

42.23

Chandba 15

8696

14904

14316

46.62

Debottar 31

8331

12287

11614

46.84

Majhpara 79

10091

15373

14867

50.95

Lakshmipur 63

9994

10924

9977

33.65
Source Bangladesh Population Census 2001, Bangladesh Bureau of Statistics.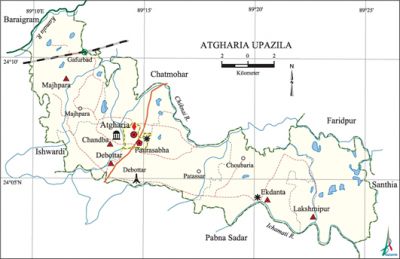 Archaeological heritage and relics Khanbari Mosque (Atgharia), Mridhar Mosque (Atgharia), Beruan Jami Mosque (Beruan).
History of the War of Liberation In 1971, 12 freedom fighters, 3 villagers and one Pak army officer were killed in an encounter between the Pak army and the freedom fighters at the Bangshipara Ghat of Majhpara Union.
Marks of the War of Liberation Mass grave 1 (near the bamboo-clump of Dr Magrib, Debottar South Para).
Religious institutions Mosque 161, temple 17, church 1. Noted religious institutions:' Beruan Mosque, Atgharia Mosque, Debottar Mosque, Sreekantapur Mosque, Ekdanta Mosque, Radhakantapur Mosque.
Literacy rate and educational institutions Average literacy 44.6%; male 45.9%, female 43.2%. Noted educational institutions: Khidirpur Degree College (1995), Debottar Degree College (1995), Atgharia Degree College (1972), Khidirpur Technical and Business Management College (2003), Atgharia Pilot High School (1954), Debottar Pilot High School (1966), Debottar Model Government Primary School (1880), Taha Islamia Dakhil Madrasa (1923), Daleshwar Islamia Dakhil Madrasa (1922).
Newspapers and periodicals Weekly Pragati; Sahitya Patrika (defunct).
Cultural organizations Library 16, club 50, literary society 1, opera party 1, theatre group 1, cinema hall 1.
Main sources of income Agriculture 73.76%, non-agricultural labourer 2.25%, commerce 8.33%, transport and communication 2.09%, industry 0.92%, service 3.96%, construction 0.53%, religious service 0.08%, rent and remittance 0.26% and others 4.83%.
Ownership of agricultural land Landowner 61.18%, landless 38.82%; agricultural landowner: urban 44.57% and rural 62.27%.
Main crops Paddy, jute, betel leaf, mustard seed, brinjal, potato, green chilli, onion, garlic, vegetables.
Extinct or nearly extinct crops Burley, China, kaun, bhura.
Main fruits Mango, jackfruit, banana, papaya, litchi, guava.
Fisheries, dairies and poultries Fishery 125, dairy 170, poultry 230, hatchery 3.
Communication facilities Pucca road 47.16 km, semi-pucca road 20 km, mud road 320 km.
Extinct and nearly extinct traditional transport Palanquin, bullock cart, horse carriage, boat.
Cottage industries Weaving, bamboo work, cane work, wood work, cocoon production industry.
Hats, bazars and fairs Hats and bazars are 18, fairs 2; most noted of which are Atgharia, Debottar, Khidirpur and Garuri Hat.
Main exports Paddy, jute, betel leaf, vegetables.
Access to electricity All the unions of the upazila are under rural electrification net-work. However 25.56% dwellings have access to electricity.
Sources of drinking water Tube-well 95.74%, pond 0.09%, tap 0.64% and others 3.53%.
Sanitation 30.50% (rural 27.94% and urban 69.65%) of dwelling households of the upazila use sanitary latrines and 62.42% (rural 64.85% and urban 25.30%) of dwelling houses use non-sanitary latrines; 7.08% of households do not have latrine facilities.
Health centres Upazila health centre 1, union health and family welfare centre 5.
Natural Disasters Many people of the upazila died as victims of great the famine of 1770 (Bangla 1176).
NGOs brac, ccdb, asa, Nijpath, Banchte Chai, Asset. [Md Alauddin Molla]
References Bangladesh Population Census 2001, Bangladesh Bureau of Statistics; Cultural survey report of Atgharia Upazila 2007.