Basail Upazila (tangail district) area 157.78 sq km, located in between 24°07' and 22°19' north latitudes and in between 89°58' and 90°07' east longitudes. It is bounded by kalihati upazila on the north, mirzapur and delduar upazilas on the south, sakhipur upazila on the east, Delduar and tangail sadar upazilas on the west.
Population Total 160346; male 806608, female 79678; Muslim 143796, Hindu 16427, Buddhist 9 and others 114.
Water bodies Main rivers: bangshi, Lohajang, Langli; Chapra, Dubail, Kaoaljani, Banikishori and Balia beels are notable.
Administration Basail Thana was formed in 1913 and it was turned into an upazila in 1983.
Upazila
Municipality
Union
Mouza
Village
Population
Density (per sq km)
Literacy rate (%)
Urban
Rural
Urban
Rural

-

6

73

107

13033

147313

1016

51.4

42.8
Upazila Town

Area (sq km)

Mouza

Population

Density
(per sq km)

Literacy rate (%)

11.30

1

13033

1153

51.4
Union
Name of union and GO code
Area (acre)
Population
Literacy rate (%)
Male
Female

Kaoaljani 83

5340

11504

11320

41.07

Kanchanpur 59

7395

12329

12359

39.94

Kashil 71

6058

12736

12923

42.58

Fulki 35

6850

15165

14874

41.64

Basail 11

6456

13516

13054

42.85

Habla 47

6509

15418

15148

51.10
Source Bangladesh Population Census 2001, Bangladesh Bureau of Statistics.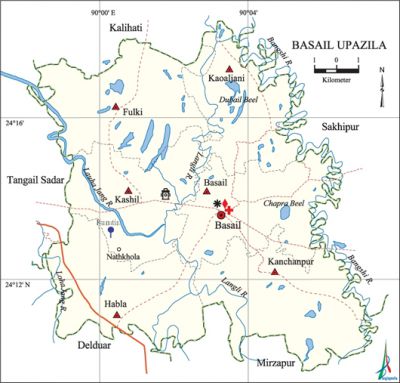 History of the War of Liberation During the war of liberation in 1971 an encounter was held between the freedom fighters and the Pak army at Kamutia on both banks of the river Jhenai. In this encounter a number Pak soldiers and freedom fighters were killed.
Marks of the War of Liberation Memorial monument 1 (on the bank of Jhenai river, Kamutia).
Literacy rate and educational institutions Average literacy 43.5%; male 47.8%, female 39.2%. Educational institutions: college 3, secondary school 24, primary school 54, kindergarten 12, community school 11, madrasa 19. Noted educational institutions: Basail Emdad Hamida Degree College (1985), Kaoaljani College, Kaoaljani Naosheria High School (1926), Icera High School, Basail Gobinda Govt. High School (1945), KBN Multilateral High School (1968), Kanchanpur Elahia Fazil Madrasa (1941).'
Cultural organisations Club 40, library 1, cinema hall 2, playground 30.
Main sources of income Agriculture 56.83%, non-agricultural labourer 2.71%, industry 1.35%, commerce 11.45%, transport and communication 1.54%, service 8.21%, construction 0.80%, religious service 0.13%, rent and remittance 6.99% and others 10.29%.
Ownership of agricultural land Landowner 64.92%, landless 35.08%; agricultural landowner: urban 46.43% and rural 66.55%.
Main crops Paddy, jute, mustard seed, sugarcane, potato, wheat, vegetables.
Extinct or nearly extinct crops Varieties of pulses, sweet potato.
Main fruits Mango, jackfruit, banana, litchi, papaya.
Fisheries, dairies and poultries This upazila has a number of fisheries, dairies and poultries.'
Communication facilities Pucca road 50.25 km, mud road 348.16 km.
Extinct or nearly extinct traditional transport Horse carriage, bullock cart, dhuli.
Manufactories Bakery, ice factory, rice mill, soap factory, welding factory.
Cottage industries Goldsmith, blacksmith, potteries, wood work, weaving.
Noted hats, bazars and fairs' Basail Hat, Sunna Hat, Moytha Hat, Kaoaljani Hat, Icera Hat, Saidampur Bazar, Fulki Bazar, Khatra Shanti Bazar, Faila Paglar Mela and Nabbas Paglar Mela.
Main exports Jute, sugarcane molasses, potato.
Access to electricity All the unions of the upazila are under rural electrification net-work. However 47.50%' dwellings have access to electricity.
Sources of drinking water Tube-well 94.56%, pond 0.06%, tap 0.49% and others 4.89%.
Sanitation 39.90% (rural 38.07% and urban 60.63%) of dwelling households of the upazila use sanitary latrines and 50.93% (rural 52.53% and urban 32.78%) of dwelling houses use non-sanitary latrines; 9.17% of households do not have latrine facilities.
Health centres Upazila health complex 1, family welfare centre 6, satellite clinic 2.
Natural Disasters The cyclone of 1996 caused heavy damages to settlements, livestock, plantations and other properties of the upazila.
NGO activities proshika, brac, SIDO. [Nurur Rahman Salim]
References Bangladesh Population Census 2001, Bangladesh Bureau of Statistics; Cultural survey report of Basail Upazila 2007.