Chandpur District (chittagong division) area 1704.06 sq km, located in between 23°00' and 23°30' north latitudes and in between 90°32' and 91°02' east longitudes. It is bounded by munshiganj and comilla districts on the north, noakhali, lakshmipur and barisal districts on the south, Comilla district on the east, meghna river, shariatpur, and Munshiganj districts on the west.
Population Total 2271229; male 1124882, female 1146347; Muslim 2124397, Hindu 145003, Buddhist 539, Christian 106 and others 1184.
Water bodies Main rivers: Meghna, dakatia, gumti, Dhanagada river and Ghorgaon Jala are notable.
Administration Chandpur sub-division was established in 1878 and was included in Tripura district. It was turned into a district in 1984.
District
Area (sq km)
Upazila
Municipality
Union
Mouza
Village
Population
Density (per sq km)
Literacy rate (%)
Urban
Rural
1704.06
8
6
87
1062
1237
314102
1957127
1333
50.3
Others Information of District
Name of upazila
Area (sq km)
Municipality
Union
Mouza
Village
Population
Density (per sq km)
Literacy rate (%)
Kachua
235.82
1
12
173
232
331360
1405
44.8
Chandpur Sadar
308.79
1
14
146
110
436680
1414
57.12
Faridganj
231.54
1
16
178
175
374760
1619
53.8
Matlab Uttar
277.53
1
13
147
248
299935
1081
47.9
Matlab Dakshin
131.69
1
6
97
99
207611
1576
42.4
Shahrasti
154.31
1
9
162
163
203952
1322
57.30
Haimchar
174.49
-
6
28
59
125108
717
40.29
Hajiganj
189.90
1
11
131
151
291823
1537
49.12
Source Bangladesh Population Census 2001,Bangladesh Bureau of Statistics.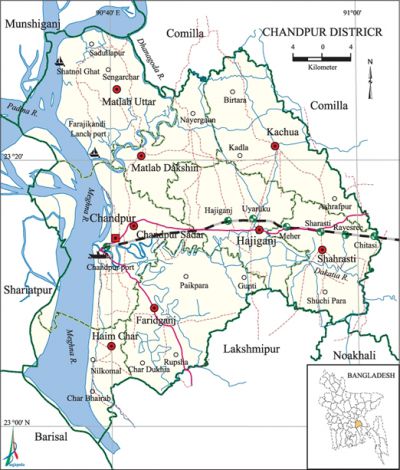 History of the War of Liberation On 12 May 1971 the Pak army brutally killed 50 persons and set many houses on fire at village Kashimpur of hajiganj upazila. After this genocide, the freedom fighters attacked the Pak army in which 17 Pak soldiers were killed and so were 2 freedom fighters. 'A battle was fought between the allied forces and the Pak army near Belpur on the eastern side of Naura, Suchipara and Unkiler under shahrasti upazila in which 35 Pak soldiers were killed and so were 13 members of the allied forces. During the war of liberation a hospital was established at village Nischintapur for giving medical treatment to wounded freedom fighters.
Marks of War of Liberation Memorial monument 'Aungikar', 'Amra tomader bhulbana' (we shall never forget you) at Faridganj, 'Dipta Bangladesh' at Matlab and Chandrakandi memorial monument (Sadullahpur, Matlab); mass killing site: Raghunathpur Bazar (Hajiganj), Hamidia Jute Mills Compound, North and south Ray Sree; mass grave: Nasircourt (Hajiganj).
Literacy rate and educational institutions Average literacy 50.3%; male 51.9%, female 48.7%. Educational institution: college 47, primary teachers training institute 1, secondary school 240, kindergarten 11, primary school 1470, mass education school 76, BRAC school 28, community school 93, satellite school 37, madrasa 1167. Noted educational institutions: Zelani Chisti College Faridganj Degree College, Haimchar Degree College, Puran Bazar Degree College, Hajiganj Model College, Matlab College, Hossain Ali Govt. High School, Chandpur Govt. Technical High School, Janata High School, Puran Bazar Girls High School, Char Kalia High School, Naobhanga Joypur High School, Fathepur Abul Hosan High School, Narayanpur Junior Girls High School, Hajiganj Pilot High School, Sachar Multilateral High School, Shahrasti Model School, Amanullah Govt. Primary School, Paikdi Govt. Primary School, Purbo Jafarabad Govt. Primary School, Modhya Raghunathpur Govt. Primary School.
Main sources of income Agriculture 44.42%, non-agricultural labourer 3.12%, industry 0.91%, commerce 16.17%, transport and communication 3.05%, service 13.24%, construction 2.27%, religious service 0.40%, rent and remittance 4.35% and others 12.07%.
Newspapers and periodicals Dailies: Chandpur Kantha, Chandpur Darpan, Chandpur Probaho, Alokito Chandpur, Illshepar; Weeklies: Chandpur, Chandpur Sangbad, Rupasi, Dibachitra, Hajiganj, Rupali Chandpur, Diba Kantha, Matlab Kantha; Defunct: Nababanga (1947), Alo (1947), Weekly Annagram (1960), Bharat Hitashi, Rakta Palash, Raktim Surya and Mohana.
Folk Culture The distinctive folk literature of Chandpur is mainly an indistinguishable part of that of the greater Comilla district. It includes folk tales, ballads, legends, historical tales, ballads-songs,' upakatha-rupkatha (fairy tales), sloka, spiritual songs, proverbs, Panchali gazir bot, jatra, kavigan etc. Folk games and sports include Ha-du-du, Dariyabanda, gollachhut, dang-guli, kadikkhela, Lai khela, Bauchhi, kanamachhi, kamalachuri, baghbandi, panchghunti, solaghunti, marbel khela, kari khela, kathi khela, kumari khela, spinning of latim, ekka-dokka, etc. Most of these games and sports are now either extinct or nearly extinct. Besides, a number of theatre groups occasionally perform staging of drama.
Tourist spots District Illish Chattor, Shaharpar Dighi, Shibganj Nil Kuthi, Rupsha Zamindar Bari, Sree Sree Jagannath Mandir. [Abul Khaer Khan]
See also  Upazilas of the district.
References Bangladesh Population Census 2001, Bangladesh Bureau of Statistics; Cultural survey report of Chandpur District 2007; Cultural survey report of upazilas of Chandpur district 2007.